Top 10 Best Cleveland Browns Players Going Into the 2018 Season
1-15, 0-16, the Browns have been absolute garbage the last decade or so. Talent was low on their roster, but like all teams, they have their fair share of good players. Who are they? We're looking at the top ten best Cleveland Browns players going into the 2018 season.
The Top Ten
Josh Gordon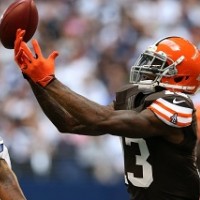 Joshua Caleb Gordon is an American football wide receiver for the New England Patriots of the National Football League.
I guess admin has a dark comedic side by making this a featured list. - phillysports
It's weird, because this is one of my lowest quality lists I've made. I hurried through it because I was exhausted and I wanted it over with. I wonder what the process to get a featured list is - PackFan2005
He'll be back with a vengeance in 2018. After missing the last few seasons due to suspension and off field issues, he looks to get back to form, and he'll be dangerous. He could even see a pro bowl nod this season. - PackFan2005
Myles Garrett

I personally think give Garrett a season and he eclipses Gordon. - 2storm
Garrett is going places. 7 sacks in his rookie season, and that's just the beginning. He'll be a dominate force for years with the Browns. - PackFan2005
Jarvis Landry

Jarvis Charles Landry is an American football wide receiver for the Miami Dolphins of the National Football League. Landry was drafted in the 2nd round sixty third overall to the Miami Dolphins in 2014.
Jarvis is really good so I think Jarvis should be number one and Odell Beckham is my favorite butter player and he is going to the Browns
I loved this trade. Landry is a catching machine, and I expect a big competition between him and Josh Gordon for the number one wide receiver spot. - PackFan2005
Tyrod Taylor

He could be the best QB the Browns have had in awhile. If all goes well he could win at least 3 games for them. - Randomator
If he stars every game you bet they have chances than they do with Mayfield. - htoutlaws2012
My hope is that he'll start the whole season over Mayfield, because Taylor is a reliable veteran that Cleveland hasn't had in years. - PackFan2005
Jabrill Peppers

After a decent rookie season, Peppers is expected to make a sophomore jump in 2018. - PackFan2005
Joe Schobert

He was one of the league leaders in tackles, and good things are coming for this linebacker. - PackFan2005
Denzel Ward
While I don't like he was selected at number four overall, I think he's a very talented player that will make an instant impact in 2018. - PackFan2005
Baker Mayfield

Baker Reagan Mayfield is an American football quarterback for the Cleveland Browns of the National Football League.
Should have won ROY
He good
Jamie Collins

Corey Coleman

The young wide receiver is expecting to jump in 2018. And I think he will. - PackFan2005
The Contenders
Damarious Randall

Christian Kirksey

He had 138 tackles and 3.5 sacks in 2017, and while he's average, his tackle numbers was impressive. I see maybe a pro bowl in his future. - PackFan2005
Nick Chubb
He's the cousin of a certain defensive lineman the Browns should've drafted. Anyway, he'll be fighting with Carlos Hyde and Duke Johnson for number one running back spot. - PackFan2005
BAdd New Item