Best Cleveland Browns Players Going Into the 2020 Season
The Cleveland Browns last year were completely terrible. They had all this hype and they completely blow it with several players regressing. Freddie Kitchens being an awful coach and a lack of discipline and control in the locker room really derailed the season for Cleveland. Now they have a new head coach in Kevin Stefanski. Last year left a sour taste in my mouth so I don't expect playoffs but can they recover from last year? This year I expect to see results from Baker Mayfield
The Top Ten
Nick Chubb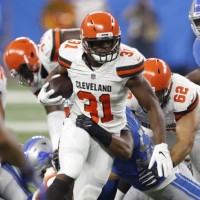 If there's one consistency to the Browns 2019 season it was Nick Chubb. This guy was a beast all season almost having 1,500 yards. He was one of the most electrifying running backs in the league and I expect him to have similar numbers in the upcoming season
Odell Beckham

Odell Beckham Jr. is a NFL wide receiver, playing for the Cleveland Browns. He is most-known for making an incredible one-handed catch against the Dallas Cowboys. Beckham was drafted 12th overall to the New York Giants.
OBJ had similar numbers to his 2018 season. A bit of a disappointment but he can rebound. If only he calms down because as it stands right now he's a diva almost to the extent of AB but not quite as bad. Don't go that route man.
I think Odell might make a splash next year. Definitely don't spend a 1st round pick on him.
Myles Garrett

Myles Garrett is back now after the helmet incident caused him to miss a significant amount of games. He has had a good career going being one of the best players on that Browns defense. Should have another solid year assuming he doesn't have any other suspensions or injuries at all
A beast. Hopefully he can bounce back.
Jarvis Landry

Jarvis Charles Landry is an American football wide receiver for the Cleveland Browns of the National Football League. Landry was drafted in the 2nd round sixty third overall to the Miami Dolphins in 2014.
He's been decent enough weapon in Cleveland so far. Last year was definitely more productive than his 2018 season now will he make more progress this year? That's to be determined
Denzel Ward

Ward was a decent enough corner last year he has 5 career interceptions and 97 career tackles which isn't bad through 2 years. Now into his 3rd year he has potential to thrive and develop into one of the best cornerbacks in the division and possibly the entire AFC
A high quality corner.
Kareem Hunt

So yeah he's back and it was slow at first but he did come around a little bit. Now he'll be active for an entire season assuming no injuries so it's possible we see him maybe put up similar numbers to 2017 if they use him right.
Jedrick Wills Jr.

Last year the Browns O line was abysmal as it was basically neglected. Now they drafted a guy who can fix it. Wills was a decent blindside tackle at Alabama and can fit well here
Oliver Vernon
Had a bit of a step down last year compared to 2018 when he did make the Pro Bowl. Although to be fair he only played in like 10 or 11 games. Could still very well be a dangerous duo with Myles Garrett
Sheldon Richardson

Sheldon Adam Richardson is an American football defensive end for the Cleveland Browns of the National Football League.
The Browns picked him up in free agency and he actually had a solid season with over 60 tackles and 3 sacks. A bit of a step up from his 2018 season with the Vikings. He will be a force on that pass rush for years to come I feel like
Austin Hooper

Okay so let's try this again and actually add a player who plays for the Browns. Austin Hooper has been a pro bowl caliber Tight End the past 2 seasons and he's gradually improving every year. He could be an underrated weapon for Baker Mayfield
The Contenders
Austin Hooper

BAdd New Item