Best Cloud Rap Artists
Cloud Rap is a subgenre of Rap/Hip Hop music that is characterized by hazy, ethereal or sometimes lo-fi production style and vocals.
The Top Ten
Bones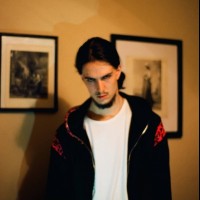 Bones is my favourite rapper in the genre known as Cloud Rap. His instrumentals are gold and his rapping is great too. To me, Bones has the best vocals and instrumentals in Cloud Rap. Just listen to CtrlAltDelete or Oxygen. Bones is also a highly influential rapper in Cloud Rap, having influenced many other artists in the genre. - DarkBoi-X
$uicideboy$

These guys are pretty dope. - RiverVibeZ
Ghostemane

Clouddead
One of the most influential artists in Cloud Rap, having done something similar to Cloud Rap, around 15 years before it started blowing up. - DarkBoi-X
Bladee

I never though I'd like someone like Bladee due to how I normally don't like it when rappers or singers use this much autotune, but Bladee on the other hand actually sounds good with it. The production in his music is great and definitely fits the Cloud Rap style so the autotune fits in there. - DarkBoi-X
A$AP Rocky

Rakim Mayers, better known by his stage name ASAP Rocky, is an American rapper, record producer, director and actor from Harlem, New York.
Popularized cloud rap and brought it to the mainstream, although he kind of stopped using that sound on his 2013 album LongLiveASAP. Now he has a different sound but his first album was cloud rap and he still keeps elements of cloud rap. - venomouskillingmachine
Yung Lean

Denzel Curry

Denzel Rae Don Curry (born February 16, 1995) is an American rapper and songwriter from Miami Gardens, Florida. He released his debut full-length album, titled Nostalgic 64 on September 3, 2013. His second full-length album, titled Imperial, was released on March 9, 2016. His third album, Ta13oo, came ...read more.
I'm not really sure if he's Cloud Rap, but he's made some songs that can be considered as such.
If he was, then I'd put him at number 2 - DarkBoi-X
Ecco2k
SpaceGhostPurrp
Literally created cloud rap, he's seen as a joke now but I think he should be in the top 10 - venomouskillingmachine
The Contenders
Thaiboy Digital
BAdd New Item