Top 10 Coolest Anime/Manga Ever
Add new animes As well as forgotten but awesome ones
The Top Ten
Assassination Classroom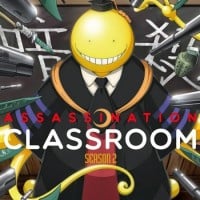 A great blend of humor and serious atmosphere.
Wow I'm happy AC is so high up!
Tokyo Ghoul

Tokyo Ghoul is a Japanese dark fantasy manga series written and illustrated by Sui Ishida. It was serialized in Shueisha's seinen manga magazine Weekly Young Jump between September 2011 and September 2014, and it has been collected in fourteen tankōbon volumes as of August 2014.
Not the coolest, that would go to Gurren Lagann as a matter of fact, if you saw both Gurren Lagann and this, then you would've loved Gurren Lagann 1000000000000 x more better. - nelsonerica
Death Parade

Death Parade is a 2015 Japanese anime television series created, written, and directed by Yuzuru Tachikawa and produced by Madhouse.
Sword Art Online

Sword Art Online is a series of Japanese light novels written by Reki Kawahara and illustrated by abec. In 2012, it received an anime adaptation produced by A-1 Pictures and the SAO Project, and is directed by Tomohiko Ito . The first season is divided into two arcs known as "Aincrad" and "Fairy Dance". ...read more.
Mirai Nikki (Future Diary)
Gurren Lagann

Gurren Lagann, known in Japan as Tengen Toppa Gurren Lagann, is an anime series animated by Gainax and co-produced by Aniplex and Konami. It was also directed by Hiroyuki Imaishi and written by veteran playwright Kazuki Nakashima.
Gurren Lagann was such a cool anime, and the most bad@$$ of all time, The main character Simon, pilots Gurren Lagann, who was bigger than a galaxy and transformed into Super Gurren Lagann, who was bigger than the universe and used his drill to pierce the universe at 100000000000000 x the speed of light, which made the show so awesome that Dragon Ball, One Piece and Tokyo Ghoul look too weak and boring in comparison.
TENGEN TOPPA GURREN LAGANN! SPIN ON! WHO THE HELL DO YOU THINK I AM?
JUST WHO THE HELL DO YOU THINK WE ARE?
Gurren Lagann should be number one, because unlike all the other animes/mangas ever made, This one has the epicness and awesomeness that will ever be over the top for not only animes/mangas, but any T.V. show ever to be made, The main character Simon, an Earth sized guy, is the pilot of Gurren Lagann, a giant mecha who is bigger than any galaxy known to man, and sometimes bigger than the KNOWN UNIVERSE! Gurren Lagann and Grand Zamboa can jump past galaxies and use their drills to pierce the heavens at 10000000000000000000000 x the speed of light, which makes the other animes/mangas too weak in comparison, no other anime will ever be as good as or beat Gurren Lagann as a matter of fact, Dragon Ball is number 4, Dragon Ball Z is number 3, One Piece is number 2 and Gurren Lagann is number 1.
Kuroko No Basuke
No Game No Life

No Game No Life is a surreal comedy that follows Sora and Shiro, shut-in NEET siblings and the online gamer duo behind the legendary username "Blank." They view the real world as just another lousy game; however, a strange e-mail challenging them to a chess match changes everything—the brother and ...read more.
Danganronpa
Vampire Knight

Vampire Knight is a Japanese shōjo manga series written by Matsuri Hino. The series premiered in the January 2005 issue of LaLa magazine and officially ended in May of 2013. Chapters were collected and published in collected volumes by Hakusensha, concluding with nineteen volumes released in Japan.
Wow. Did you seriously put Vampire Knight into this list?
The Contenders
Dragon Ball Z

Dragon Ball Z is a Japanese anime television series produced by Toei Animation. Dragon Ball Z follows the adventures of Goku who, along with the Z Warriors, defends the Earth against evil. The action adventures are entertaining and reinforce the concept of good versus evil. Dragon Ball Z teaches valuable ...read more.
Attack on Titan

Attack on Titan, also known as Shingeki no Kyojin in Japanese, created by Hajime Isayama, is one of the most popular Japanese anime series to be released. It was first watched in Japan during 2013 and was dubbed in English to be watched in America in 2014. It is best known for its emotional moments, ...read more.
Diabolik Lovers

Diabolik Lovers is a Japanese visual novel franchise by Rejet. The first game was released on October 11, 2012 for the PlayStation Portable. Three more games have been released since them with the first two games having been ported for the PlayStation Vita with the subtitle "Limited V Edition". ...read more.
I don't think so! Twilight looks cooler compared to this abomination! - ModernSpongeBobSucks
Corpse Party
Fate/Stay Night: Unlimited Blade Works

Fate/stay night: Unlimited Blade Works is a 2014–2015 action, thriller, fantasy anime based on the visual novel Fate/stay night produced by Type-Moon. Fate/stay night: Unlimited Blade Works adapts the Unlimited Blade Works route from the Fate/stay night visual novel.
I REALLY want to watch this anime. - ModernSpongeBobSucks
Dragon Ball

Dragon Ball is a Japanese anime television series produced by Toei Animation. It made anime popular in America and is based on the manga of the same name by Akira Toriyama. It was dubbed in English on Cartoon Networks Toonami block and still has many fans today.
Dragon Ball Super

Dragon Ball Super is a Japanese anime television series produced by Toei Animation that began airing on July 5, 2015. It is a sequel show to the Dragon Ball manga and the first Dragon Ball television series featuring a new storyline in 18 years.
Dragon Ball GT

Dragon Ball GT is a Japanese anime series based on Akira Toriyama's Dragon Ball manga. Produced by Toei Animation, the series premiered in Japan on Fuji TV on February 7, 1996, spanning 64 episodes until its end on November 19, 1997.
Chivalry of a Failed Knight

Cowboy Bebop

Cowboy Bebop is a 1998 anime television series animated by Sunrise featuring a production team led by director Shinichirō Watanabe, screenwriter Keiko Nobumoto, character designer Toshihiro Kawamoto, mechanical designer Kimitoshi Yamane, and composer Yoko Kanno.
One Piece

One Piece is a manga franchise created by Eiichiro Oda. The manga has been adapted into an original video animation (OVA) produced by Production I.G in 1998, and an anime series produced by Toei Animation, which began broadcasting in Japan in 1999 and has aired 851 episodes to date.
Eromanga Sensei

So good bro.
Parasyte

The anime was simulcast by Crunchyroll outside of Asia. Aside from the manga and anime, the series also has two live-action film adaptations. The Chinese Ministry of Culture blacklisted Kiseijuu: Sei no Kakuritsu as well as 37 other works on June 9, 2015. ...read more.
Kill la Kill

Kill la Kill is an anime television series produced by Trigger. In Kill la Kill, Ryuko Matoi transfers to a new high school in order to find her father's murderer.
Steins;Gate

Steins;Gate is a 2011 anime television series created by the animation studio White Fox based on 5pb. and Nitroplus's 2009 video game of the same name, and is part of the Science Adventure franchise.
BAdd New Item