Bangladesh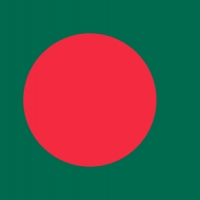 Found on wikimedia.org
Info
Bangladesh, on the northern coast of the Bay of Bengal, is surrounded by India, with a small common border with Myanmar in the southeast. The country is low-lying riverine land traversed by the many branches and tributaries of the Ganges and Brahmaputra rivers.
Comments
Top
Popular
Newest
Oh please let this country be in the top 10. Bangladesh is a beautiful country with the best food. I went to a lot of places but Bangladesh was just like amazing. In every part of this country I found delicious food. UM oh gosh I can't forget this country! Thanks to Bangladesh for having such delicious food.
It's the best food among the world, it's just a pity that Bangladeshi food has been eaten all over the world in the name of "Indian Food". But, it's much much tastier than Indian food. No other country in the world possess so much variety in terms of fishes and spices, these two factors makes Bangladeshi food so tasty.
Bangladeshi food is very very delicious, specially biriani. Bangladeshi food best for also fish, meat, sweet. Hilsa fish is the most popular fish in Bangladesh and many kind of vhorta are so delicious. Dal also popular. I love Bangladeshi food.
Hmm! Bangladeshi food are the best! I am in love with Bangladeshi food! But why is Bangladesh in number 35. It is not fair. Bangladesh is the greatest at making sweets! Yum want some more!
Bengali Cuisine is the best cuisine I have ever tasted... They are so much mouth-watering. I still can't forget the taste of the Biryani...
Greatest food ever! Sweet chilly sour! Such aromatic food will only be found in Bangladesh! I am not jockeying! Just test some today.
No, if you Indian food it's similar to Bengali food, so it should be 8. It's so tasty, spicy, sweet and the desserts. Are just amazing. My mum is from Bangladesh but my dad is from Pakistan. But Pakistani still great too really delicious
Oh my god... I love their fish food.. Unfortunately its also a part of Indian bengali cuisine.. So it is termed simply as an Indian food..
BangladeshI foods are too delicious & healthy.
Its foods are good but most people stay hungry all the time here because of poverty
No idea what people are missing.. Try it out and see
Bangladesh food is really good
Bangladesh is supposed to be in the top 10! What's it doing all the way down here?
The best food you will ever find in planet earth...
In 44... What the hell... It should in top 10... Our traditional food is so much good. Even it can be compare with Indian food. Again if we look at London there are many bangle resturent as well. - Tawsif
Testy & delis es food I ever tasted food in my life.. Food is pure & original. All the foodstuff are fresh. There are lots of verity food from the past. The Bangladeshi rosogollah & Rasmali are very nice sweet. So many RICE are there you will never fiend in other place in the world.
NO KIDDING... BEST FOOD AND number 1 IN THE WORLD. BETTER THAN IndianS THEY ONLY USE MESSED UP SPICES BUT, NOT IN Bangladesh, OURS THE PERFECTLY BALANCED AND DELICIOUS.
Bangladeshi foods are similar, but more delicious then Indian foods. Someone need to try those to get some different kind of tastes.
I love Bangladeshi food. Bangladesh food is pure and homemade. love it.
Their food is just amaze! The puloa, kebabs, fuchka, mixed vegetables and the DESSERTS! ! And the food is not as spicy as Indian food its just right!
What the f Bangladesh should be number one we have the best food in the whole world Indians are just spice wannabes with sweets Bangladesh is the best Indians are rip offs
Only O.2% vote?! There's no country to have such delicious food whoich usually are made with an artistic coonking... love the foods of Bangladesh...
Oh! Are you kidding. Bangladesh in 35. Bangladeshi food are the best food ever. So spicy, testy, and elegant food can be found in Bangldesh. Bangladesh not only have delicious food but also their hospitality is great! I can't forget chotpoti, puchka, achar, bhorta, bhapa pitha and other awesome meal. If you ever eat them, you will just think oh I am so lucky!
I guaranteed.. If you eaver taste Bangladeshi Rosh Golla, kalozam (sweetmeat) or rosh malai.. Then you would really feel that " thanks God that you gave me chance for tasted it"
Most verities of foods (most of them with masala) such as meat bhuna, rejala, korma, jhal fry, kabab, spicy and verities of fish in verities of presentation. Beside these thousands types of bhorta, mixed vegetables, fries along with verious sweets, sarbat (soft drinks), iftary items are available here.
Related Lists

Best Universities In Bangladesh
Top Colleges of Bangladesh
Best Private Universities In Bangladesh
Best Business Schools Bangladesh