Indonesia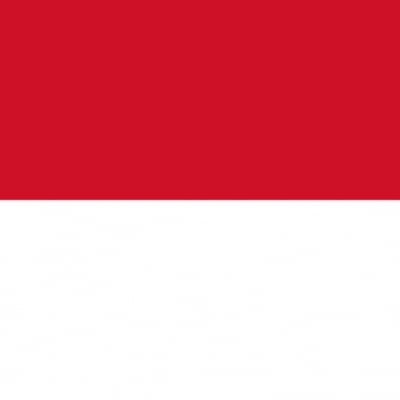 Found on wikimedia.org
Info
Indonesia, officially the Republic of Indonesia, is a country in Southeast Asia. Ruled by the Dutch for over 300 years and Japan for 3 years and 6 months, the country gained independence in 1945, or exactly in 17th August 1945. Jakarta is the capital city, located in the island of Java. Major languages ...
read more
.
Comments
Top
Popular
Newest
I Love INDONESIA :D Ir. Soekarno, B. J Habibie, Borobudur tample, BATIK, KOMODO Island, Agnes Monica, MARJINAL, PETERSAYSDENIM, Rocket Rockers, PEE WEE GASKINS, THE S.I.G.I. T, Superman Is Dead, SLANK, White Shoes & The Couples Company, Gugun Blues Shelter, NOAH, Angger Dimas, Chandra Satria, Daniel Sahuleka, Anggun C. Sasmi, MOCCA, Richard Sambera, Rudy Hartono, Lim Swie King, Goei Ren Fang, Ellyas Pical, Nico Thomas, Chris John, Taufik Hidayat, Susi Susanti, DR. Andreas Raharso, Prof. DR. Kent Sutanto, Prof. Yow Pin Liem, Tex Saverio, Rini Sugianto, Pamela Halomoan, Sri Mulyani Indrawati, Dominic Brian, Kunto Hartono, And many more..
Indonesia is one of the richest countries in Asia, because of the sources. We have a mine in Papua that has gold and copper in it, and as the metals are running out, there's actually a load of uranium below it too! Also, the oil in Borneo has a total of 10 trillion or more tons! Plus, the reef in Bunaken has a greater diversity of fish and coral than The Great Barrier Reef!
I am in Love This Country. It has all the qualities all good country have! This Should Be definitely be in the top 10. The people and the view is amazing and don't get started about the delicious food that they have even the street food is sensational. We went hiking the mountains or hills I should say were quiet challenging but you forget that your tired when you look around and you see all the beautiful nature around!. And the beaches are also a must place to visit there are more reasons why this country is good but this is my major reasons why Indonesia Is #1. GO Indonesia!
Behind Malaysia? Behind Singapore? Look at Pinterest's most beautiful countries in the world! They put Indonesia in no. 2, even they've up on no. 1 now. Indonesia is the truly paradise. From west to the east, the islands have everything. It's like a mixed of Caribbean and Pacific Rim. So you can imagine how beautiful we are, huh?
Indonesia is the rich and most favorite Country, many cultural you will see in Indonesia, you can see a great look in Bali, and more, for people who like and love Indonesia please vote it to be a 1st Best Country on the world, your vote is important for us
Smart people, well mannered, great in culture, great in nature, hospitable, have a great sense of humor, competitive country,
Warm hearted, kind.

Great engineer, architectures.

Awesome cuisines, the king of spices.
And lastly great in all kinds of sports.
Indonesia has everything you need for a simple life and a sense of peace, solidarity, and unity in here is very - very high. Whatever that Indonesia has many advantages that can not be matched any country in the world as long as you have a taste for each other down.
Many people are still racist and doesn't like other with different belief if that's gone I will love this country more than ever
The Friendliest Country In The World!
Indonesia is the best country ever! If we look from place, Indonesia is median of the world. Has many cultures, best beach, best island, and everything. And you will be like their smile! - arismunandar
Indonesia is the best country. Ever. We has many cultures such like music instrument, beautiful scenery, etc. Proud to be Indonesian.
Although Indonesia isn't popular, but I think Indonesia has many cultures, beautiful view or landscape in the world,. Bravo Indonesia... :-)
Indonesia is the most friendly country in the world! The people are very nice and has a lot of beautiful places. Wonderful Indonesia!
Indonesia is a great country in SEA and the world! I love this place and ya, you should to pack your bags and move to Indonesia! COOL!
Emerald of the equator. Beautiful country. Indonesia is a major supplier of oxygen in the earth, we have to thank Indonesia.
Indonesian people are very friendly. Indonesia also has a very great natural beauty. Indonesia also has a variety of unique culture and a wide range of culinary interest. Beach with a very natural and certainly mountains above the clouds at sunrise and sunset charm charming.
I LOVE Indonesia
There are so many cultures in Indonesia. Different cultures, different language, different people, amazing places! Indonesia is fantastic!
Please vote Indonesia a the best countries!
Aku Cinta Indonesia
Indonesia is the most beautiful places I ever been. Specially the chilli there, SO Spicy!... Bali, I love Bali so much... INDONESIA is the best
Indonesia has a lot of wonderful great nature places. The biggest archipelago country, with a lot of volcanoes, and located between Asia and Australia continent, also Indian and Pacific ocean, make this country has a really good geographic position and also make it has a lot of natural resources...

The people are very warm, welcome, nice, and ready to help each other without hoping a favor in return... Also, every places in Indonesia has its own cultures, which make Indonesia named as Indo (mix) Nesia (nation), because its diversity...

Eventhough Indonesia is the largest Muslim country in the world (by the population, the majority are Muslim, around 85%), but still they can respect other's religion... you can find Muslim, Christian, Buddhist, Hindu live in peace at the same place... they do respect other's religion day...

I love the food in Indonesia, I think Indonesia must be voted as the country that has the most Delicious Food in the world. Also the weather is ...more
When a country of over 250 million relies on aid from another country with 24 million people you know it sucks. Australia is much better.
Indonesia is the 4th best in Asia.
Totally amazing archipelago country with 17.000 islands! The best country in the world!
Indonesia it's a place where you can found many culture in a one place and the nature its really beautifull

There no other country can match this
I think Indonesia is underatted, I already explore this country since 2011 and I don't wanna leave this country...the culture is amazing