Philippines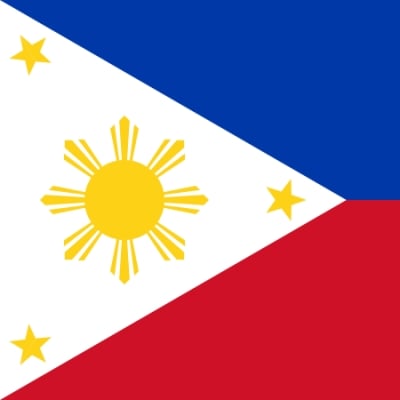 Found on wikimedia.org
Info
The Philippines was established in March 16, 1521 and named in honor of a Spanish King whose name is King Philip of Spain II. It is located at Asia, specifically at Southeast Asia. The capital is Manila. 89% of the people there currently are native, while 11% of people there are foreigners.
Comments
Top
Popular
Newest
Because It's More fun in the Philippines!

Boracay- Asia's top beach destination
Baguio- Summer Capital of the philippines
Cebu- Future city of asia
Puerto Princessa underground river- One of the New7wonders of nature
Vigan- Spanish Era City
Mt. Mayon, Bicol- perfect coned-shape volcano
Davao- one of the fastest growing city
Mall of Asia- 7th biggest mall in the world

and finally:
FILIPINOS- The most ebullient and easy-going people in the world
Because of our very versatile geographical features such as white, pristine beaches to immense and tangible, explore-able forests, our country is a very ideological place to visit for amazing sights and sceneries. Unlike most other countries, the Philippines has an immense amount of resources, a lot still untouched by man. And another reason why the Philippines is amazing, is because of our people. The Filipinos are known to be very caring and kind to other people. Even as we are Asian, and the common Asian stereotype that we Asians are stern and uncaring/indifferent, does not go true for Filipinos. We take time to indulge ourselves so that we may either be of service to other people. The sense of family is one of the strongest in the world, if it weren't at the top. Our hospitality is shown in many ways to people who are in need of care, shelter, love, and affection. Another great trait about the Philippines is that our ways lead to a bright economic future. Past corruption is what ...more
its true that we are in the 3rd world countries but.. look at our natural resources... there are so many Untouched forest.. look at our people.. even if there is typhoons, or tragedies we keep on smiling and we never forget to have faith in God.. we are not beautiful in material things or wonderful attractions but we are beautiful because of the people who live in our country :))
Philippines best for both business and leisure! One of the companies in New York: Big Foot sees the potential of these multi-talented people and decided to move its head quarters in on if its leading Business Hub Cities benefiting from its development foreign workers enjoyed working with the Filipino Community and also with pristine white sand beaches, nature parks, and many more tourist destinations all over the place they enjoyed relaxing during weekends on the beaches or just party along with the locals! With world class hotels and malls with the influences of the Eastern and western culture you can surely say "It feels like home"
The pearl of the orient...
has the best people... most welcoming people..
has very great history... with nice structures
best food
one of the largest archipelagos.. has very very very beautiful beaches-the best in the world... has more than 7,000 islands... has the most disciplined people and one of the best English speaking countries in the world... -no doubt, Philippines is the VERY BEST!
The Philippines is a country of God... though Italy is the seat of the pope, but the Philippines is very very religious and really good to people... The Philippines has very talented people, very hospitable inhabitants and down to earth people.. vote for Philippines because the Philippines deserves to be the best country in the world!
THE Philippines AT NUMBER 5? RIDICULOUS!
IT IS THE BEST COUNTRY IN THE WORLD!
IT'S MORE FUN IN THE Philippines!
BEST CULTURE 300 YEARS COLONIZATION BY THE Spanish, A FEW YEARS American, 3 YEARS OF Japanese! A MIX OF CULTURE!
IN SURVEYS, THE Philippines IS NUMBER 1 STRONGEST FAITH IN GOD
ACCORDING TO TOURISTS, THE Philippines HAS THE BEST BEACHES
ACCORDING TO SCIENTIFIC STUDIES, THE Philippines HAS VERY RICH NATURAL RESOURCES...
AND ACCORDING TO TRUTH, THE Philippines IS NUMBER 1 IN EVERYTHING!
I've studied history for the past 30 years and I have no doubt that this country is the best. We have many countries with good stories to share about how they gained their liberty. America gained liberty after the founding fathers made the declaration of independence, France gained freedom after changing their form of government, and China attained a People's Republic after a tragic war, but these stories are different from the Philippines'

Maybe some of you are not aware, but when the Filipinos revolted, they were completely armless. Plus, they were battling against Spain, a country who conquered almost half the world. It was a hopeless fight but the Filipinos did what they do best: They Smiled. They thought positively and won the war because of that.
I would say that philippine people are the nicest in the world. They are very friendly, patient, considerate and hospitable. I have many filipino friends way back and they are all very beautiful people. I like their skin color a lot! I envy them their colors are very natural not so white and not very tan! And to top of that Philippines have many hot spots beautiful beaches, high end super clubs for night outs! I would say I had a very nice visit in the Philippines such an unforgetable moments! Philippines you're the best.. I will definitely go back there over and over.
Every island in the Philippines has its own different kind of beauty. If you want the best beaches... Philippines is the best place. You can try traveling the world and you can't find beaches as pretty as the Philippine beaches. If you want mountains, hills, fields, pines, different kinds of fishes and animals, etc... Philippines is the best place to go to.
one word to describe this nation: FANTASTIC
one word to describe its people: GOOD

BEST COUNTRY IN THE WORLD, BEST BEACHES, BEST FOOD, BEST HISTORY, BEST STRUCTURES, HAS LOTS OF UNTOUCHED FORESTS, AND ETC.

All I can say is that the Philippines is the best country ever. It composed of 7107 fantastic islands surrounded by the clear blue seas and it seems like crystals with fresh and cool air from the east and west. Here, you can witness the beautiful landscapes of mountains, hills, terraces, and gorgeous views of plateaus and peninsulas. Only here you can witness the perfect tropical climate of the Philippines, the cultures is alive, the vitality of nature is matter, the smiles of people, the gratitude of Filipino people, and the warmful greetings of our raise for our tourists. Philippines is one of the hidden paradise in the southeast of largest continent, it seems like a pearl at the orient seas. You can feel the cool blows of the wind, calm sound of the seas, the lively tones of birds in the morning and the magnifecent beauty of sunrise and sunset from the east to west. Perfect beauty of landscaPes, gorgeous sceneries, and wonderful effects of sand classes. Only here you can witness ...more
I'm a Canadian I can tell you this is the best country I have ever been, the friendliest people I have ever met and also the kindest, you won't be disappointed by going to the Philippines. The warmest, kindest, friendliest place on earth and you could feel like you've been around the world by visiting this place you'll think you're in another country but it's really just the Philippines. I've been going around the world but The Philippines is the only place you won't go wrong.
We Can't Prove to you how we say that Philippines is really a nice and best country. Although our Economy is still at down, we still have beautiful places to be proud of! Instead of the Beautiful Sceneries, Filipinos are so kind. After all, We (Filipinos) still smile after all the Calamities happened here. I'm still so Proud that I'm a Filipino. Philippines is a Great Country for me even though some will disapprove. You should visit once.
PHILIPPINES IS SUCH AN AMAZING PLACE/COUNTRY TO STAY. WOW AS IN WOW! THERE ARE MANY BEAUTIFUL SIGHTS AND ATTRACTIONS TO BE FOUND. SO CALLED PARADISE.. YOU CAN RELAX ON THEIR BEAUTIFUL BEACHES. VERY HOSPITABLE, KIND, HAPPY & WONDERFUL PEOPLE THERE. THE FOODS ARE ALSO GREAT, VERY DELICIOUS, SPECIALLY IN SOME OF THE PROVINCES THAT HOOKS YOU TO EAT. I REALLY REALLY LOVE "PHILIPPINES"! MABUHAY!
Philippines is a really nice country. Full of natural resources and hospitable people...
speaking of uniquely beauty, the Philippines has it. Good Foods, nice people, best places to visits. if you love to explore nature. Philippines has a lot to offer. one of the most important factor also is that anywhere in Philippines you will found people who knows how to communicate in English.
Filipinos are naturally hospitable, prepared or not for visitors, also our sense of humor is great! Filipinos have great endurance, and we don't easily give up. We're really friendly and outgoing, we're always buzzing with life!

We may have colonial mentality and are easily swayed by other cultures, or compared to other countries we're lower,(Japan can fill a sinkhole in 3 days, Philippines will maybe fill it in 3 years) we have great places to go to!

The Philippines also has lots of great festivals that are known worldwide, and the climate is the best! No extreme cold weather even in December, and the lowest temperature we got was about 15° Celsius.

Also, despite the bombings, the typhoons and earthquakes, we still manage to get up, dust ourselves off, and rise.

The Philippines has a messed up past, having been colonized by Spain for more than 300 years, by America for more than 30 years, and has become a battlefield between Japan and America during ww2, ...more
I am from england and to me philipenes is the best country for culture and beautiful people. Very friendly. People are happy over here. When you come here you go away with lots off visions and memories. Beautiful beaches and beautiful people. Politeness and respect is key over here. Which can only result in a country being best in the world.
WE'RE NOT A POOR COUNTRY! Throughout the ages, we have been lashed by all kinds of suffering - invasions, revolts, revolutions, wars, earthquakes, typhoons, volcanic eruption and epidemics But these stuffs makes us strong, brilliant, resourceful, helpful, passionately romantic and artistic. THIS IS THE BEST COUNTRY IN THE WORLD BECAUSE OF OUR PEOPLE.
Ahh, what can I say, Philippines has unmatched when it comes to hospitality and it's genuine hospitality with smiles and open arms no strings attached. Walk into a little corner, no not your fancy street with brand name store fronts, but a neighborhood joint and you can be invited for a cervesa. Sooon you will realize hours have passed. You have finished off a couple more bottles or shots of tanduay rum and you have a permanent grin on your face and that's after belting out several journey songs on the karaoke machine. Filipinos, rich or poor are in general very social and happy folks. It's not the quantity of stuff that you have it's the quality of your relationships that's what matter.

As for natural beauty, there are mountains, beaches, dive sites, gorgeous powdery beaches and some 7,000 islands to discover! You'll never run out of things to do explore.

Food? Local food is a mixture of Spanish, Chinese, Malay, America, Indian. Its awesome. Each province will have ...more
Philippines rocks! We stand for what is right and we show the people that we can stand for what we believe in. We are also smart people trying to help our country by doing the best we can in all sort of things. 'Filipinos are very kind and hospitable people and we are a mix of different races. LET'S GO FILIPINOS!
PHILIPPINES IS GREAT, FILIPINOS ARE GREAT TOO. THERE'S NO CULTURE VALUES LIKE CLEANLINESS AND MODESTY
ATTITUDES LIKE BEING RESPECTFUL. THERE'S NO PEOPLE LIKE FILIPINOS
here in the Philippines, we have the most hospitable and cheerful people.. also have many beautiful tourist spots and animals which here in the Philippines can only found..
Philippines such wonderful and beautiful country in the world FILIPINO is friendly, religious, helpful, hospitable my favorite ISLAND in the Philippines is the BORACAY ISLAND the sand is white the beach is blue and so many people from all over the country go only in the PHILIPPINES that's called AMAZING.