Oshawott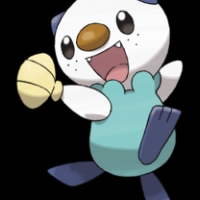 Found on bulbagarden.net
Info
Oshawott, Dewott, and Samurott, are three Pokémon species in Nintendo and Game Freak's Pokémon franchise that are linked through evolution.
Comments
Top
Popular
Newest
CUTEST Pokemon EVER! I always have Oshawott in my Black and White games! It's so cute that I won't let it evolve! Snivy is such a weirdo, and I love Oshawott!
Oshawott is ADORABLE. It was I'm first Pokemon EVER in Pokemon white 2 (now I have almost every game for Nintendo). It was a male named wave. My sister got a female and named it Olly. IT IS SO CUTE
Even if oshawott has the weakest total stat of all, it's so cute and easily one of my favourite of ash's Pokemon!
Oshawott is my starter Pokemon and it is way cuter than snivy because water types are the cutest type
Oshawott is the top notch the champion of cuteness the king of water pokemon I love oshawott very cute and funny oh he's so adorable
I love Oshawott. He is my favorite Pokemon. I'm going to get Pokemon White soon, and I will get an Oshawott and nickname it Puffball.
He is so adorable, and powerful too! I think everyone should chose him as a starter. Amazing attacks, and looks amazing.
Oshawott is the cutest Pokemon on EARTH I mean it's so cute I mean it should have beaten that number1 molerat it should tottally be on the top because its only the cutest Pokemon in the UNIVERSE no it shouldn't be number 1 it should blow up the whole chart it's so cute
I love oshawott so cute I choose it as a starter and it is wicked extremely powerful and awesome rock on oshawott
Aren't Oshawott's eyes and freckles adorable? He should so be in the top ten! So for all those water type/starter/Oshawott lovers. VOTE NOW!
Do you remember the episode ash got oshawott? Did you see the pleading eyes of his? THEY WERE THE CUTESt IT MELTS MY HEART!
OSHAWOTT! I love him for two reasons. One, in the anime he acts the leader and his voice is SUPER CUTE! Next, in the games, Black and White, he is not only cute, his final evo is the strongest. Even though he has a type advantage with serperoir, he can use mega horn and take it out
It was cute when Oshawott got jealous at Piplup dancing with Meloetta and the end the 2 water types hug each other
Oshawott is so cute and funny * you must watch oshawotts noms
Oshawott is the CUTEST Pokemon EVER! Everything is just so cute about oshawott and I totally think that oshawott should be ranked higher then this.
So CUTE HE IS STRONG AWESOME AND GREAT! I LOVE OSHAWOTT. IT IS MY FAVORITE STARTER EVER AND HE SHOULD BE NUMBER ONE. HE HAS A CUTE NAME. HIS EATING IS ADORABLE. I HAVE POSTERS AND STUFFED ANIMALS. MY FAVORITE POKEMON. I LOVE ALL OF HIS EVOLUTIONS. GO OSHY.
I love Oshawott. Oshawott is easily the cutest. Even my cousin loves him. This my second vote
Oshawott and Dewott are my favorite Pokemon form the Unova region! I hope they make new cute Pokemon for us Pokemon lovers to enjoy!

Also, one does not simply mess with an Oshawott or a Dewott who knows shellblade
He's cuter than any and every other Pokemon! (Even Eevee. Hate me, go ahead, it's my opinion.) This guy needs to be in the top 5 at least! I'm glad he's not any lower than 10, but he needs to be above 10.
And how can't you think he's cute? Just look at his face. :3 His little flippers and freckles are also so adorable! His little paws and tail, too!
Oshawott is the cutest Pokemon I have ever seen and is always my go to starter. THe real reason I watch the anime is because of oshawott
Oshawoot is my best starter Pokemon ever. His voice in the anime is adorable. His moves are awesome. He is so cute. And his name is fun to say. Making him my 2nd best Pokemon of all time. Celebi isn't even close to being the cutest Pokemon.
Oh! I love Mijumaru, that's Oshawott Japan name. It's has very cutest voice and very love face. It's really really really Cute. Oh I love it's so much, I'm a Super fan of him and I place him doll everywhere in the room.
Oshawott is my favorite Pokemon and the cutest in the world! I wish Pokemon were real. If they were I'd pick Oshawott as my starter!
I LOVE OSHAWOTT! He's really adorable in the game and the anime and he also evolves into Samurott. Oshawott is the cutest Pokemon!
Oshawott is so clumsy and that makes him super cute, he's so tough and never give up, he looks super cool and confident, what a cutest thing ever