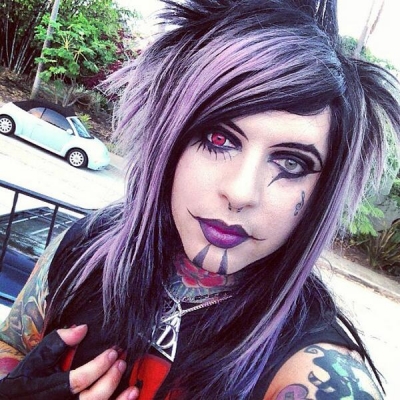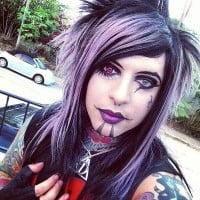 +
Dahvie Vanity
David Jesus Torres, better known by his stage name Dahvie Vanity, is an American singer-songwriter and rapper born on September 5, 1984, who is best known as one half of Crunkcore duo Blood on the Dance Floor and as the face and creative mind behind Industrial project Sinners are Winners. He is also known as Dahvie Insanity and Master of Death.
Vanity is the only consistent member of Blood on the Dance Floor, which started as a solo project, before being joined first by Garrett Ecstasy and later Jayy von Monroe. In the band, Vanity contributed vocals and songwriting, and was also the manager of the group. Blood on the Dance Floor's musical style varied from album to album, with crunkcore, alternative rock and dance pop being the most prominent genres. Their lyrics originally centered around sexual topics, but however became more varied as the band's commercial success increased. The band received mostly negative to lukewarm reviews, with the album "Epic" being the most panned and "Bad Blood" being the one with the best reviews, but nevertheless gathered a devoted fanbase with both Vanity and von Monroe being leading figures of the scene subculture. The group disbanded in late 2016.
From then on, Dahvie Vanity called himself Dahvie Insanity and became the vocalist and only official member of the project Sinners are Winners. The music project can be described as Industrial, and has been said to have a strong resemblance to Marilyn Manson. Dahvie Vanity also released a solo album in 2015 under the pseudonym Master of Death, which marked a departure from Blood on the Dance Floor's musical direction yet does not sound like Sinners are Winners, being a dubstep concept album about the fight of the fictional characters Skull Kid and Ultima. It is so far the only album release under that name or in that genre.
None of his projects apart from Blood on the Dance Floor have been professionally reviewed yet.
On August 1, 2018, he was accused of sexually assaulting multiple women, most of whom were underage, in an article on MetalSucks. Vanity has been accused of sexual misconduct multiple times in the past, with some accusations going back to at least 2007.
Version History:
Lists Featuring Dahvie Vanity
Related Lists