Most Dangerous Countries to Live In If a Zombie Apocalypse Occurred
If you're a zombie survivalist, then these are some places you'd probably want to stay away from.

The Top Ten

1 India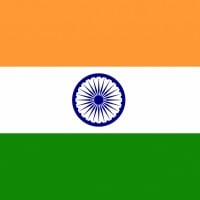 India, officially the Republic of India, is a country in South Asia. It is the seventh-largest country by area, the second-most populous country (with over 1.2 billion people), and the most populous democracy in the world. Its capital is New Delhi. Some other major cities are Mumbai, Chennai, and Ahemdabad. ...read more.
I think India would fall because cannibals would attack them and then not just India but also entirely all of Asia would be taken over because of y'know- that circle thing in asia that is more populous then the rest of the world. also because its #1 on the list.
The relations between Pakistan & India will probably deteriorate to the point of a nuclear exchange, considering that, you wouldn't want to be here when that goes down.
Very densely populated, poverty is high, with polluted water and air, little places to seek refuge. India would be one of the first countries to fall.
Know that you're already screwed if you live on a place with a very high population
2
China

China, officially the People's Republic of China, is a sovereign state in East Asia. It is the world's most populous state, with a population of over 1.388 billion. It was established in 1949 by Chairman Mao, the president of the communist party. Its capital is Beijing. The major cities are Shanghai, ...read more.
Why China is in this list?
If we will try to escape in China in a Zombie Apocalypse occurred because Chinese will eat them.
How was the joke reply me:D
While regions like Tibet may remain untouched by the outbreak, China would be hit very hard by a zombie apocalypse. Much of the country lives in very large cities such as Shanghai, Beijing, and Chongqing, and very few people own guns there.
High population? Crowded areas? Nowhere to escape?

That's a place where we don't want to start a zombie apocalypse
United under communism, cannibalistically have their brains devoured under communism
3
Bangladesh

Bangladesh, on the northern coast of the Bay of Bengal, is surrounded by India, with a small common border with Myanmar in the southeast. The country is low-lying riverine land traversed by the many branches and tributaries of the Ganges and Brahmaputra rivers.
One of the highest population densities of the world
Definitely the most dangerous place.
Most densely populated..less hard work for them
It's very densely populated.there's problems such as poverty,dirty pollution, and very flat land which would make it worse
4
Somalia

There will literally be no difference there whether a zombie apocalypse is happening or not
Zombie Pirates. That is all that needs to be said.
Zombie pirates and zombie kids with ak-47's!
Lots of starving children.
5
Philippines

The Philippines was established in March 16, 1521 and named in honor of a Spanish King whose name is King Philip of Spain II. It is located at Asia, specifically at Southeast Asia. The capital is Manila. 89% of the people there currently are native, while 11% of people there are foreigners.
The country has many other problems such as poverty and instability, that it would be destroyed quickly in a zombie apocalypse. Manila is the most densely populated city in the world, and disaster preparedness isn't quite developed yet. Although you can move to an isolated island, groups like the Moro Islamic Front might be controlling many of them.
I live here. If there's a typhoon or a southwest moonsoon plus a zombie apocalypse, good luck.
Drugs is life?
Drugs is love?

Selling drugs will make money?
Most people does not own guns so...
6
USA

The United States of America, or the U.S.A. for short, is a federal republic composed of 50 states, 48 of them are contiguous states. There are two other states, Alaska and Hawaii, which are north and south of the contiguous states, respectively. The United States declared its independence from the ...read more.
While there would be many places to flee to, and the gun ownership rate is high, America would be very dangerous in a zombie outbreak. Most people live in suburban or urban areas, and rely on shipments for food and water. But once everything collapses, you're on your own. East Coast states would be the worst off due to high population density and have the least amount of guns.
The good places in America to stay if there was an apocalypse:
Corn fields and other farms
The UP (Lots of gun owners, hunters, and fishers. Plus, pasties)
Mountains
After a while, the city (The zombies may leave to the suburbs so you could take dead people's stuff to stash)
Alaska
Hawaii
And, that's it, Anywhere else and you're dead...
People in the USA care for no one. The biggest danger would be humans and not the living dead.
There will many places to flee. And USA have lot gun ownership rate is so highest.
7
Japan

Japan is an island country in East Asia in the Pacific Ocean. It lies off the eastern coast of the Asia Mainland (east of China, Korea, Russia) and stretching from the Sea of Okhotsk in the north to the East China Sea and near Taiwan in the southwest. ...read more.
There isn't much land in Japan, and if all hell breaks lose, they'll be left with nothing, because the archipelago has very little natural resources.
I hope a zombie apocalypse doesn't happen here because Nintendo would be ruined
It's been nuked twice do you really think it won't happen a third..?
If things got really bad there... The U.S. would be aiming its nucelar missles there in seconds
8
United Kingdom
Not only is the UK densily populated but they are also extremely reliant on imports to survive and this includes vital food sources. Therefore its unlikely Britain would be able to survive an apocalypse.
If it happened somewhere else, the the U.K. would be safe. However, if it happened there, than the U.K. would be doomed, they are one of the most densely populated countries.
The UK,is fully capable of feeding itself(remember the population will be drastically reduced) and has the advantage of various castles and fortified areas that are still in a usable condition and museums that have battle tested weapons(not your weeaboo mail order katanas).
Larger population centers can be abandoned,hell maybe even rebuild Hadrian's wall as a barrier.
In several zombie apocalypse movies, you can see London overrun by thousands of zombies. So that doesn't really seem so promising.
9
Singapore

Singapore, officially the Republic of Singapore, and often referred to as the Lion City, the Garden City, and the Red Dot, is a global city and sovereign state in Southeast Asia and the world's only island city-state.
It's literally just a city - there's nowhere to escape to unless you can get through malaysia
Everyone in this country will be gone in a matter of hours
Very densely populated although it's very clean there
It's the smartest country so the zombies 🧟‍♀️ would attack there
10
Saudi Arabia

Saudi Arabia, officially known as the Kingdom of Saudi Arabia, is an Arab state in Western Asia (Middle East) constituting the bulk of the Arabian Peninsula. The official Language is Arabic. The capital city is Riyadh.
If the disease is airborne, then it will be spread here really quickly due to desert winds and the arid climate. Also, many people go to the country to make a pilgrimage. Religious centers such as Mecca and Medina would be overrun by zombies if this were to happen
The Contenders
11
Haiti

Poverty, couldn't imagine surviving zombies, especially if an earthquake happens.
12
Pakistan
Will likely nuke and/or be nuked by India when all hell breaks loose
Highly populated eith India neighboring it.
Just like india
13
Democratic Republic of The Congo

The Democratic Republic of the Congo, also known as DR Congo, DRC, DROC, Congo-Kinshasa, or simply the Congo is a country located in Central Africa.
14
Yemen
Why is this country here? They have a ton of gun ownership.
15
Burundi

Burundi, officially the Republic of Burundi, is a landlocked country in the African Great Lakes region of East Africa, bordered by Rwanda to the north, Tanzania to the east and south, and the Democratic Republic of the Congo to the west. In Burundi they speak Kirundi, French and Swahili. The capital ...read more.
16
Guinea

17
Sierra Leone

18
Netherlands
Nowhere really to flee to, as the whole country is flat and densely populated.
Very flat land(most of it being below sea level) and very densely populated
19
Nigeria

Nigeria, an African country on the Gulf of Guinea, has many natural landmarks and wildlife reserves. Protected areas such as Cross River National Park and Yankari National Park have waterfalls, dense rainforest, savanna, and rare primate habitats. One of the most recognizable sites is Zuma Rock, a 725m-tall ...read more.
20
North Korea

The Democratic People's Republic of Korea, also known as North Korea, is a country in Eastern Asia. Its capital is Pyongyang. It is currently ruled by the dictator Kim Jong-Un, after inheriting the title from his father, Kim Jong-Il, who in turn inherited it from his father, Kim Il-Sung. ...read more.
Though North Korea is pretty militarized and isolated, with large border zones shutting the country off from the rest of the world, who knows what crazy things the government would do during a zombie apocalypse.
I don't think it's a good idea to enter Kim Jong Un's territory in case of zombie apocalypse
They are full of weapons, they have concentration camps and the leader wouldn't want Zombies surely.
It would be fine to send Zombies to North Korea.
#KoreabecomingKoreaagainismorelikelythanZombies
Maybe, just maybe if you are safely locked away in prison, you can escape.
21
Liberia

Liberia, officially the Republic of Liberia, is a country on the West African coast. Liberia means "Land of the Free" in Latin.
22
Canada

Canada is a country in North America that is next to the United States, and it's the 2nd largest country in the world by area (size is 9.985 million km²). This country has 10 provinces, and 3 territories. Canada became a dominion on July 1, 1867. Its 10 provinces are: Ontario, British Columbia, Quebec, ...read more.
Actually, this would be a pretty safe place to be in a zombie apocalypse. Very small population density and cold temperatures that would freeze up zombies. Just, stay out of Ontario, which would be infested with zombies in Ottawa and Toronto.
This would be pretty safe because low population density,and cold temperatures that could freeze up the zombies. Only southern Canada would be unsafe and swarmed by zombies
If we go to colder parts of Canada then we should be safe
Safe because up north there is a very low pop density
23
Brazil

Brazil, officially the Federative Republic of Brazil, is the largest country in both South America and the Latin American region.
24
Australia

Australia, officially known as the Commonwealth of Australia, is a country comprising the mainland of the Australian continent, the island of Tasmania, and numerous smaller islands. Australia has a very warm climate and is very dry. The country's official language is English.
I'm pretty sure all the native wildlife will be more than a match for the zombies.
Safe because of ocean and barren land
Hahaa! Australia would be extremely safe.
25
Nepal

Nepal, officially the Federal Democratic Republic of Nepal, is a sovereign state located in South Asia. ...read more.
Should be safe, but can zombies survive in highly mountainous terrain and low amount of Atmospheric pressure? Cause that's what makes a difference
PSearch List