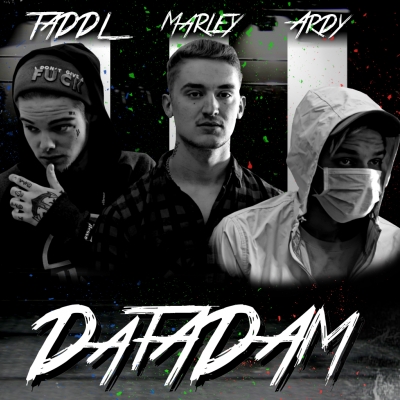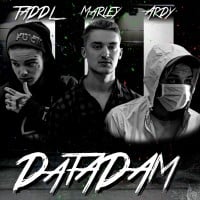 +
Dat Adam
Dat Adam was a German experimental hip hop and electronica group consisting of vocalists Thaddeus "Taddl" Tjarks and Ardian "Ardy" Bora, and producer Marius "Marley" Ley, which was formed in 2014 and disbanded in 2018.
Dat Adam's musical style has often been described as cloud rap, even though the trio itself doesn't regard their music as said genre. They can also be regarded as conscious hip hop or indie hip hop. While "Chrome EP" is predominantly hip hop-inspired and had a light-hearted dreamy atmosphere, "Hydra 3D" is way more experimental and makes excessive use of electronica elements. Their songs usually have an unconventional build up, often lacking choruses and a traditional verse structure, as well as creating galactic and robotic soundscapes. Songs like "Sanageyama" or "horrible_person" are noted for having a certain avant garde appeal. The group makes heavy use of Autotune and distortion effects, adding to the futuristic tone of the music. Also, the two vocalists often get very loud and angry when rapping. Both Taddl and Ardy sing and rap, all three group members write and compose the songs together.
Lyric-wise, Dat Adam are noted for their strong sociocritical content, criticizing the lack of values in modern times and having strong anti-capitalistic political views. Also, they often attack German pop culture and especially hip hop, for not being heartfelt and authentic. Dat Adam also sparked the German "cyber hippie" movement, a counterculture that embraces typical hippie traits such as peace, veganism, global connection and the love for music that's not mainstream. They however mix those serious issues with a large amount of anime and science fiction references due to their association with nerd culture. Also, while other modern German scenes and subcultures attack social media, Dat Adam and their fellow artists don't, but instead use them to actively interact with their followers.
While Dat Adam's songs are predominantly in German, they also regularly use terms of the English and Japanese language that are not commonly used in German, which became something of a trademark of them.
Dat Adam, despite not being backed by a major label, immediately found success in German speaking countries. Their debut EP "Chrome", which contained the band's first 6 songs, was released in 2015 as a limited physical release and widespread for download. It received positive reviews and topped the Austrian charts, and also reached the top 5 in Germany and Switzerland. In 2016, their debut album "Hydra 3D" was released as both a physical and digital edition regularly. It received critical acclaim and reached the Top 5 in Germany and Austria. Their second and final album, "newWAVE", was released in 2018 to disappointing sales.
Before their music days, vocalists Taddl and Ardy were popular internet celebrities and successful YouTube artists in German speaking countries, with Taddl's spin off channel LetsTaddl having more than 1 million subscribers as of 2016. They however deleted all their videos (yet not the channels themselves) at the peak of their career, not wanting their music to be associated with their YouTube videos due to the very different target groups and the fact that they felt their videos didn't authentically reflect their personality. The decision was criticized by fans and fellow YouTube artists alike at that time, but however was complemented by music critics for providing them more credibility as music artists. After their career proved to be way more successful as they expected it to be, both of them created new channels to upload new content infrequently when they feel like it, but don't consider themselves part of the YouTube scene anymore.
The group's logo resembles the three heads of a hydra, but is often mistaken by fans as three foxes due to the simplistic design. Dat Adam also reference to their movement as "Hydra Clique".
Version History:
Lists Featuring Dat Adam
Related Lists