Top Ten Best Defensive Ends Going Into the 2020 NFL Season
The Top Ten
Cameron Jordan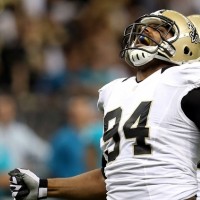 Cameron Tyler Jordan is an American football defensive end for the New Orleans Saints of the National Football League.
Jordan proved last season that he is the best defensive end in the NFL. He posted 15.5 sacks in 2019, and was a candidate for defensive player of the year. The Saints are fortunate to have a player of his caliber.
Danielle Hunter

Hunter has become a top defensive end in the league since he was drafted in the third round in 2015. He is the youngest player to ever reach 50 sacks, and could maybe be the youngest to reach 100 sacks if he continues his great play.
Nick Bosa

Nick doesn't have a long way to go to reach his brother's level. He has already been to a Pro Bowl, and is arguably the best 49ers player on defense.
Myles Garrett

Putting aside the Mason Rudolph incident, Garrett is a top defensive end in the NFL, and is one of the few recent Browns first round picks to actually really pay off. He just signed a big extension with the Browns as well. He will continue to shine for a bad team.
Joey Bosa

Joey gets the slight nod over his brother, because he has had more production so far. He just signed a massive extension with the Chargers as well.
Demarcus Lawrence

Lawrence has been a great player on the Cowboys defense for a few years now, and will continue to be one for a while longer.
Calais Campbell

Calais Malik Campbell is an American football defensive end for the Baltimore Ravens of the National Football League.
Campbell was one of the few highlights on a bad Jaguars team in 2019. Now that he is a member of the upstart Ravens, expect him to contribute to a playoff run.
Frank Clark

When not injured, Clark was a key contributor on a Super Bowl Chiefs team. He also had arguably the best stretch of play in his career during the Chiefs playoff run. He deserved the contract he got with them, and was well worth the first round pick they traded for him.
J.J. Watt

Justin James "J. J." Watt is an American football defensive end for the Houston Texans of the National Football League. He was drafted by the Texans with the 11th pick in the first round of the 2011 NFL Draft, and played college football at Wisconsin. ...read more.
Watt was once again injured for most of 2019, but as we saw in 2018, when he had 16 sacks and was a Pro Bowler and first team all-pro as well. If he stays healthy for the Texans, Watt will bounce back.
Josh Allen

This Josh Allen led all rookies in sacks and made the Pro Bowl. He looks to make up for the lost production of the recently departed Calais Campbell.
The Contenders
Trey Flowers
BAdd New Item