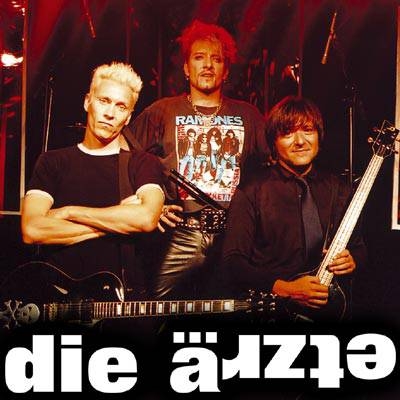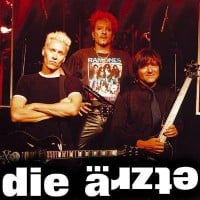 +
Die Arzte
Die Ärzte (German for "The Doctors"), is a German rock band currently consisting of Farin Urlaub (vocals, guitar, bass), Bela B (vocals, drums, guitar) and Rodrigo González (vocals, bass, guitar, piano), that formed in 1982 in Berlin.
Die Ärzte are generally regarded as one of the greatest German bands of all time, having been critically acclaimed throughout most of their career, having a massive fanbase and having released many successful albums and singles that have earned them several gold and platinum certifications. Their 1993 album "Die Bestie in Menschengestalt", which was released after a 5 year hiatus, is their most popular and acclaimed studio album, even though their 1982 debut album "Debil" and their 1988 live album "Nach uns die Sintflut" are also essential works in Germany's music landscape and were controversial back then for their use of intentionally tasteless humor. Retrospective reviews highly praise the albums. Their signature songs are "Schrei nach Liebe", released in 1993, which became an inofficial anthem for Germany's left-winged youth and remained that until today, and "Junge", released in 2007, which describes a pretentious adult's view on a rebellious teenager in a cynical fashion. They also had a big hit in 1998 called "Ein Schwein namens Männer", a bubblegum pop song about stereotypical behavior of men, which is their commercially most successful song to date, but also one of their most unpopular and was later criticized by the band itself.
Die Ärzte initially started as a punk band, and are still associated with that scene, even though they experimented with a variety of other rock genres over the years, including alternative rock, progressive rock and pop rock. On their first records, the band used a simplistic and straight forward style, but their compositions have grown more complex and melodious over the years.
The band's lyrics always have been topic of much debate. Despite most of their songs being fairly clean, mostly on earlier albums there were several tracks about provocative subjects, most infamously incest, bestiality or gory violence, all of which were delivered in an over-the-top and tongue in cheek fashion.
Die Ärzte is also noted for their extremely left-wing points of views, having released songs against racism, naziism and war.
Despite a majority of the band's tracks being light-hearted, witty and outrageous, many of their best known songs talk about more serious matter. In 2015, their anti-naziism song "Schrei nach Liebe" was chosen as the anthem for the "Aktion Arschloch", a protest movement after racism has increased due to the European migrant crisis, which caused the song to top the German charts 22 years after its initial release. The band donated all the money they made from the project. The entire project had huge media coverage.
Throughout their career, Die Ärzte have been compared to the extremely popular band Die Toten Hosen. Both groups were formed in the early 80s as punk bands and had their first successes in the end of that decade, before becoming two of the country's best known and most acclaimed bands. Both bands are also known for their mix of left-wing political songs and raunchy humor. Several music magazines and fans have since then stylized these similarities as a rivalry even though the groups have always been on friendly terms with each other. They do however have a feud with the popular German rock band Böhse Onkelz after having implied them to be a nazi band in "Schrei nach Liebe". While Böhse Onkelz are known to have several fans in the skinhead scene, they themselves always distanced them from any right-wing world views. When being asked about if the feud has ended in the meantime, Die Ärzte stated they still don't like them.
Version History:
Lists Featuring Die Arzte
Related Lists