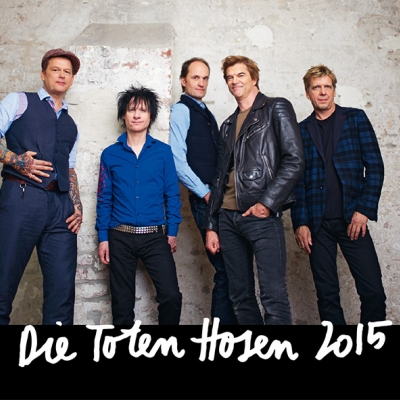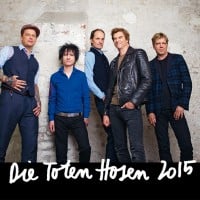 +
Die Toten Hosen
Die Toten Hosen is a German rock band currently consisting of Campino (vocals), Andreas von Holst (guitar), Michael Breitkopf (guitar), Andreas Meurer (bass) and Vom Ritchie (percussion), that was formed in 1982.
Die Toten Hosen are generally regarded as one of the greatest German bands of all time. Throughout their career, they received high critical acclaim and became a very popular group with a massive fanbase and commercially hugely successful albums and singles that earned several gold and platinum certifications.
Their most acclaimed album is the 1988 release "Ein kleines Bisschen Horrorschau", a concept album based on the novel "A Clockwork Orange", which is widely regarded as one of the greatest German albums of all time. Among their best known songs are "Hier kommt Alex" (1988), "Zehn kleine Jägermeister" (1996) and "Tage wie dieser" (2012).
The band is usually associated with the punk genre, having emerged from that scene in the early 80s, even though over the years they experimented with a variety of different subgenres of rock and pop music, and often released albums with more ambitious visions than the minimalistic outfit typical for punk.
Lyric-wise, Die Toten Hosen range from socially aware and political songs to light hearted humorous music that is often intentionally tasteless and vulgar. They are also known for their very left-wing and liberal views and have been involved in several projects protesting against naziism, racism and Germany's right-wing movement.
Throughout their career, Die Toten Hosen have been compared to the extremely popular band Die Ärzte. Both groups were formed in the early 80s as punk bands and had their first successes in the end of that decade, before becoming two of the country's best known and most acclaimed bands. Both bands are also known for their mix of left-wing political songs and raunchy humor. Several music magazines and fans have since then stylized these similarities as a rivalry even though the groups have always been on friendly terms with each other.
The band's name translates to "The Dead Trousers". This is a pun on the German idiom "tote Hose" to describe a place with nothing going on. For a short period of time, they also used the rhyming pseudonym "Die Roten Rosen", which translates to "The Red Roses"
Lists Featuring Die Toten Hosen
Related Lists