Most Disappointing Teams of the 2020 NFL Season
When you wish upon the hype a team puts around, sometimes it doesn't boat the same as other teams. These teams failed to do what many thought in the preview, and therefore what happened? Let's find out the aftermath as the season concluded with these teams that could of played better in the way that they lacked.

The Top Ten

1 Minnesota Vikings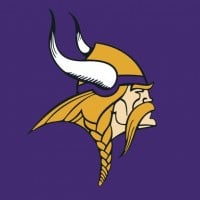 The Minnesota Vikings are an American football team based in Minneapolis, Minnesota. The Vikings joined the National Football League as an expansion team in 1960, and first took the field for the 1961 season.
To me this has no excuses at all. Half of the predictions has you as the winner of the NFC North. You end up finishing 3rd, and next to the awful Lions. Thank goodness you beat them at least. Still that is a telling side this team is fading fast. The offense looks like there gonna carry, but that defense is falling apart up front. Cousins will never get his shot if his defense begins to regress like it has. Mike Zimmer could be a hot seat the next season if they do indeed miss again.
2
New England Patriots

The New England Patriots are a professional American football team based in the Greater Boston region. New England Patriots are one of the few teams to have 5+ wins in the Super Bowl.
Not that everybody was actually rooting for a team that has dominated the AFC East for over 2 decades. They finally broke down. Now we see who the success relied more on apparently. Belichick's defense to be fair was not at the fullest despite the wins they manage to get. The offense was so painful, and badly constructed. Anybody could struggle like that. Yet again though Cam Newton showed his age after that covid time he had changed things that trended down as the team went falling down. The needed address would be anything offense at this point. They gotta be aggressive and fix that fast.
3
San Francisco 49ers

The San Francisco 49ers are a professional American football team located in the San Francisco Bay Area.
Let's see... injuries is there excuse why they got nowhere near the playoffs stunning, but perhaps not either. Never would of expected the 49ers to end up last. Still the way they look now they might not be nearly that good especially with the departure of Robert Saleh could be a big blow moving into 2021. They got great skill players and all. They may be shuffling around some of things in this journey to getting better in quite a difficult looking division it has turned out.
4
Houston Texans

The Houston Texans are a professional American football team based in Houston, Texas. The team competes in the National Football League as a member club of the American Football Conference South division.
Deshaun Watson truly is a great quarterback with a lot of bad around him is stunning to me. I knew that defense looked bad, and the red flags and warnings were all mean to exactly what happened. The 3 big things that hurt Houston is no 1st round draft pick. Your not so good up front or in the secondary. Watson is still sacked a ton, we gotta help him now while we can can't turn this into a tragic Andrew Luck ending.
5
Dallas Cowboys

The Dallas Cowboys are a professional American football team based in the Dallas–Fort Worth metroplex. The Cowboys compete in the National Football League as a member club of the league's National Football Conference East division.
Then only thing we questioned was that defense could it improve? It has gotten much worse. Granted there not as terrible as they started out the 1st half, but good god that's no excuse for Mike Nolan on code red alert. So my belief is one of things has to go and my ideal would be the coordinator goes to give McCarthy one more chance. Enough with the fumble like decisions that cost you games. Next year is a mandate to get better. You may have got lucky with Dak Prescott going out like he did, but don't you dare do that again. This offense has explosive plays they can make if there healthy. That was the issue, improve on defense than maybe there is signs that trend better than what looked like impending doom. The division was so bad they manage to somehow still hang on, but they were still no way what we anticipated.
wdym, they were never going to be good.
6
Denver Broncos

The Denver Broncos are an American football team based in Denver, Colorado. The Broncos compete in the National Football League as a member club of the league's American Football Conference West division.
You could say the pandemic got Denver somewhat. Although I think part goes on the offense. That offense was so disappointing I couldn't believe it. It didn't help when Courtland Sutton got hurt sure. I do not think it's the players faults necessary. It's the guy telling them what type of scheme to go and that is the Giants failure Pat Shurmur. He basically sabotaged Drew Lock and that was something we should have inspected more carefully at the coaching staff of teams we end up going into the koolaid with assumption to thrive without second guessing.
7
Las Vegas Raiders

How? How can they not get in the playoffs? Is it the defense, or is it Derek Carr being so careful with the football? This team has beaten team that made the playoffs, and the one team that's happy not to see them is the Chiefs. Still Jon Gruden 3 years still doesn't make the playoffs despite the good pieces he does have. This secondary needs some serious upgrade with a proper defensive coordinator to boot. The offense can put up points, but man can't be wasting these guys just to always fall to the team I just mentioned.
8
Philadelphia Eagles

The Philadelphia Eagles are a professional football franchise based in Philadelphia, Pennsylvania. The Eagles compete in the National Football League as a member club of the league's National Football Conference East division.
To be fair the Eagles coming into the season were already looking shaky with a busted injured line that didn't help matters much. Carson Wentz because of this has the worst season as a pro. Their 1st round pick had some bright spots, but was mostly hurt. Zach Ertz looks like his gone based off of his worst play as pro as well. Defense has been from middle fo the road to bottom half some of the times. Gym Shorts like to take all the yards, but that type of style of defense is one I never understood. The team has no linebackers, and yet that doesn't help much especially when teams aren't afraid to dial up the pass on you.
9
Atlanta Falcons

The Atlanta Falcons are a professional American football team based in Atlanta, Georgia. The Falcons compete in the National Football League as a member club of the league's National Football Conference South division.
Some people thought the Falcons were a playoff team. I didn't think so. Sure Matt Ryan still plays like a borderline top 5 QB. It's just the man is cursed with the franchise he plays for unfortunately. No matter how good he plays, the team magically always collapse like they have this season, and thus something may just have to change the way the outcome has turned out.
10
New Orleans Saints

The New Orleans Saints are a professional American football team based in New Orleans, Louisiana. The Saints currently compete in the National Football League as a member club of the league's National Football Conference South division.
Okay look, Saints made it in the playoffs again. I don't think they play like a 12 win team compared to how they were the last few seasons combined. Drew Brees clearly is showing this is it. The receiving core is either never there, or the end up on the shelf like Michael Thomas for example. I do think Sean Payton's coaching ways gets his credit for carrying such a disarrayed like team as they were on offense.

Defense has gotten better in the 2nd half. That could be their strength going into the playoffs, but I don't see them doing much if they end out like that I'm not surprised. I just don't think they look anything like a quality 2nd seed unlike the AFC counterpart on the other hand.
BAdd New Item