Top Ten Disney Park Icons
Every Disney park around the world has a visual magnet that draws you in and captures the essence of the respective park. Whether it is the magical Cinderella Castle or the breath-taking Tree of Life, these parks all have recognizable symbols that immediately pop into our heads whenever we think about them. These icons not only look impressive, they also serve to help keep you oriented within the park. This list features the icons that stand out the most and do the best job at capturing the spirit of their parks.

The Top Ten

1 Cinderella Castle (Magic Kingdom)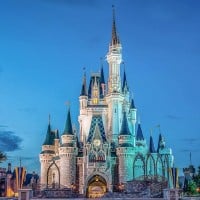 Cinderella Castle is not only a universally recognized theme park icon for the Magic Kingdom, it is also an iconic symbol for the Walt Disney Company as a whole. Standing at 189 ft. tall, the castle is the one thing everyone looks forward to seeing when approaching the Magic Kingdom, and getting a picture of your party in front of it is a must for most families. The use of forced perspective, with larger proportions at the base and smaller proportions at the top, make the castle appear taller than it actually is, and this is particularly effective when walking down Main Street and seeing it tower over everything in sight. The castle not only serves as the centerpiece of the park, but it is also the star of numerous events throughout the day, including stage shows, parades, and firework shows. The inside of the castle features the restaurant Cinderella's Royal Table, as well as a walkthrough mosaic that retells the classic story of Cinderella. It also features a suite that was ...more
2
Spaceship Earth (Epcot)

Standing at 180 ft tall, Spaceship Earth is not only an iconic Disney structure, but a world-famous monument. This geodesic sphere consists of 11,448 triangular tiles pieced together and is often mistaken for a giant golf ball. It is considered an engineering wonder, as a completely spherical structure had never been built prior to Spaceship Earth. Seeing the giant sphere for the first time is one of the most exciting moments when on to Disney vacation and the structure itself is incredibly photogenic, especially when it is all lit up at night after Illuminations. Despite its large size, it is still hard to believe that an entire ride is contained within it. The ride, which shares the same name as the geodesic structure, explores the progression of human communication throughout history and how we are continuing to advance. Despite it's currently underwhelming descent, it is still a great ride that is one of the last remaining attractions from the park's opening day. Overall, ...more
That looks beautiful! I've never seen it before!
That looks absolutely stunning
3
Tree of Life (Disney's Animal Kingdom)

One of my personal favorite icons, the Tree of Life, inspired by the spiritual tree of the same name, serves as the perfect symbol for a park about appreciating nature and wildlife. Standing at 145ft tall, this artificial baobob tree that sits in the center of Discovery Island consists of over 300 animal carvings, including both existing and extinct species. All of these animal carvings feel as if they are emerging from the "bark" of the tree, and thanks to the brilliant blending of colors by the Imagineers, you would be convinced that it was real tree bark. Inside the Tree of Life is the 3D show "It's Tough to be a Bug" based on Pixar's "A Bug's Life," a show which actually made its debut seven months before the film did. The walkway to this show gives you an opportunity to get an up-close view of the tree and take in the impressive details, though there are other places to get a good view of the icon as well. As of 2016, the tree "awakens" at night with a projection show called Tree ...more
Too bad it's physically dwarfed by Everest and those floating rocks at Pandora, but at least it's not anywhere near as bad as how much shorter Disneyland's castle is than its mountains.
4
Mt. Prometheus (Tokyo DisneySea)

If there were ever a reason to go to the Tokyo Disney Resort, it would be to see Disney's most visually stunning and innovative park ever created, Tokyo DisneySea. Disney has always been notable for its excellent theming, but DisneySea takes it up a notch with some of the most mind-blowing and thoroughly immersive theming that will make you forget that you're in a theme park. Just from looking at pictures of the park, it's no surprise as to why it's considered Disney's best. Much like the rest of the park, it has a captivating icon to go with it, a large volcano in the center of the park called Mount Prometheus that sits on the Jules Verne-inspired Mysterious Island. This has to be one of Disney best efforts at rock-work ever, if not the best, and it looks even more stunning at night. Occasionally, the volcano "erupts" with bursts of fire and steam, complete with thunderous roars that help add to the believability that you're really in this mysterious place full of adventure. It ...more
Home of Journey to the Center of the Earth, the greatest Disney attraction ever built!
5
Le Château de la Belle au Bois Dormant (Disneyland Paris)

Every Disney resort around the world has a castle park and each has their own interpretation of a magical fairytale castle to serve as the icon of their park. However, out of all the international castles, I'd have to pick Disneyland Paris's Sleeping Beauty Castle as my favorite. Tokyo Disneyland's Cinderella Castle is pretty much identical to the Magic Kingdom's, and Hong Kong Disneyland's is a clone of the original castle in Anaheim. Shanghai's Enchanted Storybook Castle feels like an over-the-top mix of Disneyland's Sleeping Beauty Castle and MK's Cinderella Castle that is certainly grandiose and stunning in its own right, but I really like the unique, elegant approach that Disneyland Paris went with. Especially with the landscaping surrounding it, this castle looks like it was stripped right out of a fairytale and in a way feels the most magical out of all the castles. Of course, Europe is filled with real castles, so the American castles used those as inspirations for their ...more
This should be higher than its California counterpart!
6
Sleeping Beauty Castle (Disneyland)

Can't have a list of Disney park icons without including the original Sleeping Beauty Castle at Disneyland Park! This icon is the only one to have been overseen by Walt himself and has been used as the logo for Walt Disney Pictures and Walt Disney Television, so even people who have never been to a Disney park will easily recognize this icon. It is a rather small castle, especially when compared to Cinderella Castle at the Magic Kingdom, standing at only 77 feet tall, though the use of forced perspective makes it seem a little bigger than it actually is. It can seem a bit underwhelming with its small size, particularly for someone used to Florida's castle, but it kind of suits Disneyland's quainter, cozier feel, and it also makes the Matterhorn feel like an actual mountain, so it's no big deal that it's not completely towering over everything. Much like Cinderella Castle, Sleeping Beauty Castle was inspired by the Neuschwanstein Castle in Bavaria, as well as several other medieval ...more
7
Grizzly Peak (Disney California Adventure)

While Disney California Adventure might not be the best Disney park, it has one of the most unique icons for sure, that being the impressive Grizzly Peak. This bear-shaped mountain, home to the thrilling water ride Grizzly River Rapids, as well as the surrounding area which shares the peak's name, takes much of its inspiration from Yosemite National Park, and arguably captures the spirit of California better than anything else in the park. This icon stands out to me because of its natural yet imaginative look that feels distinct from other Disney creations and for me is one of the biggest draws to DCA.
Most underrated Disney park icon.
8
Mount Mayday (Typhoon Lagoon)

Even the water parks have their own impressive centerpieces, and in the case of Typhoon Lagoon, that structure is a man-made volcano called Mount Mayday with a shipwrecked shrimp boat known as "Miss Tilly" perched on top of it. The icon helps create the feeling of being stranded in a tropical paradise and is incredibly picturesque, which is especially important seeing as it serves as the backdrop for the park's signature attraction, the Typhoon Lagoon Surf Pool. The image of Mount Mayday towering over this ginormous wave pool really highlights the difference between Disney and your typical water park. On top of visual appeal, the volcano also serves as the launching point for several of the parks attractions, including Mayday Falls and Humunga Kowabunga. The most interesting aspect of this icon is that every half-hour, Mount Mayday erupts a geyser of water and steam that juts out of the pipes of the Miss Tilly.
9
Mount Gushmore (Blizzard Beach)

This one needs some love.
10
Chinese Theater (Disney's Hollywood Studios)

Disney's Hollywood Studios has always been kind of the odd man out when it comes to having a universally recognized symbol of the park compared to the other WDW parks which all have had obvious icons since day one: Cinderella Castle, Spaceship Earth, and the Tree of Life respectively. Since its opening in 1989, the park has always had the Chinese Theater as a recognizable symbol, especially since it formerly housed The Great Movie Ride which, while somewhat dated, perfectly reflected the park's old Hollywood theme. However, unlike the other three icons, the Chinese Theater cannot really be seen from a great distance and doesn't have the same level of grandeur. When compared to the icons of the other parks, it seems the least exciting by comparison. This is reflected in the fact that Disney cannot seem to stick with having it as the icon and has used a few different structures over the years to serve as the symbol of the park. The Earful Tower served as the icon of the park along with ...more
Much prettier looking than that ugly sorcerer's hat that once eclipsed it.
The Contenders
11
Enchanted Storybook Castle (Shanghai Disneyland Park)

Why isn't this one higher?
12
The Twilight Zone Tower of Terror (Disney's Hollywood Studios)

The Twilight Zone Tower of Terror, also known as Tower of Terror, is an accelerated drop tower dark ride located at Disney's Hollywood Studios, Tokyo DisneySea, Walt Disney Studios Park, and formerly located at Disney California Adventure Park. Except for the Tokyo DisneySea version, the attractions ...read more.
Following the demolition of both the Earful Tower and the Sorcerer's Hat, Disney has decided to start using The Tower of Terror as the new icon for Disney's Hollywood Studios. In promotional material and merchandise, the Tower is featured alongside Cinderella Castle, Spaceship Earth, and the Tree of Life, and while the Tower is a tall, imposing structure like the other icons, it strikes me as a bit strange to have it as the symbol of a park. It's one of my favorite rides at the resort and one of Disney's best examples of theming, but for some reason, having it as a park icon kind of feels like it would to have Space Mountain as an icon. That said, it's been around almost as long as the park has and it is an iconic structure that represents old Hollywood to some degree. It just is sort of odd to see it alongside the other three park symbols, though perhaps it's just because I'm so used to seeing the Earful Tower and the Sorcerer's Hat as the icons for the park. If they decide to keep ...more
Am I the only one who wouldn't mind seeing the Paris version of this ride get remodeled after GotG (just like what happened with the California version)? However, the Tokyo and Florida versions of this ride should be left alone, especially because the Tokyo version works perfectly as its own thing and the Florida version is just too iconic and top-notch to get rid of (in addition to the fact that there is already a Guardians coaster being built at Epcot where UoE used to be). If the Florida version DOES end up losing the rights to The Twilight Zone, I think a Doctor Strange overlay could seriously work, especially if it means getting to hear the movie's main actor's sexy speaking voice on a Disney attraction.
Since Disney has just purchased Fox, I would actually really love to see this ride receive a Die Hard overlay for the holidays (just like what is done with the Anaheim and Tokyo versions of the Haunted Mansion in favor of Nightmare Before Christmas).
I sadly have not been to Disneyworld.
This icon is probably my favourite because of the lighting and design.
BAdd New Item