Top 10 Best Doug Episodes
Doug is a 1991 animated television series about a boy who narrates his encounters with common problems at school, often through imagination sequences. These are, in people's opinion, the best episodes from Doug from both the Nick and Disney versions.

The Top Ten

1 Doug's Halloween Adventure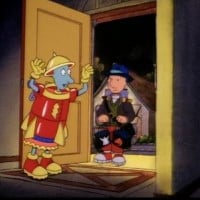 2
Doug's Nightmare on Jumbo Street

3
Doug Graduates
I love this episode, very dark and serious. Especially the part where he gets disowned and spirals into a depression where he gets addicted to heroin and quit by having sex with a goldfish every day to stabilize his own mood. Definitely the most memorable episode.
4 Doug Bags a Neematoad
5
Doug's Mail Order Mania

6 Doug and Patti Sittin' in a Tree
7
Doug's Door to Door

8
Doug's Birthday Present
Mr. Funnie makes more money for a better birthday present for his son
9 Doug Clobbers Patti
10 Doug's Last Birthday
The Contenders
11
Doug and the Yard of Doom
In a homage to the Sandlot Doug must get his frisbee from a huge guard dog
12
Doug on His Own

13
Doug Rocks The House

14 Night of the living Dougs
15 Patti's Dad Dilemma
16 Doug Grows Up
17 Doug and Patti P.I.
18 Doug Flies a Kite
19 Doug's Big Panic
20 Doug's Cartoon
21 Doug's Hoop Nightmare
22 Doug: A Limited Corporation
23 Doug's Patti Beef
24 Doug's Brainy Buddy
25 Doug's in the Money
PSearch List