Top 10 Drummers From Whose Drumming Technique One Can Learn the Most
The Top Ten
Neil Peart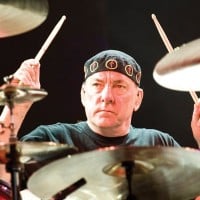 Neil Ellwood Peart, (September 12, 1952 - January 7, 2020) was a Canadian musician and writer best known as the drummer and primary lyricist of the rock band Rush. Peart received numerous awards for his musical performances, including an induction into the Modern Drummer Hall of Fame in 1983, making ...read more.
As a Rush fan, he is one of the best drummers ever, but that is just my opinion - RushFan123
Gene Hoglan:
"Peart came up with so many great drum parts that were so memorable yet they were understandable from a drum standpoint. [...] Their lyrics really appealed to me, like, "Wow, they aren't just singing about partying or getting chicks on the weekend. There's something of merit, there's some heady stuff happening with their lyrics." So, I guess that was just my big influence, their whole approach. Then shortly after being a Rush fan, that's when I started getting really into all the super duper heavy metal stuff like that. So it was just a natural progression for me, for myself."
Tomas Haake (Meshuggah):
Rush was "the band that I always kept going back to, [...], it was just an eye opener." [...] "That was the first band in my teenage years where the drummer was writing the lyrics - like what the hell, how is that possible? In that sense, Neil Peart was who made me get into writing lyrics and reading books, and getting inspiration from books." - Metal_Treasure
Mike Portnoy

Michael Portnoy is an American drummer primarily known as the former drummer, backing vocalist, and a co-founder of the progressive metal/rock band Dream Theater. Known for his technical skill as a drummer, Portnoy has won 30 awards from the Modern Drummer magazine.
Buddy Rich

Bernard "Buddy" Rich was an American jazz drummer and bandleader. Widely considered one of the most influential drummers of all time and known for his virtuoso technique, power, and speed, Rich was billed as "the world's greatest drummer" during his career.
Phil Collins

Philip David Charles "Phil" Collins is an English singer-songwriter and musician, who has also worked as a record producer and actor.
Tomas Haake

Tomas Haake is a Swedish drummer and main songwriter of the experimental metal band Meshuggah. He is known for his polyrhythms and technical ability. In 2012, he was named the 5th best Modern Metal drummer by MetalSucks.net. He was named the number one drummer in the "Metal" category, in the July 2008 ...read more.
His polymeters... - Metal_Treasure
George Kollias

Georgios "George" Kollias is a Greek heavy metal drummer and music teacher best known for his work with American technical death metal band Nile.
Mike Mangini

Mike Mangini is an American drummer. Since 2010, he has been a member of progressive metal band Dream Theater, following the departure of founding drummer Mike Portnoy.
Gene Hoglan

Eugene "Gene" Victor Hoglan II is an American drummer. He is acclaimed for his creativity in drum arrangements, including use of odd devices for percussion effects and his trademark lengthy double-kick drum rhythms.
Mario Duplantier

Mario Duplantier is a French musician and artist best known as the drummer of technical death metal band Gojira.
Ian Paice

Ian Anderson Paice (born 29 June 1948) is an English musician, best known as the drummer of the English rock band Deep Purple. He has been the band's only constant member since its foundation.
BAdd New Item