Greatest Drummers of All Time
AKPickin
The Contenders: Page 4
61
Bill Bruford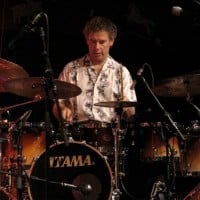 William Scott "Bill" Bruford is an English retired drummer, percussionist, composer, producer, and record label owner.
To place Bruford at such a low rating means two things: First, you people need to learn what polyrhythmic drumming means (Bruford can play four separate time signatures at once, a different signature per limb) and Second, you people have no idea what qualifies a good/better/best drummer. Most of this poll is a popularity contest, NOT based on skill level.
Bruford is the only drummer which can make unconventional beats work and totally change conventional sounds. He's the percussionist which for weeks after hearing a tune you still marvel the direction he took in the song. Listen to the recovery toward the end of live versions of "Easy Money" on youtube or even better "Exiles". Simply the best ever even Neil Peart admits Bruford was one of his greatest inspirations along with Tull's later drummer Barriemore Barlow and of course Carl Palmer.
Although he may not be the absolute greatest drummer of all time, Bill has countless drumming masterpieces, my favorite of which is Heart Of The Sunrise. He also introduced the symmetrical drum kit to popularity. Not only has he achieved more than most in the music world, he is a really nice and humble guy. - lavillaof2112
Bruford's playing with King Crimson is pure magic, he belongs among the top 5 drummers ever to play in a rock band right up there with Ginger Baker.
V 13 Comments
62
Vinny Appice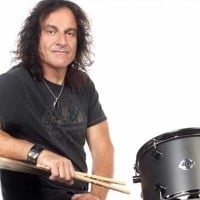 Vincent Paul "Vinny" Appice, is an American rock drummer and the younger brother of drummer Carmine Appice.
He played greatest bands like rainbow, dio, and black Sabbath ( after bill ward left the band)
Runs in the family like brother Carmine
V 1 Comment
63
Rob Bourdon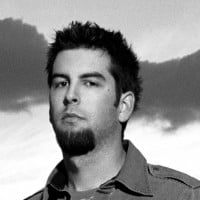 Best drummer ever! He plays in my favourite band, and he's the best drummer I know! He should be at first place! VOTE VOTE VOTE VOTE GO SOLDIERS!
Hottest drummer ever! Rob bourden should be in first place you inspired me to play the drum's I'm 14 years old and I've been playing since 2002!
Alright I gotta admit leaving Meteora and MTM aside he didn't actually did any awesome drumming till The Hunting Party. That album shows his flair, fast yet smooth transitions. A Line in the Sand and other songs are pretty good example. His Given Up solo should also not be forgotten. He may not deserve to be in the Top 5 but he clearly is a Top 10 material now!
No doubt a drummer of the only real rock band right now
V 16 Comments
64 Ted Kirkpatrick
65 Shannon Lucas
66
Charlie Watts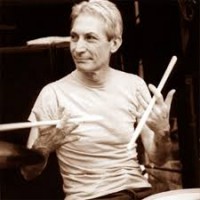 You only have to listen to a handful of stones songs to understand the genius Charlie brought to the high hat and snare. Songs such as jigsaw puzzle, honky tonk woman and stray cat blue all rely solely on his inventive fills and beats. Only a true talent like Watts could've brought together the ragged harmonies of Keith's guitar and Jaggers croon. Combined with Bill Wyman the Stones had themselves one of the greatest rhythm sections in history. Why isn't he higher?
The drummer of my favorite band Mr. Charlie Watts. Charlie would easily be in my top ten list. The Stones were never a band to go heavy on drums(or guitar for that matter). When I look back at the Stones extensive musical catalog and I listen to Charlies drum playing over the decades it's pretty incredible. This man has literally played the drums for 50 years for one band it's reason enough to put him on any Best Drummer list. After all it's Charlies beats that make Jagger do the "chicken dance" on stage.
A young Charlie Watts was probably the best drummer ever even now in his 70's he's very good.
He should be placed at number one.
V 7 Comments
67
Gavin Harrison
He is simply the best in my opinion! He is amazing on porcupine tree, just listen to fear of a blank planet and the incident, he is amazing in 05ric, and he is now in King Crimson, and I am seeing them this year in concert. Now, Gavin, has versatility on the drums, he can play in many different time signatures, he uses rudiments any chance he gets, and his dynamics are just amazing! Just look up gavin harrison on YouTube, watch a few videos, and decide for yourself.
He has some of the best chops in modern music, and knows exactly what to play, at what moment in a song. How he manages to lay down in a groove, odd or common time, and how he does it so effortlessly, is true talent.

If you ever hear Sound Of Muzak, that song is in 7/4 (Except the chorus, which is in common time), but you would never know that due to the pocket he stays in. Same with Halo... One part of the song, about two and a half minutes in, is in 17/16, but due to the overriding technique he uses, makes it easy to enjoy the song.

To top it all off, he is quite proficient in jazz, and has Steve Gadd as one of influences!
Here's the thing: The only way to do a proper list, is to give every voter a list of candidates, somehow ensure the voters know what makes a drummer good, make sure they listen to songs they've played on, and rule out any possibility of votes being cast based on popularity. Since these criteria are impossible, this list is meaningless, as evidenced by Gavin Harrison being so low on this list. He belongs in the top 10, along with guys like Portnoy, Mangini, Minnemann, Peart, Lang, etc. And it's not about who did it first, it's about who's the best, ie, TALENT. Which means guys like Bonham and Moon should be much lower, because there have been so many newer drummers who came later that are simply BETTER.
Gavin Harrison is one of the best
V 9 Comments
68
Joe Morello
Technically the best I have heard. His contribution was always more than one forth of The Dave Brubeck Quartet. Could achieve more with one hand while keeping his glasses on with the other hand than anyone I have seen or heard.
Joe could do more with unusual time signatures than any other drummer. A class act. Enormously talented.
No one could do a solo like Joe. No one had the perception and acuity. He was one of a kind.
Simply the best. Should be number 1
V 4 Comments
69
Scott Travis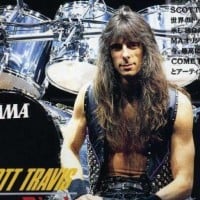 Mark Scott Travis is a Grammy Award winning American rock musician, best known as the drummer for the English heavy metal band Judas Priest and the American heavy metal band Racer X.
You tend to get addicted to the beats & rhythm he creates, cannot explain. Painkiller, Hell Patrol... Need to be much higher than this
Rightly said, you tend to develop an addiction. This guy is very special, and I cannot tolerate to see him listed low in the order.
Fair, accurate, hits like clockwork, irreplaceable Judas!
V 1 Comment
70 Bob Burns
71
Shawn Drover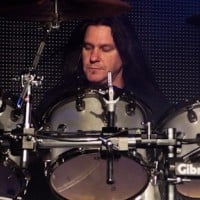 Shawn Drover is a Canadian musician, best known for his work with the American thrash metal band Megadeth.
72
Jeff Porcaro
It was a shock when he died, toto did not know who was going to take he's place. and he is the best drummer in my heart, and my heart is a locked door
This guy should be at LEAST on top 20.
As a real drummer in the 80s and showing everyone his rocking spirit, he should be at least in the top 20.
Cannot believe he is so low on the list. One of the greatest drummers hands-down.
V 7 Comments
73
Chris Coleman
Have any of you even heard of Chris Coleman? Cause I seriously doubt it, if any of you heard of this guy you'd see he's better than almost everyone in the top ten, the only reason so called "drummers" like Joey jordison are in the top ten is because of commercial success, and John Bonham is great, and at one time I thought he was the best, and he was my favorite drummer, but now, the unknowns like Chris Coleman and Benny Greb are my favorite.
74
George Kollias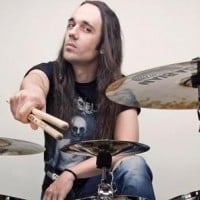 Georgios "George" Kollias is a Greek heavy metal drummer and music teacher best known for his work with American technical death metal band Nile.
People's main argument against this guy is that he has no groove, even though groovy drums don't work with technical death metal. You see, Kollias can play groovy, but groovy drummers can't play nearly as fast as Kollias.
I've seen drummers like Mike Portnoy, Neil Peart, Buddy Rich, The Rev, John Bonham, those guys have good techniques, but none as fast as him, if you watch him doing the 200 to 280 bpm, you'll be surprised on how fast he is. One of the best death metal drummers out if Inferno.
Should be number one. No one can match his speed, technique and versatility
81?! ARE YOU NUTS?!?!?
V 1 Comment
75
Aaron Spears
So his house drummer and this is the reason why he shouldn't on a list like this
Aaron spears happens to be one of the very few drummers who played for Usher, Alicia keys and James brown I vote Aaron spears pne of the best drummers alive right now.
76
Nick Augusto
Come on people. How is nick all the way down here? He should be in at least the top 20. He does the most insane double bass ever in shattering the skies above. GO TRIVIUM.
77
Steve Smith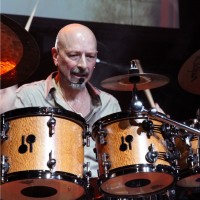 Steve Elliott Smith is an American drummer known for being the drummer of the rock band Journey rejoining the band for the third time in 2015. Modern Drummer magazine readers voted him the #1 All-Around Drummer five years in a row.
I'm happy I even found this man in the list. Most people probably don't know, but this is the drummer for Journey during their greatest years of success. He is flawless and sharp in his style, and if anyone out there loves Steve Perry and/or Journey, don't forget about the drummer!
I'm slightly incredulous that Steve Smith is showing at 72nd!
Along with Buddy Rich, he is generally regarded by the majority of drummers worth their salt as being the ultimate talent. Neil Peart, no less, cites him as such.
Speaking as a drummer myself, so many of the names on here seem to be based on popularity and their band's success as opposed to their actual capability on the drum kit.
To be at the very top of this list for the simplistic title of 'Best' Drummer, the required qualities are more than just speed, power and flashy / impressive chops. Sure, good technique and employment of the rudiments is pretty vital (Steve Smith was taught by the legendary late drumming guru Freddie Gruber who also coached Peart and Dave Weckl amongst many other drummer's drummers)
Not that there is anything wrong with speed, power and outright flashy virtuosity - I grew up idolising Neil Peart for these qualities who is top of the tree in the rock field, in my opinion.
However, ...more
V 1 Comment
78 Paul Bostaph
79
Larry Mullen Jr
Larry is the best drummer in the world! AND he plays in the best band in the world! His best idea when he was a teenager: to look for people to start a band!
YES! He began to write music history! "The Larry Mullen Band, " "Feedback, " "the Hype" - and then finally they found to the name that everyone should know soon - worldwide!

Larry - the best drummer in the world... No doubt!
Larry not only is the BEST drummer EVER, he's also the reason we have the best band EVER. Larry's a street drummer. He simply is unique and MAGNIFICENT! -Mary Brown Holland
If you play live for millions of people, if your band albums have sold millions of copies, that makes you the best drummer.

Desperado
To me Larry mullen is so underrated.
V 11 Comments
80
Charlie Benante
His drumming is fast and goes so well with the songs. He doesn't just try to play 1000 miles an hour but really shows his creativity and musicianship in songs like I Am the Law with the military styled intro beat and changes the whole pace and intensity of the songs without any other musicians having to change a thing of what they're playing.
One of the most underrated drummers. His work spans almost 30 years and pushes himself further with every new release.
Amazing drummer! Crazy double bass and hand speed. Listen to caught In a mosh!
PSearch List
Recommended Lists
Related Lists

Most Technical Drummers of All Time

Top Ten Best Female Drummers of All Time

Top Ten Greatest Rock and Jazz Drummers of All Time

Greatest Christian Drummers of All Time

Greatest Guitarists & Drummers of All Time
List StatsUpdated 20 Feb 2017
30,000 votes
360 listings
9 years, 95 days old

Top Remixes (68)

1. Dave Lombardo
2. Danny Carey
3. Mike Portnoy
KobraKid

1. Neil Peart
2. Travis Barker
3. Keith Moon
mumun

1. John Bonham
2. Ginger Baker
3. Phil Collins
torth
View All 68
Posts
Error Reporting
See a factual error in these listings? Report it
here
.