Hedgehog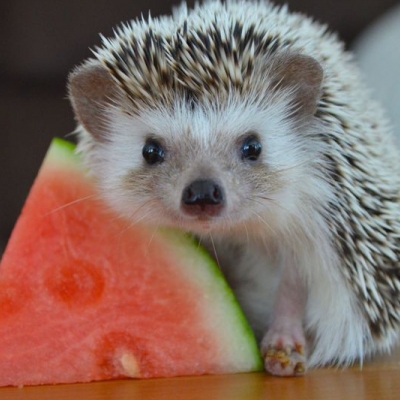 Found on pinimg.com
Info
A hedgehog is any of the spiny mammals of the subfamily Erinaceinae, in the eulipotyphlan family Erinaceidae.
Comments
Top
Popular
Newest
Have nearby vet, food, water and love. Look up food on google. THEY ALSO ARE SUPER CUTE!.
Their adorable, I don't have one but my friend did and it was very sweet and social, it needed a good amount of care but not a ton. Over all I think this would make a great per for older kids!
Some people think that owning hedgehogs is animal abuse, but it's not. There are a ton of hedgehog breeders, and they know a lot about stuff like that. I have a pet hedgehog and they are cool pets, but they don't do much. - Baking_lover
Hedgehogs have to be the easiest things to ever care for, and I have had about half of the things on this list! Nocturnal, cute, and you can take them on trips
I'm thinking of getting one for my child who is 10 and loves animals because its easy to take care of and its adorable
Cutest thing! Easy and adorable! It's really fun and you don't need to give much attention to it because they r so relaxing and simple. I know when you here hedgehog you think no! But they are...
. AWESOME
. EASY
. STRESS-FREE
Great little cute animals and easy to train trust me I know and also watch out for there little pricks
These guys are easy to take care of they sleep all day and make there own homes in there cages
Hedgehogs are adorable and I've always wanted on especially a baby
I think hedgehogs are cute and pretty easy to take care of.
I love those spiky little cute things my dad had one
Hedgehogs are adorable! They are easy to take care of and fun to play with.
I think they would be cute adorable even
I've never had one but their so cute
I love hedgehogs but they can bight a lot
I love hedgehogs but I definitely would not keep them as a pet.
I'm not sure hedgehogs should be pets...
Are good house pets they know their owner voice if you spend enough time with it and a sooo cute!
I love hedgehogs so much I want one so bad for my birthday it will be the only thing on my list so if everyone does it I'll definitely get one P. S ill name it peter
You'd need knowledge, had pets before, love to give, a vet nearby, hedgehog food,
A place for it to sleep, etc., and your ready!
HEDGEHOGS BELONG IN THE FOREST! NOT IN YOUR HOUSE! IF YOU HAVE A HEDGEHOG IN CAPTIVITY, YOU SHOULD KNOW THAT YOU ARE DOING ANIMAL CRUELTY! This is WRONG.