Top Ten Educational Kids Shows
With shows like The Day My Butt Went Psycho, Sanjay and Craig and Breadwinners, these educational shows are long-forgotten.
The Top Ten
1
Sesame Street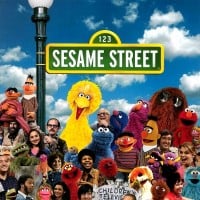 Sesame Street is a long-running American children's television series, produced by Sesame Workshop and created by Joan Ganz Cooney and Lloyd Morrisett.
This a good cartoon I remember watching it when I was little I remember seeing elmo, the cookie monster, big bird, and the garbage guy
How is the longest running educational kids show with the most variety not at the top?
I also loved this show!
Should be number 1!
It has great messages, teaches good lessons and it's super cute!
2
Blue's Clues

Blue's Clues is an American children's television series that premiered on Nickelodeon in 1996. Producers Angela Santomero, Todd Kessler, and Traci Paige Johnson combined concepts from child development and early-childhood education with innovative animation and production techniques that helped their ...read more.
I think that this show is very awesome because I grew up with it, and I think that it is very useful for little children. I also like Steve/Joe/Kevin's listening skills because they are very funny. I hope it gets revived for a 7th season sometime in the future.
There's nothing educational except a dumb person named Steve or Joe
This and Sesame Street are tied for me!
I loved show when I was little I also had a blue clues bed
3
The Magic School Bus

The Magic School Bus is a Canadian/American Saturday morning animated children's television series, based on the book series of the same name by Joanna Cole and Bruce Degen. It is notable for its use of celebrity talent and combining entertainment with an educational series. Broadcasting & Cable said ...read more.
I don't actually like it in my opinion. It's very poorly animated and edited. The voice acting is kinda... trash. I haven't watched TMS Rides Again yet, but I hope it's better.
Teaches children about science, such as the water cycle, solar system, electricity, chemical reactions.
Teaches children about weather, dinosaurs
I remember watching this a few times as a kid
4
Peg+Cat
This show is educational. Peg sings while solving each problem and teaches little kids math skills. I wish this were around when I was a little kid.
This show sucks and Peg is always so negative. She thinks there's ALWAYS a problem.
No, Kids already know how to count to 10...
OH YEAH, THIS IS IN THE LAST PLACE
5
Bill Nye The Science Guy
I remember enjoying the theme song as a kid, and his science videos were interesting to watch in school
Who is he? Sorry not from America.
The show is a cool show about a guy who talks about science in a funny way. - PanthersFTWpatriotsFTL
6
Dora the Explorer

Dora the Explorer (2000 - 2019) is an American preschool educational animated TV series created by Chris Gifford, Valerie Walsh, and Eric Weiner in which Dora goes on adventures with her friend, a monkey named Boots.
It teaches you Spanish, how to count in Spanish, and the characters are appropriate (yes they are creepy though).
That comment reminds me, I have Spanish exam.
Teaches you Spanish.
Why is it high on the list it sucks it teaches you to yell and be an idiot
This Barney Diego and Caillou should be on the bottom
7
Arthur

Arthur is a Canadian/American animated educational television series for children, created by Cookie Jar Group and WGBH for PBS.
I like Arthur. He does amazing exploring.
8
Veggietales

VeggieTales is an American series of direct-to-video children's computer animated films created by Phil Vischer and Mike Nawrocki featuring antropomorphic fruits and vegetables in stories conveying moral themes based on Christianity
Veggie tales is amazing! Unlike these retarded shows like My little pony, caillou, Dora and peppa pig, this show is actually educational
I'm sick! *cough cough* *sniff sniff*
Underrated show!
Now THIS is something kids SHOULD watch
9
My Little Pony: Friendship is Magic

My Little Pony: Friendship Is Magic is a children's animated fantasy television series developed by Lauren Faust, produced by Hasbro Studios and DHX Media Vancouver. Despite the target demographic of young girls, Friendship Is Magic has also gained a large following of older viewers, mainly young and ...read more.
It teaches us friendship lessons.
For everyone of ALL AGES!
I don't like this one. It's way too colorful, even for me.
Should be first
10
SpongeBob SquarePants
This show still makes me laugh today, this show never gets old
The first few episodes taught us life lessons, like not to be funny for friends or never to give up. Not the stupid stuff the new episodes give.
I loved this show!
The Newcomers
?
Liberty's Kids

Why wasn't this overlooked gem on this list already? By the way, it's an amazing animated show that has a rather nuanced look at the American Revolution made by DiC out of all people.
The Contenders
11
LazyTown

LazyTown is an English-language Icelandic children's educational musical action comedy program made by an international crew and performed by a cast from Iceland, the United States and the United Kingdom.
12
Clifford the Big Red Dog

Clifford the Big Red Dog is an American-British educational animated children's television series, based upon Norman Bridwell's children's book series of the same name. Produced by Scholastic Productions, it originally aired on PBS Kids from September 4, 2000 to February 25, 2003.
And I loved this show!
13
The Backyardigans

The Backyardigans is a Canadian–American CGI-animated musical TV series created by Janice Burgess, It is a co-production of animation studio Nelvana and Nickelodeon Animation Studios.
I loved this show!
]['[It's not educational, it's edutainment. Austin is cute?!?!
14
Zoboomafoo

Zoboomafoo is an American/Canadian zoological children's television series that originally aired from January 25, 1998 to November 21, 2001. It is still currently shown in syndication and was regularly shown on Sprout until 2011. A total of 65 episodes were aired.
First of all, does a Coquel's sifaka magically transform himself into a fake Canadian monkey man? Second, are the Kratt brothers really experts on animal behaviors? Are they veterinarians, or zookeepers, or biologists? Are they even seen on ASPCA commercials begging you to donate to the sad-looking puppies? The characters are VERY annoying, and tell the companies that made it to CANCEL it, before these two evil brothers and their French-speaking lemur destroy children's media.
The Kratt brothers are experts on animal behaviors, diets and habitats.
15
Teletubbies

Teletubbies is a British pre-school children's television series created by Ragdoll Productions' Anne Wood CBE and Andrew Davenport, who wrote each of the show's 365 episodes. It is owned by Canadian Studio WildBrain, which is the largest independent Children's and Adolescent's Film Studio
The stories from the kids maybe. But not the Teletubbies themselves because they are just silly or the sun because the sun is just a baby who either laughs or cries.
They are tall because its men and women in costumes.
It's educational in that once you realize the teletubby things were tall, this becomes weird. Look at them they're like 7 foot or at least 6.
16
Barney and Friends

Barney & Friends is an American children's television series aimed at children from ages 1 to 8, created by Sheryl Leach and produced by HIT Entertainment. It premiered on PBS on April 6, 1992. The series features the title character Barney, a purple anthropomorphic tyrannosaurus rex who conveys educational ...read more.
I loved this show!
17
Sofia the First

Sofia the First is an American computer-animated television series that features a commoner joining the royal family as a princess.
18
PJ Masks

PJ Masks is an animated children's television series produced by Entertainment One, Frog Box, and TeamTO.
Because there super heroes
Why is it on the list?! IT DOESN'T EVEN TEACH YOU ANYTHING!
19 Wow Wow Wubbzy
20 Ask Me!
21 The Electric Company (2009)
22
Bob the Builder

Bob the Builder is a British children's animated television show created by Keith Chapman. In the original series, Bob appears in a stop motion animated programme as a building contractor, specialising in masonry, along with his colleague Wendy, various neighbours and friends, and their gang of anthropomorphised ...read more.
23 Where Are We Going?
24
Mister Rogers' Neighborhood

Mister Rogers' Neighborhood is an American half-hour children's television series that was created and hosted by namesake Fred Rogers.
This classic show teaches children how to properly manage their emotions. In some episodes, Mister Rogers would visit a factory to see how things are made or invite a guest star to talk about their profession.
"Again who the hell is he? " Someone way before your time, kid...
Again who the hell is he?
How is this not #1? This man devoted his life and career primarily to help children grow in both maturity and understanding of love and the world around them. He always made sure to remind each of his viewers that they are special just for who they are. The whole down- to-Earth simplicity of the show proves that you don't need ginormous special effects or crazy bizarre characters to captivate your young audience. Just a real world setting and a friendly guy who wants to welcome you to his neighborhood.
25
Caillou

Caillou is a Canadian educational children's television series that was first shown on Télétoon and Teletoon, with its first episode airing on the former channel on September 15, 1997; the show later moved to Treehouse TV, with its final episode being shown on that channel on October 3, 2010. The ...read more.
Who put this on the list. It teaches you how to be rude.
Maybe because he came from books and that's why he's on the list little kids learnt to read if they wanted to read them.
Oh yeah. it is educational! it teaches kids how to be whiny and throw tantrums like a baby! thumbs up! NOT!
PSearch List