Top 10 Events/Things Being Cancelled or Postponed Due to the Coronavirus
The Coronavirus is making dominant waves for all the wrong reasons. It has held hostage many countries since being discovered in Wuhan of China. It's hit hard in many major countries. Here are events you'll soon be very disappointed to know won't be going from here on out.

The Top Ten

NBA, NHL, MLS, & MLB Leagues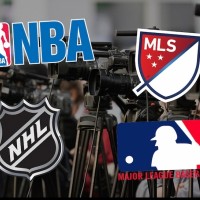 By next week you will see the major economic fatigue in the sports side of things. The whole domino effect happened in the infamous Jazz Vs Thunder game. When it was confirmed that two Jazz players had it every other association followed through to stop playing measures. Soccer was already testing out a game with no fans, now they decided to join the rest. Baseball will be done with pre-season training of baseball, and will have a bit of a delayed baseball start. Which to me is okay seeing how early MLB likes to start way too early.
It sucks with no sports because of this virus was looking forward to playoffs in NHL and NBA, and was looking forward to the MLB regular season
Started with the NBA incident between the Utah Jazz and OKC Thunder when Rudy Gobert testing positive for the virus and from there the other main sporting leagues all followed now incredibly bizarre seeing all of them canceling at the same time
Nice Americanized listing. I'm sure no other country has canceled their sports leagues.
Walt Disney World

Expect a lot of national destination to also close down next after the events of Walt Disney's greatest attraction is going out for a bit. Both in Florida and California. This comes after the display of a sport game.
Even the ones in Japan, France, and China are closed- not just both the ones in the U.S.
Yeah that's rare to see Walt Disney World and Land both closed
Men's and Women's Division I: March Madness, League Tournaments

This one is incredibly saddening for a lot of reasons most notably the seniors on scholarship who have worked all their lives for this moment, the Cinderella teams who weren't supposed to make it in but did. (East Tennessee, Liberty, Bradley,etc) The Good teams who had a incredible once in a blue moon season (Dayton Baylor San Diego State etc) and those teams looking to win it all (Kansas Gonzaga Duke Kentucky etc) all of that in as crazy of a season as this just unfortunate circumstances to see it end like this
The biggest one hurt by this is arguably the march madness tournament is not gonna take place. A major bummer for sports fans alike. We never get to find out who would have won it all this year, and any of that. Instead you see a sad exit of seniors who never got the chance to shine in their final years playing in their respective college.
E3

This one hurts big unlike most years. This was supposed to be the year for a new generation to be unveiled with both Sony's PS5, and Microsoft's Let's go with Xbox Scarlett (or whatever there gonna name it). To not get that live is a massive bummer.
Didn't they cancel because a lot of big companies pulled out of the event?
A bit odd to see it called seeing it's still awhile away
Various Concerts

There's a good number of music concerts that will not be a full go. Some of these include Pearl Jam, Billie Eilish, STYX, and among others have all almost unanimously decided to bail at a time where everything is at a dark period in history.
Man... check out my profile page to see all the gig tickets I already bought for my wife and myself. This sucks. I'm hoping the ones in May are still on. Be careful everybody, especially the adults.
It's a large gathering so it makes sense
Awwww was hoping to go to a kpop concert this year
No Time to Die

There are a number of movies set to be released this week, but had to be pulled back. The biggest one to be hurt by this is Daniel Craig's last movie as James Bond. California at the time was getting hit by this at an instance and decided to stop production for the time being. New date now being as far as November.
Now I'm really upset.
I'm glad it's now out in November
Various Schools

While Spring Break had ended on March 16, at least proms and graduation ceremonies aren't postponed nor canceled as of March 18.
My school got closed. Now I'm stuck at home in quarantine
I'm not sure the seniors will still be able to graduate.
all schools closed in my town because of this virus I feel bad for grade 12 students if they can't have their grad this year
Broadway Shows

The Governor of New York ordered for broadway shows to stop immediately. Can't blame him with New York now being the highest toll of cases that rose. If that's the case why not delay the census than too.
The XFL

This ones unfortunate seeing they were actually doing good but now going down the AAF route it appears
2020 Summer Olympics - Tokyo
The only other times it has not gone ahead as originally planned were in the World Wars
My Japanese class was going to throw a huge celebration.
It sucks that the olympics got postponed this year
The Contenders
PGA Tour

Just broke news last night Golf will not be taking the risk of making their players stress about getting sick. Originally planning to go with no audience was made after the events that unfolded with other sporting events.
Hopefully they don't call off the Masters but weird seeing golf the one sport left standing
3/13th's episode of WWE Friday Night Smackdown

WWE decided to move the show to their Performance Center in Florida and aired the show there. It felt really different to watch, because they didn't have a crowd for obvious reasons. It was pretty cool seeing the performers adapt to not performing in front of a crowd, but only for television.
Heh, now yes this style of wrestling is scripted. My point is there are those who actually like entertainment. Imagine being the winner of this show, and to find out that event is a no go. On a side note the XFL (another one of vince's products) was also cancelled via just last night.
Kontinental Hockey League
The khl just cancelled their games on march 17 or 18 2020
Alberta Junior Hockey League
They postponed their playoffs, the team in my town was in the playoffs until it got postponed
Premier League

Liverpool should have won the league :(
Eurovision Song Contest
Can't believe this is so low, first thing I thought of. That may say more about me, however...
Aussie aussie aussie oi oi oi
The Kids Choice Awards
Can we watch Power Rangers instead?
they had it. thank god victoria took over chance. chance sucks.
South by Southwest

South by Southwest is a festival event that has a collection of films being presented in Texas annually. a few days ago they announced that they too will join the long list of events not gonna go any further with preparations to showcase.
Abra Community Day on Pokémon Go

Originally set to take place on March 15, Niantic postponed Abra Community Day to April 25 due to the lockdown.
Anime Japan 2020

WAIT THERE'S CONS FOR ANIME? AND THEY'RE CANCELLED? DAMMIT!
Anime, Comic and other Conventions
Australian Football League
Stone Mountain Park
The ECHL

On March 14, 2020, the ECHL cancelled its season.
Smash World Tour 2020
PSearch List