Best Exo K Members
The most popular K-pop group is EXO. It is all people interest! So, come on! Look at my list that is best EXO-K members and vote for them!
The Top Ten
SeHun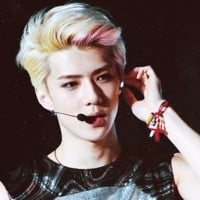 Oh Se-hun, better known mononymously as Sehun, is a South Korean dancer, rapper, singer, model and actor. He is a member of the South Korean-Chinese boy group Exo and its sub-group Exo-K.
Sehunnie is cute and handsome.He is also full of 'aegyo'. A cute maknae
Sehun is handsome and cute boy
I love sehun very much wahhh
When I first saw is aegyo, I melted. I was like 'Oh my gosh! He's so cute! Oh my gosh! Oh my gosh! '. Funny because I never fangirled before. And I still don't, but when it comes to him, I become a fangirl. Doing aegyo or not, he's cute. I'm his #0 fan! Woohoo!
Chanyeol
Even if chanyeol not include on exo's visual, he can showing his other attractive point, like rapping and able to play lot of instrument. Therefore he is really funny and cheerful, which is very cute and make other member laugh. That's why the 'happy virus' nickname really fits him. Oppa, since now it's just 11 member, I hope the best for you and other member! Oppa fighting!
Best rapper
ChAnyeol is have a kissable lips - khryssia
He is the best for me because heis so good and nice to rap and also to sing and dance...
Suho

Kim Jun-myeon was born on May 22, 1991. Known professionally as Suho, he is a South Korean singer and actor. He is a member and the leader of the South Korean boy group EXO and its sub-unit group called EXO-K.
SUPER LEADER
Because suho is handsome for me - khryssia
He's cool! The best members ever! - rico
I REALLY LOVE SUHO. AND YEAH HIS THE COOLEST AND THE BEST MEMBER!
Kai
Why is kai so low down, he is exo's dancing machine!
Kai's he hottest, the cutest and the best dancer and singer from EXO. I don't understand why they don't give him a chance. He would go a long way if he gets a chance.😍😍😍😍
BaekHyun
Little handsome for me - khryssia
He is the best for me...
He has a wonderful, angelic voice! I love him so much ♥ - puggio
I love and stan all the exo members but baekhyun is my number one bias :D
D.O
He should be the 1st since he's totally the best
I think D. O should be at number #1 or #2
He is number 1 for me. ❤❤❤
D.o should not be the last,he is really popular in Malaysia
Chen (EXO)

I don't understand why chen is so underrated he's handsome, sweet to his fans and his voice is sososo angelic and powerful
BAdd New Item