Top 10 Most Famous Painters
The Top Ten
1
Leonardo Da Vinci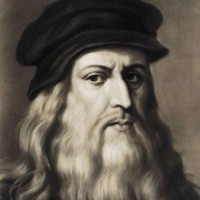 Leonardo di ser Piero da Vinci (April 15, 1452 - May 2, 1519) more commonly Leonardo da Vinci or simply Leonardo, was an Italian polymath whose areas of interest included invention, painting, sculpting, architecture, science, music, mathematics, engineering, literature, anatomy, geology, astronomy, ...read more.
This is a list of the most famous painters, and when it comes to most famous painters, Da Vinci, Raphael, Michelangelo, Rembrandt, Van Gogh, Monet, Picasso and Dali are definitely the ones that everybody has heard of!
This is a list with the most famous painters, and I guess everyone knows of all these guys in the Top Ten!
2
Vincent van Gogh

Vincent Willem van Gogh (30 March 1853 – 29 July 1890) was a Dutch Post-Impressionist painter who is among the most famous and influential figures in the history of Western art. ...read more.
3
Michelangelo

Michelangelo di Lodovico Buonarroti Simoni (6 March 1475 – 18 February 1564) was an Italian sculptor, painter, architect, and poet of the High Renaissance who exerted an unparalleled influence on the development of Western art. ...read more.
4
Salvador Dalí

Salvador Domingo Felipe Jacinto Dalí i Domènech, Marqués de Dalí de Púbol (11 May 1904 – 23 January 1989), known as Salvador Dalí, was a prominent Spanish surrealist painter born in Figueres, Catalonia, Spain.
5
Pablo Picasso

Pablo Ruiz y Picasso, (25 October 1881 – 8 April 1973) also known as Pablo Picasso, was a Spanish painter, sculptor, printmaker, ceramicist, stage designer, poet and playwright who spent most of his adult life in France. ...read more.
6
Claude Monet

Oscar-Claude Monet was a founder of French Impressionist painting, and the most consistent and prolific practitioner of the movement's philosophy of expressing one's perceptions before nature, especially as applied to plein-air landscape painting.
7
Raphael

Raffaello Sanzio da Urbino (April 6 or March 28, 1483 – April 6, 1520), known as Raphael, was an Italian painter and architect of the High Renaissance. His work is admired for its clarity of form, ease of composition, and visual achievement of the Neoplatonic ideal of human grandeur. Together with ...read more.
8
Andy Warhol

Andy Warhol, born Andrew Warhola (August 6, 1928 – February 22, 1987) was an American artist who was a leading figure in the visual art movement known as Pop art. His works explore the relationship between artistic expression, celebrity culture, and advertising that flourished by the 1960s.
The picture is actually David Bowie portraying Andy Warhol in Basquiat (the biographical movie of 1996).
Edit: I reported it, and it has been solved, the images are now accurate. - Lotuscandy
9
Frida Kahlo

Frida Kahlo de Rivera (July 6, 1907 – July 13, 1954), born Magdalena Carmen Frida Kahlo y Calderón was a Mexican painter known for her self-portraits.
10 Georgia O' Keeffe
The Contenders
11
Donatello

Donato di Niccolò di Betto Bardi (c. 1386 – 13 December 1466), better known as Donatello, was an early Renaissance sculptor from Florence. He studied classical sculpture, and used this to develop a fully Renaissance style in sculpture, whose periods in Rome, Padua and Siena introduced to other parts ...read more.
He's better known as a sculptor, though
12 Diego Rivera
13
Edvard Munch

Edvard Munch (12 December 1863 – 23 January 1944) was a Norwegian painter and printmaker whose intensely evocative treatment of psychological themes built upon some of the main tenets of late 19th-century Symbolism and greatly influenced German Expressionism in the early 20th century.
14
Chuck Close
He made giant portraits of people for the world like no other painter & was the best painter since all the classics we remember. He was the #1 painter of the post-golden age of art. Unfortunately he passed away on the 19th of August in 2021 due to congestive heart failure. He was 81. R.I.P.
15 Jack Vettriano
16 L.S. Lowry
17
Paul Cezanne

Paul Cézanne was a French artist and Post-Impressionist painter whose work laid the foundations of the transition from the 19th-century conception of artistic endeavour to a new and radically different world of art in the 20th century.
18
Henri Matisse

Henri-Émile-Benoît Matisse (31 December 1869 – 3 November 1954) was a French artist, known for both his use of colour and his fluid and original draughtsmanship. He was a draughtsman, printmaker, and sculptor, but is known primarily as a painter.
BAdd New Item