Top 10 Famous People Who Will Make You Lose Faith in Humanity
For this list I will be including criminals and non-criminals. I'll mostly be filling the Top 10 of this list with real criminals instead of non-criminals because those are far worse, but you are free to add anyone who makes your blood boil the most onto here.

These are people who have done things that are so stupid or so horrible that they really do make you feel ashamed of being part of the human race. I do not at all condone the actions of any of these people listed. It is important though to learn from past mistakes so that we don't make any more in the future. Be safe, be good, and never make the wrong choices.
The Top Ten
1
Vlad Tepes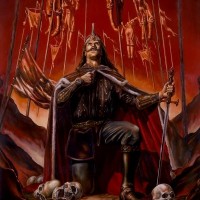 Vlad III (Known as "Vlad the Impaler" or "Vlad Dracula", born 1431) was a Romanian monarch. He was the ruler of Wallachia a total of three times before his death in 1476/7. He is most famous for his reputation as a dictator and his gruesome torture methods and executions, in which he has served as an ...read more.
Oh yeah, him. I would tell you what he did, but it may disturb some readers. - Cyri
2
Mao Zedong

Mao Zedong, also transliterated as Mao Tse-tung and commonly referred to as Chairman Mao, was a Chinese communist revolutionary and founding father of the People's Republic of China, which he governed as Chairman of the Communist Party of China from its establishment in 1949, until his death in 1976. ...read more.
3
Adolf Hitler

Adolf Hitler (April 20, 1889 - April 30, 1945) was a German politician who was the leader of the Nazi Party, Chancellor of Germany from 1933 to 1945, and Führer of Nazi Germany from 1934 to 1945. As dictator of Nazi Germany, he initiated World War II in Europe with the invasion of Poland in September ...read more.
4
Joseph Stalin

Joseph Vissarionovich Stalin was a Georgian dictator, and was the leader of the Soviet Union from the mid-1920s until his death in 1953. Holding the post of the General Secretary of the Central Committee of the Communist Party of the Soviet Union, he was effectively the dictator of the state.
5
Pol Pot

Pol Pot, born Saloth Sar, was a Cambodian revolutionary who led the Khmer Rouge from 1963 until 1997. From 1963 to 1981, he served as the General Secretary of the Communist Party of Kampuchea.
6
Idi Amin

Idi Amin Dada was a Ugandan politician and military officer. He was the President of Uganda from 1971 to 1979. Amin was born either in Koboko or Kampala to a Kakwa father and Lugbara mother. In 1946 he joined the King's African Rifles of the British Colonial Army.
7
Osama Bin Laden

Osama bin Mohammed bin Awad bin Laden was a Saudi Arabian-born stateless terrorist. He was a founder of al-Qaeda, the organization that claimed responsibility for the September 11 attacks on the United States, along with numerous other mass-casualty attacks against civilian and military targets worldwide. ...read more.
8
Ivan The Terrible

Ivan IV Vasilyevich, commonly known as Ivan the Terrible or Ivan the Fearsome, was the Grand Prince of Moscow from 1533 to 1547, then Tsar of All Rus' until his death in 1584. The last title was used by all his successors.
9
Genghis Khan

Genghis Khan c. 1162 – August 18 1227, born Temüjin, was the founder and Great Khan of the Mongol Empire, which became the largest contiguous empire in history after his death.
10
Elizabeth Bathory

Countess Elizabeth Báthory de Ecsed was a serial killer from the Báthory family of nobility in the Kingdom of Hungary.
The Contenders
11
Ted Bundy

Theodore Robert Bundy was an American serial killer, kidnapper, rapist, and necrophiliac who assaulted and murdered numerous young women and girls during the 1970s and possibly earlier.
12
Jeffrey Dahmer

Jeffrey Lionel Dahmer, also known as the Milwaukee Cannibal, was an American serial killer and sex offender, who committed the rape, murder, and dismemberment of seventeen men and boys between 1978 and 1991, with many of his later murders also involving necrophilia, cannibalism, and the permanent preservation ...read more.
13
John Wayne Gacy

John Wayne Gacy, Jr., also known as the Killer Clown, was an American serial killer and rapist who sexually assaulted and murdered at least 33 teenage boys and young men between 1972 and 1978 in Cook County, Illinois.
14
Ed Gein

Edward Theodore Gein, also known as The Butcher of Plainfield, was an American murderer and body snatcher.
15
Maximilien Robespierre

Maximilien François Marie Isidore de Robespierre was a French lawyer and politician, as well as one of the best known and most influential figures associated with the French Revolution and the Reign of Terror.
16
Albert Fish

Hamilton Howard "Albert" Fish was an American serial killer. He was also known as the Gray Man, the Werewolf of Wysteria, the Brooklyn Vampire, the Moon Maniac, and The Boogey Man.
17
Fritz Haarmann

18
Mary Ann Cotton

Mary Ann Cotton was an English murderer, convicted and hanged for killing three of her four husbands, apparently in order to collect on their insurance policies.
19
H.H. Holmes

Herman Webster Mudgett (1861-1896), better known as Dr. Henry Howard Holmes or, more commonly, as H. H. Holmes, was an American serial killer. While he confessed to 27 murders, only nine could be plausibly confirmed and several of the people he claimed to have murdered were still alive. He is said to ...read more.
20
Gary Ridgway

Gary Leon Ridgway, also known as the Green River Killer, is an American serial killer. He was initially convicted of 48 separate murders.
21
Ruhollah Khomeini

Sayyid Ruhollah Mūsavi Khomeini, known in the Western world as Ayatollah Khomeini, was an Iranian Shia Islam religious leader and politician.
22
Slobodan Milosevic

Slobodan Milošević was a Yugoslav and Serbian politician and the President of Serbia from 1989 to 1997 and President of the Federal Republic of Yugoslavia from 1997 to 2000.
23
Thug Behram

Thug Behra or Buhram, also known as Buhram Jemedar and the 'King of the Thugs', was a leader of the Thuggee cult active in Oudh in northern central India during the late 18th and early 19th century, and is often cited as one of the world's most prolific serial killers.
24
Gilles de Rais

Gilles de Montmorency-Laval, Baron de Rais, was a knight and lord from Brittany, Anjou and Poitou, a leader in the French army, and a companion-in-arms of Joan of Arc.
25
Francisco Franco

Francisco Franco Bahamonde was a Spanish general who ruled over Spain as a military dictator from 1939, after the Nationalist victory in the Spanish Civil War, until his death in 1975. This period in Spanish history is commonly known as Francoist Spain.
PSearch List