Top Ten Most Famous Presidents in the World
The Top Ten
1
Rodrigo Duterte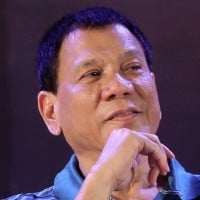 Rodrigo "Rody" Roa Duterte, also known by the nickname Digong, is a Filipino lawyer and politician of Visayan descent who is the President-elect of the Philippines after topping the official Congressional canvass for the 2016 election.
The strongest president! Abs cbn got what they really deserve for being a biased...wish u to have a good health, always...and help the country philippines to be a better and lively and powerful nation...Godbless president and always fight fight fight, we ,fellow Filipinos will participate and $ you in everything...THANKS U SO MUCH PRESIDENT!
Brilliant and very strategic. He captures the hearts not only of the Filipinos but also people of other nations through his unconventional and radical way of governance. The best president that had made Philippines back to its feet. Thank you President Duterte!
Unconventional way of leadership that whacks the stupidity out of its people. Now most are already awake and realised that the old ugly, mendicant, irresponsible, hypocritical culture have no place in this time. Pushing the Filipinos to think and challenges the status quo. He is the bitter medicine for the cancer of the Filipino society and that is the very reason why the catholic church, liberal party, terrorists, communists and drug syndicates are working together to break this man because Duterte is the barrier to their status quo.

He is loved, trusted and approved of by 88% of the population. The Filipinos knew the cultural problem. And they needed this painful treatment to get rid of their social sickness.
Rodrigo Duterte is a servant leader who knows the root cause of problems the country is facing. He is a political genius, whose tactics are of those of a chess grandmaster. He has shifted the geopolitical position of Asia and has played a very pivotal role in the region. He is well loved by the masses because he thinks, moves and speaks like them. He is one of them. He is deeply patriotic to the point that the Filipinos can walk tall in the midst of any nationality, assert their rights and be vocal of their thoughts. He the man the Filipino nations calls "Father", "Daddy", "Tatay" - a bond felt by most as he deliver his campaign promises and really trying hard to provide comfortable life for all. He is in-front of all the fights against corruption, drugs, oligarchy and crimes. My generation is lucky to experience his presidency and leadership.
2
Joko Widodo

Most humble, fashionable, funniest and coolest president ever. He changed indonesia to a very better country and best president of indonesia in history. Also don't forget to subscribe to his YouTube channel!
His presence has given a new hope that government can be trusted. At least, I know that Indonesia still has many good people who are willing to give their best effort for a better Indonesia.
He's the best President in the history of Indonesia. I'm speechless, unable to think of nice word for him.

Stay well and keep the fight well.
Such a humble, hardworking president, who currently being hated by the hoax of him in his country right now. May God bless him with strengths. Love you pak Jokowi
3
Barack Obama

Barack Hussein Obama II served as the 44th president of the United States of America. He was elected in 2008 after serving in the Senate from 2005-08, beating John McCain and becoming the first African-American to be elected President of the United States. He was elected again in 2012, beating Mitt ...read more.
Smart president his way of speech to his people made us proud to have has president. Made a excellent job since U.s economy was at its worse when took office.
I really Like you Obama. I trust you.
Man.. every body knows Obama, even a toddler would recognize him.
The best man ever!
4
Pervez Musharraf
Someone mentioned he win the kargal war (I think he mean Kargil war) won against india?...In real he didn't... India won the war...
He is the great Pakistani army chief he won kargal war against India in 1999.
I've never heard of him.
He is the best
5
Xi Jinping

Xi Jinping is a Chinese politician currently serving as General Secretary of the Communist Party of China, President of the People's Republic of China, and Chairman of the Central Military Commission.
The best I have seen due to the economic of his contry
President of my motherland. Best ruler ever. COMMUNISM IS BEST
6
Tony Abbott

Anthony John "Tony" Abbott is an Australian politician who was the 28th Prime Minister of Australia, from 18 September 2013 to 15 September 2015. Abbott was leader of the Liberal Party from 2009 to 2015, and has been a member of parliament for Warringah since 1994.
Whoever added Tony Abbott to this list needs to get his/her facts straight.
Australia does NOT have presidents. It has Prime Ministers. Tony Abbott WAS a Prime Minister and he was NOT popular!
Never a president - he was an extremely UNPOPULAR Prime Minister & he was booted out of that role.
Famous for all the wrong reasons and he was a PRIME MINISTER, not a President.
He is NOT popular in Australia!
7
Vladimir Putin

Vladimir Vladimirovich Putin has been the President of Russia since 7 May 2012, succeeding Dmitry Medvedev. He was also President from 2000-2008.
Putin always disgusts me with his stupid lies! Putin fans and their beliefs need to slammed (Criticise) because they're some of the stupidest people I've ever heard! I prefer the Japanese and Koreans than him!
He loves Russia and made Russia great again.
One of the few to oppose the reign of Obama
I'm Iranian and I know putin and ahmadi nejad are the best president of the world
8
Donald Trump

Donald John Trump (born June 14, 1946) is an American businessman, television personality, politician, and the 45th President of the United States. Born and raised in Queens, New York City, Trump received an economics degree from the Wharton School of the University of Pennsylvania in 1968. In 1971, ...read more.
Sorry to burst your bubble, but he doesn't keep promises, lies, cheats, and steals. He literally works for Putan. He's so horrible, his wife is paid to love him
He keeps his promise and stands up for the people of USA. He does not allow himself to be bullied no matter who is attacking him! I salute our commander in Chief. I pray he continues to fight for the citizens of the United States of America. Amen
I would say infamous, I like him, others don't.
Love this man, making America Great Again...
9 Dilma Rousseff
10
Sheikh Tamim
I think now he is the great leader in the world
I like very much sheikh tamim I love you
The Contenders
11 Tony Tan
12
David Cameron

David William Donald Cameron is a British politician who is at present the Prime Minister of the United Kingdom, Leader of its Conservative Party, and Member of Parliament for the Oxfordshire constituency of Witney.
13
Andrés Manuel López Obrador
Fighting corruption to the core of the groups that had taken hold of the power for the last 36 years in Mexico... Also, creating lots of programs to help the poorest people in the country, While at the same time trying to re start Pemex which is the main source of income in Mexico. Among other things... People has lots of expectations from him and he is delivering... as he says "Despacito, poco a poquito".
The best and the # 1 popular but he is not even looking for popularity. Loved by the people and hated by the corrupt.
Best president in the world, one of the top leaders of all the time in Mexico
Cleaning the corruption...hated by corrupts, loved by almost 80% of Mexicans.
14
Ferdinand Marcos

Best President of the Philippines in History Duterte is next to him...
Best President in the Philippines
The best President in the Philippines!
The best president!
15
Mustafa Kemal Atatürk
The greatest president ever. He is founder of the modern Turkey. Also he was a very good soldier. He has turned a country from islamic to secular but he couldn't succeed exactly. Most of turks are still continue being stupid
Founder of Republic of Turkey. He has made many revolutions such as nationalism, secularism, reformism, statism, populism.
He is the best president and general.
A great example for humanity.
16
A. P. J. Abdul Kalam

Avul Pakir Jainulabdeen "A. P. J." Abdul Kalam was the 11th President of India from 2002 to 2007. A career scientist turned politician, Kalam was born and raised in Rameswaram, Tamil Nadu, and studied physics and aerospace engineering.
Love you KALAM sir. U r the best president ever.
It was the best president in the world
Simply The great president.
We are missing you a lot !
17
Recep Tayyip Erdoğan
What what about Nelson Mandela? Wasn't he influential enough... He should at least b in the top5!
And I think he is very best president in the world
Un grande presidente
The best!
18
Imran Khan

Best one in History of Pakistan's President
Greatest president in world
Best one in History of Pakistan's President
great man
Top ten
great
great man
19
Nelson Mandela

Nelson Rolihlahla Mandela was a South African anti-apartheid revolutionary, politician, and philanthropist, who served as President of South Africa from 1994 to 1999. He was the country's first black chief executive, and the first elected in a fully representative democratic election.
Nelson Mandela was the greatest president to ever live!
He fought for freedom for all South Africans and has allowed me to live in freedom and harmony today!
it is a honour knowing that he represents My country, my home, South Africa
Greatest President
20
Abraham Lincoln

Abraham Lincoln was the 16th President of the United States, serving from March 1861 until his assassination in April 1865. Lincoln led the United States its bloodiest war and its greatest moral, constitutional, and political crisis.
But how could Abraham Lincoln, George Washington, Thomas Jefferson and Theodore Roosevelt not be as famous as most of these people above I've never even heard of?
There are more people who know about these 4 than people who know Rodrigo Duterte and Joko Widodo!
Best president ever after
21
Sukarno
He is founding father independence of indonesia also, influenced another poor nation to be free.
He loves us like he loves himself
Such a genuis people, much better than jokowi, I love prabowo
22
George Washington

George Washington was the first President of the United States, the Commander-in-Chief of the Continental Army during the American Revolutionary War, and one of the Founding Fathers of the United States.
23
Abdulla Yameen
Worst most corrupt and most hated president in the Maldives,
President of maldives is the best president ever
Best president of maldivea
24
John Fitzgerald Kennedy
Great man wonderful president.If only he would have lived longer the USA would be a better place today!
25 Susilo Bambang Yudhoyono
PSearch List