Best Fast Food Chicken Strips
What are the best fast food, over the counter style fried chicken places. Or who has the best fried chicken strips, tenders, fingers, nuggets, etc.

The Top Ten

1 Chick-Fil-A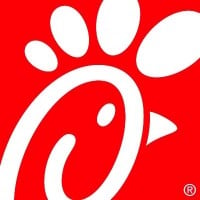 Chick-fil-A is an American fast food restaurant chain headquartered in the city of College Park, Georgia, specializing in chicken sandwiches. Founded in May 1946, it operates more than 2,200 restaurants, primarily in the United States. The restaurant serves breakfast before transitioning to its lunch ...read more.
The chicken sandwich is good, and McDonald's copied Chick-Fil-A and made their own chicken sandwich. What?! McDonald's is running out of food ideas. They should shut down their resturant.
Chick Fil A says that we didn't invent the chicken just the chicken sandwich but they act like they invented the chicken and make the best chicken nuggets ever even better then wendys or mcdonalds!
Chick-Fil-A has the best and healthiest chicken you can get. The fact that it also comes with incredibly friendly service, even better. I only wish they had more locations!
LOVE IT! It is so yummy especially for a fast food resturaunt! It is amazing and absolutely DELICIOUS! I would go there ANY day for the awesome chicken! All the food is so good!
2
Raising Cane's

I went to Raising Cane's yesterday when I was driving back to Pennsylvania from the beach in Ohio. Their chicken tenders are out of this world and their signature Cane's sauce is delectable.
Best chicken fingers I ever had! So tender,juicy and not a bit of grease! Also not covered up with a ton of spices so all you taste is delicious tender chicken.
Cane's is EASILY the best chicken strip I've ever had. I'm from Chicago, so have had KFC, Popeye's, Wendy's, Church's & Long John Silver's (the second best in my humble opinion) since I was a kid. I had Cane's for the first time early this year and go back every time I'm in a state where there is a franchise.

Crossing my fingers they'll eventually move to Illinois so we can finally get a quality chicken strip.
It's their fresh marinated chicken with homemade sauce that will make your tongue slap yo face! Love the golden fried crinkle cut French fries with the oh so buttery garlic toast! I am getting hungry just writing this! The only problem is that they are not as well know outside of Texas and Louisiana, but they are definitely expanding.
3
Popeye's
High quality chicken, with an amazing flavor! Hand breaded and made in house which is a huge freshness booster.
Tried a lot of chicken. Always end up back at Popeyes. Their fries and biscuits are legendary, and the spicy tenders are juicy and bomb.
Love the spiciness and crispiness of their strips. KFC is way too greasy and soggy around my area.
I love this chicken, it is so light and crispy, not greasy, Popeye's is the best.
4
Dairy Queen

Dairy Queen is a chain of soft serve ice cream and fast-food restaurants owned by International Dairy Queen, Inc., a subsidiary of Berkshire Hathaway.
I love Dairy Queens chicken... I think I just like chicken too much.
Absolutely the best chicken strips ever. I would place Jack in the Box right behind DQ.
Their honey mustard is why the chicken strips are so good!
Love the Chicken Strip Basket and the gravy. Chick-Fil-A is F'ing nasty.
5
Zaxby's
No one has matched the flavor of this chicken and the perfect amount of tenderness. They must have a secret recipe
Zaxby's has the freshest tasting chicken strips on a bun with lettuce and their special zax sauce that I have every tasted! So delicious!
I do not understand how Zaxby's remains in business. If you want to pay high prices for bad food Zaxby's should be your destination.
The only one my extremely Picky, 42 year old, child will eat. Loves the Zaxby's sauce..
6
Kentucky Fried Chicken
Actual chicken when you break a piece open-love the slightly crunchy texture. The meat is never dried out or in need of heavy dipping sauce.
It only ranks at #2 because there are not enough Popeye's or Church's all around the country
Their chicken strips are flawless. Popeye's U No U can't touch this steamy goodness
I voted for this because I've never tried Chick-fil-a *continues to sob*
7
Long John Silver's
Batter, not breading, really makes a difference. The best fast food chicken around in my opinion.
8 White Castle
9
Chester's Fried
Plump juicy chicken pieces, you get a lot for your money
10
Burger King

Burger King (BK) is an American global chain of hamburger fast food restaurants. Headquartered in the unincorporated area of Miami-Dade County, Florida, the company was founded in 1953 as InstaBurger King, a Jacksonville, Florida-based restaurant chain. After Insta-Burger King ran into financial difficulties ...read more.
My girlfrirnd snd I enjoyed some of these at OGG airport in Maui and We thought... Wow- not bad for our least favorite fast food joint! She had never Eatin at bk before or since... Previously I enjoyed Macdonalds whole breast strips...
I love their chicken fries but my family for some reason is against them...
My favorite EVER!
Very tasty,I love them
The Contenders
11
A&W
I love A&W chicken strips sooo much! Because whenever me and my friend hang out we always go there to eat! 11/10 so good!
12
Hardee's/Carl's Jr
I love Hardee's hand battered fried chicken strips. To me, they're the most tender and always juicy, plus, I find them to be the least greasy of any of the other ff restaurants in central North Carolina. I pass by 3 such restaurants to get my fix of Hardee's hand battered fried chicken strips.
Their chicken tenders are so good! I love their honey mustard sauce they give with them.
If you get a good store where these are fresh and well served, they can't be beat.
These chicken tenders are amazing! I could eat them everyday of my life.
13
Golden Chick
Oh my God, Golden Chick is...Golden! While the price is arguably steep, the taste and quantity of food is there! Their tenders are delicious, but their spicy tenders are so flavorful! Plus their fries and bread are amazing! Also they have a plethora of great sides
This is not a place you find in most towns which is probably why it's not on top of the list! Their tenders are freshly prepared, juicy, golden, crunchy... made with love! As a bonus-- served with white gravy and sweet rolls! Nom Nom!
14
Church's Chicken
Super tender, and the white gravy is the best hands down. If you like gravy with your chicken, Church's is the best. Also, all for some spicy sprinkle, you won't be disappointed.
We have a Church's but my uncle once went there and couldn't understand what the worker was saying. And had the order wrong.
Love that marinated taste with a fresh jalapeno.
Delicious- best chicken so far that I have tried.
15
Bojangles

I have heard of them when I was at a vacation in Georgia but never went. I live in Arkansas by the way.
Would be number 1 or 2 if it wasn't just a regional restaurant.
The chicken tastes so fresh. All around perfection.
in bojangles you get the most 4 your money
16
Jack in the Box
Not overly spicy and the right amount of actual crunch!
So crispy and tender in all the right places
There just really crunchy
I like to vote
17
Cook Out
Crunchy and still moist inside great tasting and great texture
18
Sonic
My friend's father owns a local Sonic, so every time we have a party he brings Sonic chicken. It tastes super good and I think that it is reasonably healthy for fried chicken.
My dad died choking on chicken from this supreme and sophisticated restuarant it reminds me of A+W where my mom choked on a hot dog DON"T EAT AND DRIVE!
Every time I have one, there were fat parts everywhere.
They have a pretty good flavor to them
19
Wendy's
I just check this page for best chicken strips and since Wendy's was around the corner less than 1/2 mile I figured to try them. They were they worst chicken I every should had drove the extra 1/4 to KFC since they were rated better. They should remove Wendy's from list.
The chicken nuggets are best with ranch, and to dip in the frosty with your sprite on the side and 500 French fries in your mouth! I LOVE THEM so MUCH!
By far my favorite fast food option.
The food is good and look like it
20
PDQ
Fresh chicken and turkey, good salads and sandwiches. Better than the other chains hands down.
They set out to do one thing: make the best chicken tender. They've done it!
Amazing dipping sauces to go with the crispy, juicy chicken!
Not all salty like that other chicken tenderZ place...
21
Chicken Express
KFC is so overrated, this is where it is when it comes to chicken tenders! For regular fried chicken, our local grocery store chain, United, their deli has the best bone-in fried chicken EVER. KFC is good too, just not as good as these.
Best tenders, best variety of sides and Famous sweet tea... Doesn't get much better than that
Chicken Express has the best chicken strips, gravy and fried okra, ever!
No competition on chicken tenders. I've been a CE devotee for years.
22
McDonald's
Wo wo wo, why are yall talking about nuggets? It's a chicken strip list. The old chicken selects were the bomb! So crispy!
Oh My God their chicken nuggets are so good how are they not on here?
If you like pink goop, giblets, bones, neck, and butt.
I don't care that it is fake chicken... IT TASTES GOOD!
23 Clover's
24
Guthrie's
I am a chicken finger fanatic. I've tried them all & Guthrie's is the best for a chain restaurant! Also (not a chain but definitely worth mentioning) Speedy Pig in Russellville, AL has the best chicken fingers, fries, & dipping sauce!
Anyone who has had Guthrie's knows what I'm talking about.
Number 1 in my book! The spice they use reminds me of my grandmother's cooking.
25
Checker's/Rally's
I absaulitly love checkers if I could without getting.sick I would eat.it all day evetyday
PSearch List