Favorite 2PM Members
The Top Ten
Nichkhun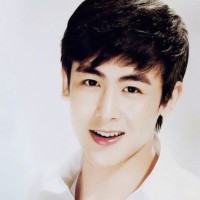 Nichkhun Buck Horvejkul, known mononymously as Nichkhun, is a Thai rapper, singer, songwriter, model and actor.
He is handsome, lovable, humble & well-manered! Although he isn't a korean, but when he came to korea, he respected their culture! That's a good role model!
Nichkhun is the most adorable kpop idol I have ever seen! He is so cute in
Reality shows and he is the THAI PRINCE!
Cutest laugh! Could listen to it all day. When he smiles so do his eyes and it makes my heart melt. Extremely attractive that he knows English so well, because (being from Canada) that's the number one thing I'm looking for in a guy. Over all, cutest and most cuddly member
More than 1 million twitter followers, over 1 million in weibo and I don't know how many Thai hottests are his fan clubs that how we know that he must do something right.
Wooyoung
He's too adorable! :)

Like a good dancer and an amazing singer? What more could you ask for?!?

Plus he is hiliariously funny and too cute for words. I think he should be in first... Just saying...

:P
HE is AWESOME! He's cute, sexy, hot, great voice, and great dancer. I love him in Dream High. I'll always support him.
He by far the cutest person I have ever seen and he was really good in Dream High. He is also really hot and I love seeing his reactions in reality shows like Idol Army and 2PM show. I LOVE YOU WOOYOUNG!
I wish I could meet you in person.
I love Jang Wooyoung very much. He is so cute, handsome and the best dancer. His voice is very emotional. My dream is to meet with Jang Wooyoung. I always listen his songs, 2PM's songs and watch his dances, 2PM's dances. I LOVE JANG WOOYOUNG VERY MUCH!
Taecyeon
Taecyeon have a cute and great smile. He makes people feel very enthusiastic and he have a strong sense of humour.
My most favorite member of 2pm is taecyeon because he is not just good looking he is gentle, he is good at rapping, he is good at dancing, he is respectful, he is good at cooking, and especially he can sing. Taecyeon sang " no love " and many fans of 2pm commented that rapper Taecyeon can sing very well and he is getting more and more better.
He is extremely hot among 2pm members. Although he doesn't have a good voice, he is best at not only rapping but also dancing. He is also funny and has a good manner. I love him so much
I started to like him when I saw him in 3 meals a day. He's very cool and optimistic in everything he does there. He treated everyone nicely so the guests seems very comfortable with him. Surprisingly, he can act too... I've watched him in Let's fight ghost and captivated my heart again.
Junho
Junho is plain amazing. He's multi-talented with the cutest eyes-smile anyone would love
He is one of a kind.I don't know hwy people hate him. Saying that he is arrogant and all but for me, he is a gentleman, sweet heart and dorky sometime. :3
Junho is real multitalented to me. Damn I love him so much! I've fall for his seriousness. Such a cutie eyes smile you have junho! :D
Most talented member also his weirdness is attractive
Junsu
I listen to his solo songs often because he has such an amazing voice and vocal range. MOST UNDER RATED MEMBER. Doesn't get enough credited for the writing and producing he does. Also has the BEST cheekbones and nicest eyes
He has a perfect voice and cool. He sings very beautiful and makes the people melt )
For me he should be on the top of the list of 2PM members' ranking :D He has amazing voice, can compose songs beautifully & dance well! When he's on stage, he shows his charismatic style and enjoy performing as well as he's sincerity on delivering his performance to the audience!
Please take a look for him then you will know how much tallented he is.. Her voice just came from heaven.. When sing ballad song your heart will be touch.. :-)
Chansung
He's amazing as the actor in level 7 civil servant and he's cute, quiet, and reserved. He backs everyone up and doesn't try to steal their spotlight. He's the one who should get recognition even though know one gives it to him.
Most handsome member in my opinion, soothing voice especially in the song "I'm Sorry" on the Grown album. He has such nice and big eyes. His passion for photography is so amazing and attractive. And last, he is perfect height and nicely toned
He has a nice smile
He is very opaque and I want to know more
Jay Park
He was the funniest member of 2PM, one of the cutest, and the MOST talented, as claimed by the group and JYP Entertainment pre and post debut. He has been wronged and misunderstood horribly by the media and his members and company, yet he still manages to make a comeback and win countless awards and millions in minutes as a SOLO artist, earning more money than he ever made in 2PM. JAY PARK OPPA FIGHTINGG~
Jang Wooyoung
I really like jang wooyoung oppa because he so cute and best singer/dancer
BAdd New Item