Most Feared Animals
The Top Ten
Sharks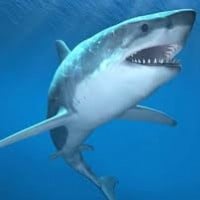 Sharks are a group of fish characterized by a cartilaginous skeleton, five to seven gill slits on the sides of the head, and pectoral fins that are not fused to the head. Sharks have been around before the earth's first dinosaurs and even the earth's first trees.
The movie creeps me out a lot
They look dangerous. But dunno about their real behavior. - Kiteretsunu
Snakes

Snakes are elongated, legless, carnivorous reptiles of the suborder Serpentes that can be distinguished from legless lizards by their lack of eyelids and external ears.
I always heard the black mamba is the most feared
They are the most feared animal they have to be the deadlist to
Crocodiles
Bats
Lions
Tigers
Bears
Wolves

Often in/from packs, Wolves are carnivorous Canines that come in various colours and breeds, and have evolved to Dogs. Some breeds of Wolves are, like Dogs, domesticated, to become a Working Dog.
Hippos

The common hippopotamus, or hippo, is a large, mostly herbivorous mammal in sub-Saharan Africa, and one of only two extant species in the family Hippopotamidae, the other being the pygmy hippopotamus.
While they don't look dangerous but they can kill. - egnomac
Humans

Humans are not exactly wild animals, but they are not domesticated either. Humans are proven to be the most intelligent species of animals on Earth. Humans' colours vary from almost pepper black to milky white.
Humans should be No1. WE ARE ANIMALS GUYS
The Contenders
Gorillas

Gorillas are ground-dwelling, predominantly herbivorous apes that inhabit the forests of central Sub-Saharan Africa.
Gorillas are peaceful. Chimps are different story. They make humans look like walkers from The Walking Dead.
Flies
Bees

Komodo Dragon

The Komodo dragon, also known as the Komodo monitor, is a large species of lizard found in the Indonesian islands of Komodo, Rinca, Flores, Gili Motang, and Padar.
Mosquito

Spanish for "small fly," mosquitoes are flies that have been known to cause various diseases . A sample of diseases caused by mosquitoes: malaria, yellow fever, Chikungunya, West Nile virus, dengue fever, filariasis, Zika virus .
Tsetse fly
Scorpion

Cone Snail
One drop of it's venom can kill around 20 adult men
Cape Buffalo

The African buffalo or Cape buffalo is a large African bovine. Syncerus caffer caffer, the Cape buffalo, is the typical subspecies, and the largest one, found in Southern and East Africa.
Throughout Africa it is known as ''widow maker'' or ''black death''
Spider

BAdd New Item