Most Feared Carnivorous Animals
The Top Ten
1
Sharks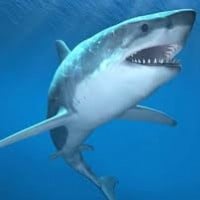 Sharks are a group of fish characterized by a cartilaginous skeleton, five to seven gill slits on the sides of the head, and pectoral fins that are not fused to the head. Sharks have been around before the earth's first dinosaurs and even the earth's first trees.
"Sharks aren't scary to me"

They should be.
Sharks aren't scary to me
2 Crocodiles
3 Tigers
4 Lions
5
Snakes

Snakes are elongated, legless, carnivorous reptiles of the suborder Serpentes that can be distinguished from legless lizards by their lack of eyelids and external ears.
Especially the Poisonous and Constrictors - JandS3000
6
Wolves

Often in/from packs, Wolves are carnivorous Canines that come in various colours and breeds, and have evolved to Dogs. Some breeds of Wolves are, like Dogs, domesticated, to become a Working Dog.
7
Jaguars

The jaguar is a wild cat species and the only extant member of the genus Panthera native to the Americas.
8
Polar Bears

The polar bear is a carnivorous bear whose native range lies largely within the Arctic Circle, encompassing the Arctic Ocean, its surrounding seas and surrounding land masses.
This should be much higher on the list...
Sharks get killed by killer whales, crocodiles are eaten by giant snakes, leopards, and Jaguars, Polar bear could crush lion and tiger, snakes are a little bit harder..., wolves are nothing without a pack, Jaguars are outweighed and outstrengthed!

(My opinion)
9
Leopard

The leopard is one of the five "big cats" in the genus Panthera. It is one of the most adaptable and the most widespread big cat; it's secrets being:well camouflaged fur; its opportunistic hunting behaviour, broad diet, and strength to move heavy carcasses into trees; its ability to adapt to various ...read more.
10
Tyrannosaurus

Tyrannosaurus, meaning "tyrant lizard", from the Ancient Greek tyrannos, "tyrant", and sauros, "lizard" is a genus of coelurosaurian theropod dinosaur. It also had a tremendous bite force, the strongest of any Dinosaur and living terrestrial animal. Its bite force reached up to 12,800 pounds (roughly ...read more.
The T-Rex should be number one.
The Contenders
11
Hyenas

Hyenas or hyaenas are any feliform carnivoran mammals of the family Hyaenidae /haɪˈɛnᵻdiː/. With only four extant species, it is the fifth-smallest biological family in the Carnivora, and one of the smallest in the class Mammalia.
12
Piranhas

A piranha or piraña, a member of family Characidae in order Characiformes, is a freshwater fish that inhabits South American rivers, floodplains, lakes and reservoirs.
BAdd New Item