Top 10 Female Characters Who Would Make Terrible Queens
The Top Ten
Wendy O. Koopa (Mario Series)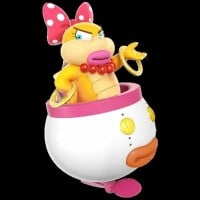 Wendy O. Koopa is a female villain in the Mario Bros . Franchise . She is the only female member of the Koopalings and can usually be found assisting Bowser and Bowser Jr . on their wicked plans with the rest of the Koopalings . She first appeared in Super Mario Bros . 3 in 1988 and since then has been ...read more.
Sandy Cheeks (SpongeBob SquarePants)

Sandra "Sandy" Cheeks is a fictional character in the Nickelodeon animated television series SpongeBob SquarePants.
Cream the Rabbit (Sonic Games)

Sticks the Badger (Sonic Boom)

Mrs. Puff (SpongeBob SquarePants)

Mrs. Puff is a fictional character appearing in the American animated television series SpongeBob SquarePants and both films based on the franchise.
Navi (The Legend of Zelda)

Pink Gold Peach (Mario Kart 8 Deluxe)

Pink Gold Peach is a character who debuts in Mario Kart 8, where she appears as an unlockable playable character.
Amy Rose (Sonic CD)

Amy Rose is a fictional character in SEGA's Sonic the Hedgehog series. She is a pink anthropomorphic hedgehog with a cheerful, competitive personality, and is infatuated with the series' main character, Sonic. She serves as the first playable female character in the series.
Candy Kong (Donkey Kong Country)

Daisy Duck (Disney)

Daisy Duck is a cartoon character created in 1940 by Walt Disney Productions as the girlfriend of Donald Duck.
The Contenders
Erza Scarlet (Fairy Tail)

Erza Scarlet is an S-Class Mage from the infamous magic guild Fairy Tail. Erza starts off as a lone wolf and stays loyal to following the rules. As the story develops Erza changes into loving mage strong and independent. As her terrible past haunts her she ignores her Nakama's calls that they want help. ...read more.
Kurome (Akame ga Kill!)

Misty (Pokémon)

Misty, known as Kasumi in Japan, is a character in the Pokémon franchise owned by Nintendo and created by Satoshi Tajiri. She's the gym leader in Cerulean city & specializes in water Pokemon. In the games, she's known as 'the tomboy mermaid.' ...read more.
Chitoge (Nisekoi)

BAdd New Item