K.S. Chithra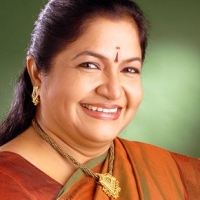 Found on twimg.com
Info
Krishnan Nair Shantakumari Chithra, often credited as K. S. Chithra or simply Chithra, is an Indian playback singer from Kerala. Chithra also sings Indian classical, devotional, and popular music.
Comments
Top
Popular
Newest
Being a good listener,

Each music is a piece of heavenly art that can entertain innumerable hearts, and they are mostly entirely distinct in nature. Can we say which act of god is better than the other. Therefore which song is better also is mostly unpredictable.

Please remember a renowned and highly proficient musician explained his experience as if you ask me to sing the same song next day I would not able to repeat absolutely the same. Therefore we need to understand, its all timely performances and never remain same and never comparable between occurrences of same singer too..

In case again to entertain public, if we feel to rank our eminent personalities, I think Clear and distinct parameters should be given between singers, where you should consider like level of professional proficiency, accreditions of repute, number of languages used more than a certain times, versatility etc, etc and etc.
Kumar
She is the real queen of Indian playback singing. She has sung only few Hindi songs & has got national award for a Hindi song also. Her singing ability is completely proven in Malayalam & other south Indian languages. Hope that she will sing more in Bollywood.
Chitra is a legend... The one and only chitra has recieved 6 national award for best playback singer female... The most thing I like is when she sing a song in studio or in any live functions wll be same there will be no difference only she has the talent.. We should be proud to have such a great indian singer...
She is the most versatile singer ever the music industry went through. She is un comparable with any other singer in the world. She herself don't know what she can sing and what her ranges are confined to, that great she is.. No music director till date decided or criticized her what ever the case may be in terms of her musicality or her ranges and even they are shocked to test her ranges and she easily sings the toughest notes what they needed exactly... that much hidden volcanic talented she is... "K S CHITHRA" the NIGHTINGALE OF India
She has such an wonderful voice which makes me float in the air and also brings my mind into state of calmness. I wish her to sing more wonderful songs and impress every people in the world.
It's a great thing to know nightingale of south India is topping the list and really she is the best. I have always admired of her voice and her attitude. Her voice is more than superb
Simple and versatile singer for ever. The singer who can sing in any language with correct accent and clarity.
So Cute Voice of Chithra amma made many people to think of her voice all time.. Heart is filled with Chithra ma's expression when I'm hearing her voice. She is the only singer who can made us to feel the mood the song is supposed to give. Love you Chithra amma...
She is one of the most efficient singer in India with Versatility and in depth knowledge in Music...

Give her any language she will sing with the same ease and recreate the charm of the same...

She is mother of Music...
For me undoubtedly Chithra Chechi is the best female singer ever because of her mellifluous & captivating voice, the various nuances of expression she portrays in each song, the technical perfection she maintains in each song, the versatility of song genres she has sung, the number of languages she sings in with the perfect native diction being given to each language, the clarity of the lyrics she sings and above all the humble and simple personality she is with absolutely no ego or arrogance, always willing to learn more, accepting accolades and criticism (the very very few that she gets) in the same stride, never paving way for any controversy of any sort, always behaving so courteously and respectfully towards everyone including ordinary people and always remaining grounded firm on earth, in spite of the peaks of glory, fame and excellence Chithra Chechi has attained in her life... Sujth, Aluva
THE MOST VERSATILE FEMALE SINGER IN INDIA... THE ONE & ONLY K. S CHITHRA
SHE IS AN AMAZING SINGER SUCH A BEAUTIFUL VOICE SHE HAD. APART FROM THAT SHE WAS VERY SWEET AND VERY KIND PERSON. SHE SANG THE EVERY SONG WITH FULL INVOLMENT AND SOUL IN ANY LANGUAGE.
She is the best... Irrespective of language she does it to the core perfection. Very clear & clean voice.. Excel with her expressions, she is the best ever who satisfies all the three generations with her magical voice.
No doubt, She is the most talented and vesatile singer. Very sweet power voice.. High range.. More expressive and she is the nightingale.
She is the top one no doubt also her character
She is the most talented and sweet-sang female singer in India
Very sweet, very beautiful & very sharp voice in India
K S Chitra is a highly talented singer. She had sung lot of songs in malayalam, tamil and telegu industry. She had also sung many hindi songs beautifully but I think chitra was not given good oppurtunity by the artists of bollywood industry for displaying her versatile talent. If she was given good oppurtunity in bollywood she would be the best singer in the bollywood industry too. I believe the north indians always discriminate the south indians who are very well talented than the experienced artists of the bollywood. The bollywood people always forget that the best works in the bollywood industry was sculpted by south indians. How can we forget the best actors such as kamal hassan, prabhudeva, sridevi, hema malini, rekha, vidya balan, revathy, rajnikanth. How can we forget the great musicians such as S P Balasubramaniyam, A R Rehman, Iilayaraja, K J Yesudas, Hariharan, k s chitra.
I love chithra amma with more than anything in this world... My soul is only for her... What a smile for tat smile itself v can do anything in this world n go to any extent in life...
She is the angel who z on the earth showering honey in our ears... In almost 9 languages.. And sung about more than 18o songs... _/\_
She melody queen and very sweet, very powerful and very soft voice in India
She is my favorite. Following are some of my favorite songs of her in Hindi.

"Chup tum raho chup hum rahe" from Is raat ki subah nahin
"Dole Re" from Agnivarsha
"Payali chun mun chun mun" from Virasat
A rare Talent. Versatile singer. Matchless. Few other singers can match her voice but not her Talent. A singer for all the moods. Her love songs are gems. They can make you "Feel the Love".
Uncomparable voice clarity and versatility. Shreya Ghoshal idolizes her more than even Lata Mangeshkar
I never seen such kind of attitude towards singing.
I hope god will give her rest of life peace.
Her voice god's gift.