Female Singers With the Most Powerful Voices
The Top Ten
Perrie Edwards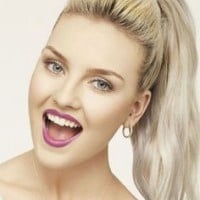 Perrie Louis Edwards is an English singer and a member of Little Mix who won the X Factor 2011. She is known for her strong and deep voice who inspired everyone during Little Mix's X Factor performances and during their Salute Tour. In Little Mix's songs: Move, Turn Your Face, Good Enough, Secret Love ...read more.
Perrie is honestly an amazing singer. She hits her high notes perfectly live. She hits her low notes perfectly live. Before she got her tonsils out, her normal speaking voice was deep. Well, deeper than it is now that is. Yet, she still hit her high notes perfectly. Not a step behind. When she did get her tonsils out, she still hit the high notes perfectly. Even better if she could. She doesn't think her voice is all that and that's what I love about her. Her high note in the Little Mix song 'About the Boy' gives me shiver. Her note makes your heart stop (in a good way) in Little Mix's famous song, 'Change Your Life'. Everything is amazing and she puts all her effort in it. She really is talented. Perrie Edwards is Number 1 out of over 100 female singers that are in their 30s, 40s, 50s, 60s, and even higher. And Perrie is 21! She deserves more credit than she's getting. xStellax
Strong head as well as chest voice. She's like the queen of belts. While she can't go as a whistle tone, I've heard some pretty impressive notes come out of this girl. She's in a wonderful girl band called Little Mix, and she's only 19!
Her voice is amazing and so strong! She manages high notes really well and really long and makes the songs sound even better live like they do in the studio versions, just like in about the boy or little me, the live version of good enough is also a really great example for the strong voices of all four of the little mix ladies! Perrie just has an incredible voice and hits amazing notes effortlessly, it is very nice to watch and of course listen to.
I used to dislike Perrie's vocals, thought that she was trying to outshine her band mates and I was also disliking Perrie. But I was wrong! Perrie has AMAZING and OUTSTANDING vocals that all of her 3 other band mates are proud of. Little Mix are very influential, but no one likes them then I respect it. Perrie and all of her band mates are shining more than ever!
Whitney Houston

Whitney Elizabeth Houston (August 9, 1963 – February 11, 2012) was an American singer, actress, producer, and model. In 2009, Guinness World Records cited her as the most awarded female act of all time. Houston is one of pop music's best-selling music artists of all-time, with an estimated 170–200 ...read more.
Houston's 1985 debut album, Whitney Houston, became the best-selling debut album by a female act at the time of its release. The album was also named Rolling Stone's best album of 1986, and was ranked at number 254 on Rolling Stone's list of the 500 Greatest Albums of All Time. Her second studio album, Whitney (1987), became the first album by a female artist to debut at number one on the Billboard 200 albums chart. Houston's crossover appeal on the popular music charts as well as her prominence on MTV, starting with her video for "How Will I Know"
7 consecutive number 1 hits, highest selling debut album of all time, highest selling sound track of all time, longest lasting single at number 1 on the billboard charts ( 14 weeks ) most awarded woman in the world and more... Her vocal ability as a singer was above reproach. Her flexibility and quick transition of notes was incredible, length of notes and Amazing power was and second to non, even male, the timber and velvety quality was beauty to your ears and the voice herself had unchallengeable clarity. If you asked any singer that is before Houston on this list, who is the greatest singer you would most likely find they would say Whitney Houston.
Whitney Houston is the most powerful female vocalist I ever heard in my life time. She could out sing anyone and I mean anyone, especially in her prime. That's why she is called the "Voice". Whitney earned that title with her countless awards and numerous accolades. Ms. Houston, in my opinion, is the greatest singer that ever lived. Not only was she a powerhouse singer; however, she was an acclaimed actress that starred in many movies like Waiting to Exhale, Preacher's Wife, Body Guard and her last film was Sparkle. Furthermore, She was a model before she became a famous singer. Overall, she was extremely talented!
Whitney Houston is the best female singer period. The clarity of her vocals is hands and shoulders separated from the rest. The thing to me is how long the music can be memorable, this is what determines the best. Like a good jazz musician longevity of your talent puts you at number one. The clincher is the bring forth of that Voice, how it resonates with your vibration.
Christina Aguilera

Christina María Aguilera is an American singer, songwriter, and record producer, best known for songs such as "Beautiful", "Genie In A Bottle", "Fighter", "Hurt", "Dirrty", "Your Body", "Lady Marmalade", "Reflection", "I Turn To You", "Come On Over Baby (All I Want Is You)" "What A Girl Wants" and ...read more.
Her voice is indeed an incredible force to be reckoned with, but as the last album (Lotus) demonstrated, it's not completely immune to her passionate style of belting. For the first time really, Christina sounded uncomfortably strained on her upper belts. True, Christina does intentionally incorporate a degree of strain that she manipulates to her liking on many of her songs (Fighter, Ain't No Other Man, Your Body, Candyman, Lady Marmalade) and she can either choose to strain or make it sound smooth. But on a couple of songs on Lotus (Sing for Me, Blank.Page) and especially on the Burlesque soundtrack, she legitimately sounded like she was struggling (although she sang a few Etta James songs on Burlesque so it could have been intentional). I think she knows her limits when it comes to vocal strain and vocal pain. I really want to here more of her head voice/falsetto and whistle register that she tinkered with more in her first four albums.
All in all, I can say that I'm proud to ...more - theOpinionatedOne
Christina has proven to us time and time again that she is the strongest female vocalist in the game. Her range is incredible! She can do hip hop vocals, ballads, and even belt out those powerhouse vocals and runs and make them look effortless. She doesn't need any editing because her voice is just so strong and versatile on its own. Not to mention the fact that she's been doing it since she was very young all the way up to today. She's one of the greats
Christina Aguilera is one of the rare singers with such a large, strong, soulful voice. She may sound different than she was when she was younger, but she still amazes a lot of people out there.
Her vocal range spans four octaves, which is extremely difficult for a singer to possess. This girl definitely deserves the number two spot, mainly because Mariah holds her own slightly. Christina still is an incredible singer and will definitely go done in history as one of the greatest of all time.
Demi Lovato

Demetria Devonne "Demi" Lovato is an American singer, songwriter and actress. After appearing on the children's television series Barney & Friends as a child, she received her breakthrough role as Mitchie Torres in the Disney Channel television film Camp Rock and its sequel Camp Rock 2: The Final Jam. ...read more.
Demi has an amazing voice. Not only does she have amazing songs but she can also sing amazingly in live shows. She puts so much passion in her music and its clearly shown through her music. She can sing the lowest of the notes and the highest and she can hold them for so long. She holds the record for longest note held in a live performance by a Female. Her voice is like the definition of perfection to be honest, her voice just is so different from others which makes her voice so amazing! And the fact that she is just 21 is MINDBLOWING. I'm telling you, she is one of the greatest artists EVER!
Demi has one of the most powerful voices I've heard. Sure she may not be a 5 with the octave range, however her live preformances DO make up for it. No one can show nearly the same amount of emotion in her songs than Demi does. She literally pours all of her heart and soul and you can feel her pain when she sings. In my opinion, Demi, Christina, and Mariah deserve to all be top. Other artists such as Selena Gomez and Taylor Swift don't even have anywhere near the vocals Demi does however they get more recognition; totally ridiculous. People need to see how much of an incredible and strong artist Demi really is.
We don't need singer who can sing in 5 or 4 octave or singer who can sing with whistle register. What we need is singer who can sing perfectly without using auto-tune and don't over sing. - BeaM456
Demi Lovato has a strong voice. She is the most powerful singer that I've eve seen. But shes also beautiful and challenging and being inspirational to other people too. She is very nice to her fans and she is open up a real thing about her
Words can't describe how amazing her voice is! Honestly she is incredibly amazing both studio and live. She sounds better live which is really hard to find in this generation of pop music. Some so called "super pop stars" sound horrible both studio and live. Let me example be Taylor Swift and Selena Gomez they both can't sing but still get more recognition and awards then Demi it's not fair! But back to it Demi Lovato has the best voice of ALL time she is unbelievable! She can belt like no other!
Sarah Geronimo

Sarah Asher Tua Geronimo aka Sarah Geronimo or Sarah G. is a world class and multi-talented Filipino singer, actress, dancer, record producer, model, host, coach/judge, commercial/product endorser and tv personality . She can also draw and plays the piano. Sarah is popularly known as the one and only ...read more.
Most people define "Powerful Voice" as to ability to reach high notes and to sustain it for a long seconds until blood runs in every pore of the singer... But its bloody wrong... Powerful Voice is not about imitating bird's pitch or ambulance signal... It is all about how a certain singer attracts people to listen to her voice because of its ability to address the feeling/passion of the composer of the song... And after hearing the voice you will be enchanted to listen again and again... And I think Sarah Geronimo of her generation has the one and only possesses such ability and no one else more...
She is the great singer in the world
She tells story of emotions of the song she sings.. Listening to songs she remake, she can revived it well and surpasses even more beautiful.. Making an old song a favorite again.. Songs like"You changed my Life, MAybe this time, wont last a day without You, It takes a man and a woman, broken vow and many more..." She is next to Beyonce knowles.. She has everthing! She can dance, act, SING all kinds of Genre.. And its usually from her heart and chest.. Ballad, rap, pop, acoustic and can growls, whistles and powered shift long busting notes.. She delivers good personality living through music and she should be titled THE NEW INTERNATIONAL DIVINE SINGER ICON in the music industry...
Sarah sings with emotions and doesn't have to sing songs with high notes just to prove that she's indeed a powerful singer and a total performer of her generation. She truly deserves to be on the top ten.
Beyonce Knowles

Beyoncé Giselle Knowles-Carter, is an American singer and actress, who started out in the popular pop/r&b girl group Destiny's Child. They had multiple top 5 hits such as "No, No, No", "Say My Name", "Bills, Bills, Bills", "Survivor", "Independent Women", "Bootylicious", and "Jumpin', Jumpin" from ...read more.
The woman that has EVERYTHING! Shes got the hits like rihanna, the voice like whitney Houston, the looks of a supermodel, the money of a bank, the dance moves of a choreographer, she has everything. She did glastonbury (the worlds biggest music festival) only a few months ago, And she was the first female artist to headline Glastonbury and it has been around for over 20 years. She writes the majority of her songs, and she makes the dances for the majority of her songs. Jo Whiley (The uk's biggest radio/music Reviewer) Said that at Glastonbury, she re-hearsed for 10 hours a day, 6 days a week, for a few months for the gig. She did everything herself, She's a real perfectionist, planning every aspect of the show: the staging, the costumes, the dancers, the music, everything!... She is what I define as the queen of music. 16 time grammy award winner, which is the most for a well known female artist, she was the first woman to have 5 grammys in 1 night, and then she surpassed that in 2009 ...more
Beyonce with her horse voice? She can't touch Whitney who had far richer and much more pleasant tone. - marto1
Beyonce is too good for the Top Ten for goodness sake, let's get her to Number 1. An incredible chest voice and vocal range overall, she has a four octave vocal range WITHOUT WHISTLE REGISTER DAMMIT. No matter how high her voice goes up with her belts, it just remains the same timbre. It sounds so natural.

Do yourselves and society all a favour, get her to the top of this list.
FOR ME BEYONCE IS THE BEST! SHE CAN SING EVERY SONG! EVERY TIME I SEE HER PERFORMANCE I CAN'T EVEN SAY ANYTHING! SERIOUSLY, I LOVE THE WAY SHE DANCE! SHE CAN DANCE SHE CAN SING, SHE IS RICH, SHE HAS EVERYTHING AND SHE IS BEAUTIFUL! FOR ME BEYONCE IS THE QUEEN OF EVERY SONG, SHE CAN SING BEAT SONG, SHE CAN SING SLOW, SHE CAN SING EVERYTHING, SHE CAN DANCE WHILE SHE'S SINGING. I REALLY LOVE BEYONCE! I REALLY LOVE HER
Best performer EVER! She has a supermodel body, voice of an angel, higher than a 4 octave range and she is gorgeous. What can go wrong with Beyonce? Not on thing. She is also donated over 15 million to charity. She is so nice and loves her fans.
Adele

Adele Laurie Blue Adkins is an English singer and songwriter. Graduating from the BRIT School for Performing Arts and Technology in 2006, Adele was given a recording contract by XL Recordings after a friend posted her demo on Myspace the same year. She is best known with her international hit singles ...read more.
Adele no doubt is the best singer of the current generation. Nobody compares to her. She has great vocals as well as has emotions in her voice which most of the singer these days lack.
Adele has the pain in her voice because when she sings, the crowed burst into cries and she too. I think nobody should compares with adele
Adele has the style and voice that no one can compare to! She is completely unique and that is why she is the greatest, there is no one else like her!
Adele is a good singer but she needs to not put all the pressure on her vocal cords and need to breathe from her stomach and make sure the sound come out of mouth and not her nose.
Celine Dion

Céline Marie Claudette Dion is a Canadian singer and businesswoman. She is best known for her song "My Heart Will Go On", which is the main theme of the 1997 film Titanic, which was the first film to gross $1 billion at the box office.
Celine dion has a 5 octaves Bb2-C#6,1 note & a semitone
She can even reach an E6.
Her chest voice is G5.
Listen to her song THE POWER OF DREAM, her belt note there is C5.
Listen to her song THE POWER OF LOVE, her belt note there is Eb5, and her headtone note there is Bb5.
Listen to her song SORRY FOR LOVE, her highest note there is a G5.
Listen to her song ALL BY MYSELF, her belt note there is F5.
Celine dion can belt songs and hold it for a long scnds.
Well deserve to be include in top 10.
You are a living legend.
By the way most of her Spanish songs are an A5 note.
It's obviously Celine Dion. She has a five octave range and still able to hit the high notes at her age 45. No one can beat her. She is a living legend, she is the biggest selling female artist of all time! She has emotions in her songs so much
She is the best selling female artist of all time with claimed sales of 200 million record.
Celine is the only female artist to have 2 singles with sales of over 1 million copies and she is also the only female artist to have 2 albums selling more than 30 million copies.
Now Did I have to Mention Who's the #1 Female artist
Celine's voice has an striking clarity that no other vocalist has. She is the queen of power ballads. Besides her voice having an angelic tone, all of her songs have at least one note that is full of power. At age 47 she is still able to hit all of those high notes that people in covers often fail to do. After Whitney, Celine has the most powerful voice.
Mariah Carey

Mariah Carey, born March 27, 1970, is an American singer, songwriter and actress. She is one of the biggest best-selling women in the music industry, with 18 number 1 records to her name. She is regarded as a sex symbol through her songs and music videos, and she is "well known" for her over-the-top ...read more.
Mariah Carey should be number 1, because she has a 5 octave vocal range and has the ability to reach notes in the 7th octave vocal range as well just go back and listen to Mariah Carey first album and you will hear all of the 7th octave range high notes as well, the one song that really shows off her 5-7 octave vocal range the most is the song Vision of Love can't nobody sing that song she sang that song a certain way that nobody can't duplicate and it was enhanced I just want to say if you do try to sing that song please pray that you wont bust a vocal cord and don't try this at home.
The Queen of all time voice.. Has the most unique voice in the world that you can't find any where. Female with the most number 1 in history in the past 25 years, still reigning!.. With the highest octave that the human has ever have (that's her!) with her live Emotions song.. With the most resonant, airy voice, belting that you can't imagine how she does it!. WHISTLING for more than 20 years still slaying with those autotuned voices in the music industry.. Sold more than 200 million records WORLDWIDE in SHORT PERIOD OF TIME.. Her song ONE SWEET DAY RUNNING 16WEEKS! (4months! ) is the song most weeks in number 1.. Even with her rough days, in her voice, still slaying with her angelic voice... And her song All I WANT FOR Christmas IS YOU, was reported to have earned $50 million in royalties.. VH1 2nd greatest women in music!.. The most intelligent (in my opinion) songwriter! Can u'r artist beat that?. That's just one of her achievements and recognition!
Is an American R&B/pop singer, songwriter, record producer, and actress. She made her recording debut in 1990 under the guidance of Columbia Records executive Tommy Mottola, and became the first recording artist to have her first five singles top the U.S. billboard Hot 100 chart.
Hands down the most skilled, powerful, capable voice of history of popular music. Strong low notes and clear high notes. Amazing pitch. Can belt amazingly, whistle, just anything with her voice. She knows how to use it, she knows it very well. Super wide range.
Amy Lee

Amy Lynn Hartzler, known professionally as Amy Lee, is an American singer-songwriter, classically trained pianist and composer. She is also the lead singer to the Arkansas band Evanescence.
Best " all around female singer on this generation" powerful voice, haunting songs, she does transmit with her voice what the lyrics are. Best singer in the world, hands down
Why in the world is Amy number 27?! Her voice is so beautiful. Definitely should be on the top 3.
This girl deserves top 10 status, a truly powerful voice that easily expresses the meaning of her songs.
Amy Lee is an amazing singer. She has such control, such volume, that it makes me wish I could carry a tune in a bucket just so I could sing her stuff myself!
The Contenders
Jackie Evancho

Jacqueline Marie "Jackie" Evancho (born April 9, 2000) is an American classical crossover singer who gained wide recognition at an early age and, since 2009, has issued an EP and seven albums, including a platinum and gold album and three Billboard 200 top 10 debuts. Evancho's 2017 album, Two Hearts, ...read more.
No screaming, belting, or auto-tune. Pure technical skill = power. - BobG
One of the most beautiful voices I've heard in my life time. She doesn't only have amazing technique, she also has so much heart - and that's something we need more of in the music industry. Enough with all the trashy pop idols that become big and then everyone forgets about them. We need people with talent and emotion - and Jackie is one of them. So proud of her!
Attend at least one of her concerts. I dare you.
She has the most beautiful Voice a Singer could ever have. She like an Angel when she is Singing And that's something we need more of in the music industry. And She would keep On Singing Well in the next few years to come. - Dreamformusic
Aretha Franklin

Aretha Louise Franklin (March 25, 1942 - August 16, 2018) was an American singer, songwriter and pianist. She began her career as a child singing gospel at New Bethel Baptist Church in Detroit, Michigan, where her father, C. L. Franklin, was minister.
ARETHA DESERVES TO BE #1!
What is this list
Note only can she belt, but can sing softly, bend a lyric like no other, and at her best was the best
The most amazing voice ever!
The fact that Aretha Franklin is way down here proves that the average age of TTT voters is around 12-13, and even the older ones are around 18, and so have zero awareness of the world beyond their school walls.
Katy Perry

Katheryn Elizabeth Hudson, professionally known by her stage name Katy Perry, was born on October 25, 1984 in Santa Barbara, California. She is a singer, songwriter, actress and an ambassador on one of the most popular companies of now, UNICEF. ...read more.
Hell no, katy perry can't sing and she has one of the worst voices I've ever heard. Yelling is not powerful. She can't sing live, on her songs it's all computer technology that make her sound better and even then she sounds like crap. Always sounds like she just ran a lap and is out of breath, there's a difference between powerful and just plain out loud and obnoxious. There are so many singers better than this boring, basic blond bimbo but sadly they aren't as famous and don't get as much recognition as this talentless twit. If someone thinks that katy perry is one of the best singers it just shows that they're either 12 years old or they have no taste. I know singing is subjective and some people might like one singer more than another, but this is objective, it's an objective fact that katy can't sing!
In my opinion Katy Perry doesn't sing well when she is live some of her songs are catchy but I don't like what she does with her voice sometimes and I think Ann Wilson has a way more powerful voice.
I believe the outcome of this list is completely random. Katy Perry's voice is in fact a lot better than Adele's, no matter how much Katy adores Adele. I saw her current show many times over, she sings 2 hours solid with a strong voice top quality, large range, incredible durability, to have Katy rated this low shows that people don't know much about the artists.
She has many powerful and inspiring songs.
Amy Winehouse

Amy Jade Winehouse was an English singer and songwriter known for her deep expressive contralto vocals and her eclectic mix of musical genres, including soul, rhythm and blues, and jazz. She is also a well-known member of the 27 Club, as she overdosed on alcohol at age 27.
What?! Amy is the best fusion of jazz, soul and blues. Why in the world is she this far back on the list
She is an will always be one of the greatest voice of all time she may not have had a large octave but she has an amazing voice
So unique, brutally honest, got me through addiction
She was and will always be the Queen
RIP
Floor Jansen

Floor Jansen is a Dutch singer-songwriter and vocal coach. She is currently vocalist of Nightwish and leader of Revamp.
This list is broken Absolutely no way Floor should be this far down the list she should be in the top 3 (#1 in my personal opinion)
Top 3 on this list without a doubt, phenomenal vocal range and versatility that puts the majority of this list to shame.
She's always been a member of a metal band, so doesn't put out material under her own name. If she was a solo artist, she would be much more well-known. Besides the versatile powerhouse voice, she is a natural at projecting emotion and drawing in the audience. Incredible stage presence.
Floor's voice - is my air! I can't live a day without hearing her songs. So beatufull, so pure and powerful.
Florence Welch

Florence Leontine Mary Welch is an English musician, singer, and songwriter. She is best known as the lead vocalist of the indie rock band Florence + the Machine.
Florence Welch has a nice strong chest voice and still maintains a light upper register. Though sometimes when she sings live she does not sing her high studio notes. That may be a performance choice. When Florence sings in live settings, her head voice and belts can sound a little uncontrolled due to her expressive singing style. But still, I love her voice and she is my favourite singer.
Other than having a very strong voice, she includes amazing expression with her songs that makes them astonishing.
Listen to No light, No light. This woman can hit a high note whenever she wants.
Although she doesn't always use her full vibrato voice, Florence is probably the best singer (Not exactly songwriter) of this age If someone doubts me, listen to Over the Love.
Pink

Alecia Beth Moore known professionally as P!NK, is an American singer, songwriter, dancer and actress.
There are no words to describe her vocal talent and ability to sustain its power through such highly energetic and beyond physically taxing performances! Couple this with the raw emotion that flows through her more personal lyrics and you have one truly blessed artist. (in my opinion)
Always an underdog which I love. There are at least four artists mentioned in the top ten that can't compare to Pinks voice. Live she is so powerful and gutsy! Never need an auto tune! Two rated above her airways need that device. I love the rasp! She's one of a kind in writing, song and performance.
Pink is my number one favorite singer of all! I'm in love with her voice! Should be top 2 or 3 next to Mariah Carey as number 1 in 'this list'. But I listen to Pink more than any singer! Plus her style is so uniquely cool!

Just Perfect!
Amazing vocal range. No autotune bull. All songs are written by herself. A truly inspirational woman that can make anyone support her cause simply though song.
Miley Cyrus

Miley Ray Hemsworth (born Destiny Hope Cyrus), known as Miley Cyrus, is an American singer, songwriter, and actress. She was born on November 23, 1992, in Franklin, Tennessee, to Tish Cyrus and Billy Ray Cyrus. Her voice type is Mezzo-Soprano and has 4 octaves. She became a teen idol starring as the ...read more.
Not number one but she has unique tone with powerful voice. Should be in top ten.
Miley should on the top 10 of this list. Please go search her versions of "Jolene" or "Baby I'm gonna leave you".
She has really powerful voice and can sing different genre but I prefer her low tone. It's so catchy...
Great voice, can hit the high notes and low notes. I love her raspy voice.
Ariana Grande

Ariana Grande-Butera, known professionally as Ariana Grande, is an American singer and actress. She was born on June 26th 1993 in Boca Raton, Florida to Joan Grande and Edward Butera. She is best known for her role as Cat Valentine on the Nickelodeon sitcom Victorious and its spin-off show Sam & Cat. ...read more.
"Ariana Grande has a lot to give. Her voice is strong, well controlled, and agile. Power is the most wonderful thing on her voice; and by power I mean her soul when she sing. I think her voice has no limits. Like I said she has a lot to give unpredictably. She's full of surprises! Go hit that G#6 in yo car Ari *wink. She deserves a spot from the top 10."
Honestly she can win the best singer in the world award. She has an amazing voice and let's be real I've never heard someone with an amazing voice AND such a big range. NO ONE can sing like she does. Her songs are great too. She's just so amazing I don't even think anyone can produce music like her. QUEEN ARIANA!
You can't compare Her and Mariah because both of her are amazing singers and special in their way.And Ariana is just 26!
Ariana Grande has a 4+ octave voice, which is superior. She has also been dubbed the "New Mariah Carey" by many judges worldwide. It is extremely unfair to have her down at #14! Listen to 'Dangerous Woman', her voice really slays it and she doesn't use auto-tune. Her live performances are ALWAYS better than the recorded/music video ones.
Regine Velasquez

Regine Velasquez-Alcasid, dubbed as the Asia's Songbird is a Filipina recording artist, host, producer, philanthropist, commercial endorser, actress, and an Asian pop culture icon. She is widely known for possessing an extensive vocal range.
She's truly the singer with a powerful voice indeed, regine can go a b5 note using her chest voice and can sustain a 15 sec. Note live. She's truly the best indeed, hence regine is owning a good heart, we love you regine and may god bless you
Definitely she is the best singer in the Philippines not only here but also in Hollywood. If only in the Philippines no one can defeat her as a singer and no one can can take her place as Asia's Songbird.
Regine is a legend, an inspiration to every singers of this generation. Her vocal prowess is just one of many reasons. Add to that the kind attitude that she possess.
She had her time and I know she's happy being a mother but still she needs more songs for her fans all over the world.
Nicole Scherzinger

Nicole Scherzinger, born Nicole Prescovia Elikolani Valiente on June 29, 1978, is an American singer, songwriter, actress, dancer, and television personality. She first rose to fame as the lead singer of the pop/r&b group The Pussycat Dolls.
Scherzinger is classified as a lyric coloratura soprano with a three octave vocal range and a whistle register that stretches up to a G#6. Scherzinger is known for her strong soprano vocals and conviction to convey emotion in her tracks. Throughout Scherzinger's career, her vocal range and music has been compared to Kelly Clarkson, Leona Lewis, Britney Spears, Sugababes, Rihanna, and Beyoncé Knowles. Scherzinger is also a classically trained opera musician.
Best singer of our generation and in the pop industry
Why the hell is she below katy perry! - NicoleJohnnyLutherBrianFan
Man, when I heard Nicole live on X factor finale with Sam Bailey, I was litterally blown away! I didn't know she has that kind of power in her voice. She's great.
Tina Turner

Tina Turner, née Anna Mae Bullock, is a singer, dancer, actress and author, whose career has spanned more than half a century, earning her widespread recognition and numerous awards.
NO WAY IS SHE 80 on this list! She carries a lot more power in her voice than some artists up there!
Need no words! A Powerhouse!
Yeah, 70's or 80's is about right for Tina.
Anita Baker

Anita Denise Baker is a retired American singer-songwriter. Starting her career in the late 1970s with the funk band Chapter 8, Baker eventually released her first solo album, The Songstress, in 1983. In 1986, she rose to stardom following the release of her platinum-selling second album, Rapture, which ...read more.
Unappreciated voice great range contraltos
Jennifer Hudson

Jennifer Kate Hudson is an American singer, actress and spokesperson. She rose to fame in 2004 as a finalist on the third season of American Idol, coming in seventh place.
She is an amazing singer one of the most powerful voices ever how she kept the constant belting in dreamgirls is just amazing she has some talent and she knows how to keep in tone she is one amazing singer just wow
"And I am telling you" is one of the best songs I have EVER heard! Honestly never in my life have I heard a voice as amazing as her. She should be on number 1!
She has got the most powerful voice ever she should be number 1 but she's not please vote fir her and leave sten to her song spotlight
Her voice in dream girls was absolutely breathe taking
Patti Labelle

Patricia Louise Holt-Edwards better known under the stage name Patti LaBelle, is an American singer, author, actress, and entrepreneur.
Search for 'If Only You Knew' or 'My Love, Sweet Love' to see why she should be #1
Yes, she should definitely be on this list.
I can't believe she wasn't on this list last time I checked
Patti is Number one I guess people don't know good singing
PSearch List