Barbra Streisand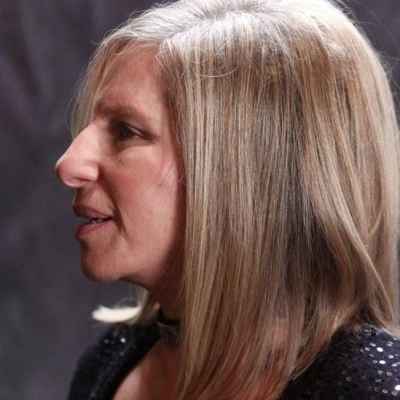 Uploaded by olliv
Info
Barbara Joan Streisand, known professionally as Barbra Streisand, is an American singer, songwriter, actress, and filmmaker.
Comments
Top
Popular
Newest
Uhm... Streisand is undoubtedly #1 - if not due to the fact that she is the only entertainer to have captured the public for so long (even today people are obsessed with her like its nobody's business), but if one looks at her achievements as a recording artist. My god, she is unequivocally #1.
And this doesn't even take into account her being the biggest "entertainer"!
People should research things first before making these lists.
Why isn't she in the top 10 at least. I mean really you put Christina Aguilera, Lady Gaga, Kelly Clarkson, and Brittany Spears over THE BARBRA STREISAND I mean really. She is probably the best vocalist of all time. She's the only actress to have won two Academy Awards, eight Grammy Awards, four Emmy Awards, a Special Tony Award, an American Film Institute award, a Peabody Award, Oscar, Emmy, Grammy, and Tony Award. I hope this comment has changed your mind.
Barbara has been my favorite Singer & Actress since the 70's when I was growing up. In the 70's I was a teenager, & all my friends used to tell me that I look like Barbara Streisand. That made me feel so Special. There was a look alike contest when I was a teenager, but I was not able to make it because my brother & sister were in the hospital at that time. Barbara Has An Awesome Voice & I will always enjoy Her Songs! She is the best 100!
Barbra was blessed with the ability to hear pitch perfectly, the first ingredient in being able to sing perfectly. Without that, a person can not RECOGNIZE how good they or someone else is singing. They can only recognize up to their own ability. Secondly, she has the muscular control of her voice box that allows her to lock in on the internal reference in her head. Combine that with over 2 octaves of range and an extremely powerful voice and you have Barbra. Too bad that not many people are CAPABLE of appreciating how great she really sings.
How can anyone who actually hears that voice, vote any other way? Ignore the politics, the control issues, and the questionable acting choices, she is the greatest female pop voice of the last 60 years. At nearly 66, she can still leave audiences breathless with her emotional power but when she was younger, no living person could even approach her clarity and vocal control.
Barbra is the greatest singer of all times. She delivers a song like no one else can. Her voice shows emotion, almost like watching a movie when she sings. Not only the greatest singer in the world, she also is a actress, director, producer, writer and the list goes on. Not bad for a Jewish girl from New York.
Only 2 females have the voice, the range and the charisma to be ranked... Sarah Vaughn and Barbra Streisand. All others are mere pretenders.
I'm guessing that everyone on this list is pretty young and hasn't much heard how Barbra Streisand sings because if they did, she would most likely be number 1. I'm the type of guy who listens to rock/metal and I still believe she is the best female singer. Amazing voice. - metalmaiden
No an sing or perform like Barbra. She can connect to the audience and make you feel and believe what ever she is sing. All artist now days sing words that say how they feel however no one can relate those words to the audience like Barbra. Just watch a live concert of her and you get goosebumps when you here her sing. She is a story teller with her voice and charisma. I weep for the future of music. Only Gaga lately has started to see the light and really get back to what music is.
The only artist to have a #1 album for five consecutive decades... since the 60's. Listen to her version of "Since I Fell For You" from the 70's... "Speak Low" from the Back To Broadway CD... "Some Other Time" from her latest CD. BARBRA should be Number 1!
I just heard Barbra Streisand for the first time a couple weeks ago and already I'm hooked. Her voice is so beautiful and her range is incredible, giving her songs a wide range of emotion and feeling that others higher up on this list *cough* Britney Spears Beyonce *cough* lack. A top notch artist that deserves the top spot on this list.
'The Legend Of The Century", Miss Barbra Streisand has broken ALL Major Awards, even before the age of 30. 71 Albums, and the Greatest Selling Artist of ALL time, second only to Elvis, and has surpassed the Beatles. The "VOICE" from "GOD".
Just reading the bios proves that Barbra Streisand should be number one the greatness of her voice is proven through all the number ones she has in her bio and her voice has endured for 50 years some of the top 20 you people put above her do not deserve to be mentioned in the list. This is truly modern day popularity and not really based on voice or sales and performance.
When God designed what the perfect vocalist should sound like, he had Barbra Streisand in mind. No one, I repeat, NO ONE, interprets lyrics and expresses them so passionately and with such precision. Only one other, and he was the male counterpart--Sinatra.
Below Katy Perry, Selena Gomez and Miley Cyrus? Seriously?
Not only is Barbara one of the most talented singers with amazing, rich and powerful voice, but she also possesses emotion that keeps holding you years after you listened to her song.
She may not be number one, but definitely isn't 34 AND below aforementioned and alike of them, in my opinion.
Simply the best. Her voice has given me the chills throughout the years. Sure, she can belt like nobody's business, but she infuses her songs with meaning and emotion. Listen to her renditions of "One Less Bell to Answer/A House Is Not a Home" and "God Bless the Child" and then tell me she doesn't have a place at the #1 slot.
Ask any top singer today who was the greatest female pop vocalist of all time, they'll give you one of two answers: Karen Carpenter or Barbara. Anyone who thinks otherwise just hasn't heard either one of them. Long before there was such as thing as Autotune, there was this lady who could hit every single not perfectly in a single take.
She's undeniably #1 of all time. Even Whitney and Christina who both had and have excellent voice quality can't touch her longevity, entertainment delivery, accomplishments, etc. Babs is the standard and always will be with such an clear glass voice that carries the emotion and drama of any musical tune.
She is arguably one of the vocally and tonal most accomplished singers of all time. She was pitch perfect in her prime and for many the golden standard. If you record a duet with the great and late Donna Summer, you have to be at the top of your game. She might be old and conservative now, but she left a legacy only a handful of artists will ever achieve.
My mother loves Barbara Streisand, and says I sing her songs very well. I don't relate as well to her lyrics, but for the most part, Barbara is one of the best singers. her range is incredible, and when she sings the notes are in tune, pure, on point. good job!
Barbra Streisand has such a magnificent voice and worldwide sales that she would have to be in the top 10 in any objective assessment.
Best vocalist ever to record. The superhero of artistic song. No person has ever recorded such a spectacularly beautiful vocal instrument as Barbra. With great respect to Nat, Whitney, Celine and many others. Someday, someone will surpass the beauty of her voice, but that day has not come.
It's a shame to put Barbara Streisand on place 33 behind Lady Gaga and Britney Spears. I Think she is still number one.
A draw between Streisand and Ella Fitzgerald! Ella set a stellar example for future female vocalists, and she made classics of the fine music that she had available for her to sing. Streisand takes over the crown in the 'sixties.
Barbra's voice is incomparable...only Judy Garland comes close...her style her range her emotion...her everything! Unsurpassed...her intonation is lovely...her belting is the best...