Dusty Springfield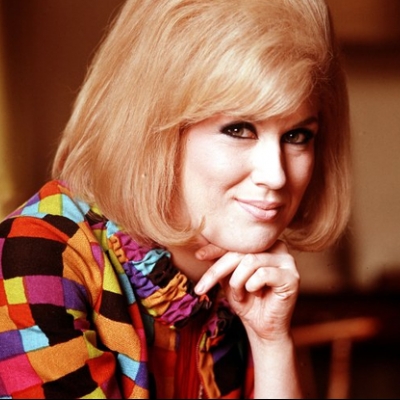 Uploaded by catwalk
Info
Mary Isobel Catherine Bernadette O'Brien, known professionally as Dusty Springfield, was an English pop singer and record producer whose career extended from the late 1950s to the 1990s.
Comments
Top
Popular
Newest
Dusty Springfield at number 96, who could even take this list seriously, it's a joke! This is supposed to be a list of the greatest female singers of all time, not just the last few years. Dusty Springfield was known as a singer's singer. Most famous singers know who she is and admire her and wish they could sing as good as she did. To see some of the best singers in history below Avril Lavigne, oh my god, I busted out laughing at this list several times. It's obvious the majority of people voting here must be musically illiterate. Spend some time seeking out great singers from all eras and genres, not just the top forty from the past few years, you'll enrich your life greatly.
During her life in the music business, Dusty Springfield was an inovator. She produced much of her own work, but was never credited for doing so. She had an ear for music that was and still is unmatched. She was a perfectionist, and wanted all the musicians who played with her to be the same. Her voice was pure magic, covering many genres, and when Dusty died, the music died. She was everything you could want in a singer, but Dusty never thought she was good enough. Dear Dusty, you were just too good and way ahead of your time. I hope you know how much you are missed and loved. REST IN PEACE.
From the time she heard the Exciters sing Tell Him, Dusty Springfield knew immediately that this was the sound she wanted to make; and make it she did. Her voice was original, haunting and melodic, with a big whiff of sensuality thrown in. It is hard to fathom why such an iconic songstress is so far down this list. Her voice was such, that it could never be emulated. I was a fan in the 60s and I am a fan today. Viva La Dusty!
Who on earth is voting on these so called singers. This is the most ridiculous poll I have ever seen. A singer of Dusty's calibre down in the lower ends of best female singer of all time poll. Get a grip here. This lady surpasses all of them. Why they couldn't begin to sing like her, makes me wonder about people's taste in music when a diva like Dusty is number 91. Go listen to one of the greatest albums ever made, Dusty in Memphis, then go and listen to all her singles, and then vote.
Dusty Springfield was without question the best singer ever. In fact she is still the best in my book. What an interpreter of song she was and still is. She was complete in every way, there are few singers who can come close to her and certainly those on this list who are rated above her, have just no business being there.
When people talk about great singers, there are very few that come to mind, but Dusty Springfield will always be discussed. Her ability as a musician was under appreciated. Her knowledge of production, was seen as a threat to the male dominated music industry. Dusty was born to soon, and would sweep the floor with many on this list if she were around today. A cultural and musical icon with a voice that took you on a roller-coaster of emotions when she sang.
When she hosted Ready Steady Go in the 60s and then went on to have her own bbc show, she was a trailblazer. Her remarkable talent would enable her to tackle any genre of song, and she did that with an emotional exuberance that could never be replicated. The best from the 60s and beyond.
I don't know some of the singers on this list, but there are many I do know, and to be truthful, there are not very many who could come close to matching the unique voice of Dusty. What a treat it is to listen to her sing, and to watch her perform is a double pleasure, I am happy to vote for her, and equally happy that YouTube has a lot of her live performances. RIP Miss Dusty Springfield, a legend, an icon and the very first superstar.
I am amazed that she is not in even the top 20. Of course I realize that many young people vote on their favorite at that moment, and it is more a popularity contest than an actual evaluation of who actually was a great singer.
The classiest singing icon of her generation. She could belt 'em out and yet she could also sing with such tenderness it would break your heart. Her voice is timeless and her choice of material was impeccable. She could sing anything and was ahead of her time - look at singers like Adele, Alison Moyet, Duffy and even the late Amy Winehouse. All British greats - but Dusty was the first and she was the best.
Dusty along with the Beatles, ruled the airwaves in the 60s in Britain, she made it in the USA also, and went on to become the greatest singer that ever lived and since this is a fact why is she so far down this list. Does not make sense to me. Hers was a voice that was irreplaceable, a once in a lifetime God given gift. She was great.
Dusty Springfield the lady with the voice of an angel, who could also blow you away with her big ballads. There was virtually nothing this woman could not sing. I am very sad that she is no longer with us, for I am sure she would be making an invaluable contribution to the music world, both as a singer and producer of magic.
At her peak (1965-68) she should be regarded as one of the top 5 singers of all time and given her natural range is that of a contralto her range was incredible. Her tonal range was even more amazing - she could sound like 5 different singers across five different songs.
Today is Burt Bacharach's 85 birthday, Dusty unfortunately is not around to celebrate with him, but she celebrated him many times by singing his wonderful songs. No one could sing them like her. The Look of Love was just beautiful and A House is Not A Home is a powerhouse of a performance, equalled by no one. The Lady was just the best, her phrasing, her timing and her stage presence, it's a sadder world without Dusty Springfield.
Quite simply a singer without an equal. There is just no one who could do what Dusty could do with a song. Not only did she sing the songs, she lived them. Every emotion was present in her performances and perhaps some of these younger so called singers could take a leaf from her book, and give a listen to how it should be done.
The best of British... Dusty was this and more. Many on this top 100 have no business being there, never mind being above her in this poll. Controlled and emotive, she lived every song. Bet she would have made a great actress too. I just love watching her perform. Sadly missed and irreplaceable.
When true singers get together and talk about other singers Dusty name will always come up. This lady could sing anything Soul, Pop, Jazz, Country, Folk, Today there isn't any singer who could hold a candle to her.
Simply the greatest singer of pop, soul, and many more genres. Excellent phrasing and interpretation, uncredited producer on her albums, could sing the phone book and make you cry. Always ahead of her time musically, a perfectionist whose catalog speaks for itself and has stood the test of time! Rip Dusty, forever the true #1 best all time singer ever!
Ian Gillan of Deep Purple said that Dusty Springfield was the greatest rock singer he ever heard. I agree, she is also the greatest pop, ballad and jazz singer I have ever heard.
Dusty Springfield was and is still the worlds best female vocalist, and this poll is incomprehensible. Some of the so called singers who have been placed above the Dust are a complete and utter joke and would'nt merit air time. Dusty was what you call a singer who could sing Pop, Jazz, big Ballads and the occasional Irish Love Song. She has no equal.
She had the whole package. A great voice, a great stage presence and a great personality. Dusty lived each and every song. A performers performer. A lot of people above her on this list have absolutely no right to be there.
The greatest interpreter of many genre of song from ballad, blues, pop jazz
And Irish folk. I'm sad that she seems to be disappearing from peoples
Memories, she was much before her time. Thank God for YOU Tube et al who
Are able to bring back timeless songs from this great singer. RIP Dusty
If you go Away, this is one of Dusty Springfield's most poignant recordings. The song is done with such emotion and feeling that it's hard not too cry, whey you hear it. Totally and absolutely absorbing. A terrific singer, she was.
The BEST ever. Dusty can sing a Chinese take-away menu and make it sound great. There is no genre of song that Dusty did not cover Folk, Pop R &B Gospel, Rap, Jazz Ballad, you name she did it, and well. Every note and phrase to perfection. If everyone worked at their music as hard as Dusty did their would be no competition. Hopefully her work will continue to be
Played and she will join the legends like Ella, Peggy, Aretha, Lena, Edith
Dusty Dusty Dusty. I think I'm going back, would break your heart. Then there is You Don't have To Say you Love Me.. But I will because I do, and you belong in the number 1 position of the greatest female signers of all time. Without any shadow of a doubt the best ever no one will ever sing like Our Dusty.
Related Lists
Best Dusty Springfield Songs