Judy Garland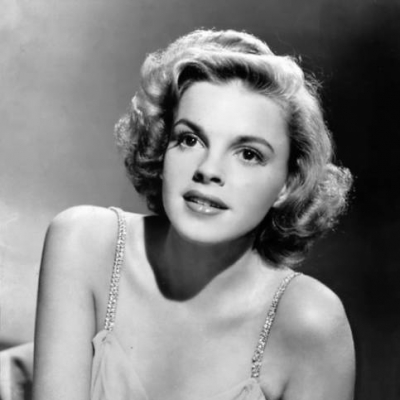 Uploaded by ParasN2000
Info
Judy Garland, born Frances Ethel Gumm (June 10, 1922 – June 22, 1969) was an American singer, actress, and vaudevillian. The American Film Institute named her 8th greatest female star of classic American cinema. She's also the mother of actress and singer Liza Minnelli.
Comments
Top
Popular
Newest
To be fair to those voting on these lists, they are voting for their all-time favorites. The problem is most of the really good ones were before their time. It's quite obvious that the median age of those voting on these surveys is somewhere in the teens or so.
All time favourite! She's an amazing singer which will forever be remembered. Her voice is deep, rich and classic- really unique. I think everyone remembers her as Dorothy in the Wizard of Oz. I'm sure everyone was amazed by the soundtrack right?
Frank Sinatra once said that when Judy Garland sings she dies a little. That's what makes her the best singer in the world: she gives her all; she holds nothing back.
She was a wonderful singer, in her youth and as an adult. Seems like this list is based on modern singers and how you can have Demi Lovato and April Lavigne before her is insane. Was the list composed by teenagers with no adults having any say!
Back on the Yellow Brick Road to the top ten of The Top Tens List, where she belongs! If you enjoy strong vocal music, take a listen to an upcoming young girl in the Netherlands (Holland), Nita Blanc, who is popularizing Judy Garland.
Seeing Judy so low on the list shows what today's generation deems as talent. It's sad. Today's modern vocalist have none. No one is trained anymore. No one can sing with vibrato anymore. Singing is more than cheap gyrations.
The listeners of a wider range of music appreciate the vocal quality of Judy Garland's singing; it is impressive she is ranked in the top 100, considering media dispersion was much less efficient when she was "at the top! "
Quoted by a fan appraising Nita Blanc singing "Jar of Hearts, " which also can be applied to the legendary Judy Garland: "No one can sing THAT good! "
A talent (not just a voice) of this magnitude is at number 70?! Nobody held an audience like Garland, whether on film or in concert. All real, genuine talent, nothing processed or manufactured.
It is obvious that the voting on the poll is being largely undertaken by younger people. This lady is an iconic legend and had one of the best voices of the 20th century. Over 90 years after her birth she is still remebered as one of the giant of entertainment. She will still be remembered when many on this list are long forgotten.
Some where over the rainbow she sung that so sweetly. Shame she's on but she will most definitely be remembered as a classic female singer deserves to be in this list.
She is by far the best singer of all time. It was a sad day when she died. Her legend lives on though through her children and her amazing movies and songs. Love you Judy!
People should know that it's not just the voice, but the passion and personality. Ones whole soul should be in the song. And Judy Garland gave it all. She's incredible.
Some artists rated higher are popular today... Judy Garland is an icon and legend who will endure in our memories much longer.
How quickly we tend to forget such icons. There is no one like her, and little room for comparison.
My wife thinks she is the best. I put her in the top 2 of the finalists.
natural and beautiful voice, you can really feel her songs
Judy Is The One Who Put Female Vocalist On The Map. She Started It All.
Deserves to be in the top ten, in my opinion.
Somewhere over the rainbow! That's all that needs to be said
This gal could sing like no one else before or after.
one of the Best female singer in the late 1950's.
Why is Judy so far down on this list?! Blasphemy!
She deserves to be voted 20 or something!
IS THIS SERIOUS, TAYLOR SWIFT A BETTER SINGER AS JUDY GARLAND?... THIS WORLD HAS NO CULTURE.
Related Lists
Best Judy Garland Movies
Best Judy Garland Songs

Top 10 People Named Judy
Top Ten Facts About Judy Buenoano