Marie Fredriksson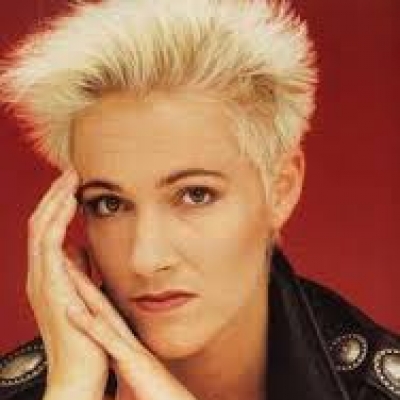 Uploaded by theOpinionatedOne
Info
Gun-Marie Fredriksson, known as Marie Fredriksson is a Swedish pop singer-songwriter and pianist, best known for forming one half of the pop rock duo Roxette, which she created together with Per Gessle in 1986. She and Gessle achieved international success from the late 1980s to the early 1990s with ...
read more
.
Comments
Top
Popular
Newest
Marie has the best voice I have ever heard! She can make a ballad just amazing with her beautiful voice, but she can also sing with a bit more attitude, which is a very good property to make a rock song the best in the World. That's exactly what Marie have done a loot of times!
Come on people, let's vote!
The best voice I have ever heard, ever! There is no one better. Not many singers today could hold the attention of thousands of people with just their voice, Marie can. Her vocal range is outstanding, there's no song she can't sing. Her live version of 'It must have been love' just her and her piano is my favorite ever gig moment.

She's been doing it for years, and after all she has been through, she's still doing it now. A living legend, deserves a much higher placing. Marie rocks's ;-))
There is no one else in the world as beautiful, as strong, as pure as Marie. She has the best voice, and her songs are amazing! Her music has been a part of my life for the past 23 years. Her personality is just amazing, her heart is made of gold and her spirit - well, if you know the story of her life you know what I mean. She is not just the best singer, but the best woman in the world. My vote as well as my heart will always belong to her!
What a powerful voice! I always loved her singing but now I love it even more, because she's become older and so her voice has! I like that a lot :-) Just listen to "glad you called" - she sounds so fragile in it. GOOSEBUMPS! And still she has that special strength an power in her voice! Yeah! Please Marie, keep on singing - I don't want to miss you again!
She is an example of how to live and recover from an illness with faith and love. I watched her and Per some years ago here in Brazil and again last year, after a strong cancer, she went back to the stage and gave us the chance to watch another Roxette concert. As usual, it was amazing!
Incredible personality, she sings with feeling and have a virtuous voice. I feel a little ashamed that she is in this position of the Rank. Listen to It Must Have Been Love, The Perfect Day or Listen To Your Heart and you 'll love this singer
She is The Best! I would love to see her in one of her concerts. I love Roxette! They are the best! I am waiting for more new songs. I heard she is working on some new songs. Love your love songs Marie Fredrikson!
Marie has a wonderful voice that seems to be even more powerful after her recovery from cancer. I have seen several of the shows last year and she is beyond amazing. Not to mention her solo albums, everything she sings is magical
Marie has been giving amazing Live Performances with Roxette since more than 25 Years. Benn listening to their Music since I was 6
My favourite female singer of all time, and I frankly can't believe she is listed so low. Her voice is simply stunning; so fragile but strong at the same time, makes shivers run down my spine regardless of the song I'm listening to.
Marie Fredriksson can really deliver a song like no other singer ever has. You hear her and you believe every word that comes out of her mouth. Marie's voice is indeed beyond compare.
She is an amazing singer / composer / performer! Top 10 for sure! I hope more people would take this chart more seriously and vote for the ones that really deserver to be in the top ten positions. Marie is definitely one of them.
She has a voice like no other, amazing what a non-native speaker has accomplished in her life-time... Her piercing voice still echoes in the most popular of radio stations... Just listen to "Listen to your heart" or "It must have been love. " At over 50, she's still rocking with yet another world-tour and her voice is still good as ever. She is by far the best female vocalist there is.
Best voice best group roxette you are the greatest band ever. Every one of your songs are number one! I like you Marie YOU ARE THE BEST! I think you win! Good luck!
Spending my time, Listen to your Heart, Sleeping in My Car... Just listen to her voice in those golden hits. And now, when she's over 50 she still tours, sings like an angel and is sexier than ever.
I think she's one of the best female singers in the world. Her charisma and performance makes you feel that every word she sings goes into your heart. She's so very special. It's so admirable the way she overcame her illness, she keeps on being on stage again! Chile loves and admire her!
Marie s voice is v unique. Her voice may not be as range bound as Mariah or Whitney or Celine but Marie talent is the ability to transform songs into art. Marie is always great live. Every song is performed differently every night. Her voice just oozes emotions to songs which are sometimes meaning less but she brings it to live
A great unique voice that makes you believe everything that she sings. From lovingly tender songs, to screaming out loud rock songs, Marie can go from one to the other no problems. And she can sing in swedish along with English :-)
Of course she's the best! One of the most strongest person I've ever known...2 world tours despite her severe disease...
With Avril and Britney placing higher than Marie, this list has no credibility whatsoever. That said, one only needs to listen to "In My Own Way" and "No One Makes It On Her Own" from 2011's "Charm School" album to know that Marie has continued to deliver for over 30 years and as such, she clearly deserves a place at the top of this poll.
Marie is the best to me! Amazing voice, beautiful songs, strong spirit! Her music (solo as well as Roxette) has been in my life for the past 23 years and this is the love for the rest of my life. We need more singers like Marie, this world need more music like hers. Hope she wins, because Marie deserves to win more than anyone else.
"Sometimes in life you meet someone special. Someone who changes your life just part of it. Someone who makes you smile. Someone who makes you believe That there is something good in the world. Someone who Convince You That there really is an open door just waiting to be opened for you. This is a feeling forever. The feeling called LOVE ETERNAL... Marie, thanks for the example That you are to us. " WE love you, Marie...
Marie has an amazing voice, live sound like a disc, his voice is so sweet and reaches the highest level, is music to my ears, has an incredible strength just hearing his voice in the duo's best tracks I shakes the soul, always choose it because despite the years, its power remains intact, is a queen without a doubt..
What a great voice and talent. And especially now that she is fought through her lives adversity and prevailed. I think she is fantastic. She and Per makes great music together.
Lullabied my childhood. She had a great voice, but unfortunately her illness put a toll on her. Still for nostalgia and for those very good moments she remains one of the bravest singers alive.