Regine Velasquez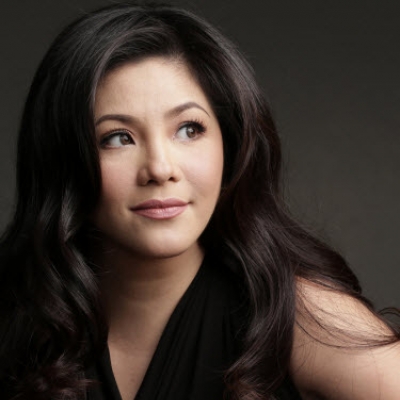 Uploaded by theOpinionatedOne
Info
Regine Velasquez-Alcasid, dubbed as the Asia's Songbird is a Filipina recording artist, host, producer, philanthropist, commercial endorser, actress, and an Asian pop culture icon. She is widely known for possessing an extensive vocal range.
Comments
Top
Popular
Newest
REGINE really sings from her heart every time she sings is simply just like SUPERB! When I first hear her song "kaylangan koy ikaw" I was really blown away. She is really unbelievable... Shes really my idol
Being the BIGGEST FEMALE POP ARTIST IN ASIA who achieved MULTI-PLATINUM albums in ASIA, and won MTV-ASIA, ASIAN-TV, PEOPLE ASIA, GOLDEN SCREEN & GOLDEN ARTIST awards, and dozens more recognitions in the Philippines & Asia, Regine is certainly the best in the Philippines & ASIA. When it comes to LIVE singing, Regine has been singing for more than 20 years now. While other divas have deterioated dramatically, the LYRIC SOPRANO Regine is still singing with her 4-OCTAVE SKYROCKETING SOLID FULL VOCALS. Therefore, Regine, the ASIA'S SONGBIRD is certainly one of the greatest voices...if not, the GREATEST FEMALE LIVE PERFORMER in the WORLD!
In all honesty and objectivity(regardless of worldwide popularity) REgine Velasquez of the Philippines, is the greatest singer of all time. I've seen and heard Mariah Carey, Celine dion and Whitney Houston perform. But no one gives me goosebumps like Regine does. Her voice is just a miracle! Incredible chest voice range, Crystal-like voice, controlled and sweet belting. Those vocal qualities amaze and touch the heart at the same time. I thank God for giving her to the Filipinos!
I like regine velasquez be in the list of top ten female singers of all time.


Regine Velasquez was the first Filipino to stage a solo concert at the Main Hall of Carnegie Hall, part of Carnegie Hall's centennial-year concert series. Her album, Listen Without Prejudice, achieved platinum certification in seven countries. In 2000, she performed the country's millennial theme, televised in 55 broadcast networks throughout the world to coincide with midnight in Manila.
Nothing beats the one who started it all! Despite her popularity in almost 21years in the business she remains to be down to earth and she never get tired of helping new talents! She's the inspiration of many singers that has just started in the showbiz.. Not only young ones but to everyone! She's legendary and simply irreplaceable! Peace out!
Her voice is very powerful yet full of emotions. Every time she sings live in her concerts, the audience are totally amazed of her extraordinary performance. She can still hit the highest note even in her worst voice condition which other singers cannot do. Regine is already a living legend, an icon and the one and only Asia's Songbird.
May idol is not a simple singer that I ever seen because like Whitney Huston she can be a greatest singer in the world all belters singer is cannot be over laugh the voice of regine velasquez because she is a not a kind of singer that will always give up even If she had a problem she is always their to attend the performance that will gave to people that she love most and I idolize Regine Because of she potencial power about singing and that all thank you
The best live singer in the world who with no doubt proves that no matter what her age is she can still sing as great as when she was 16. The only singer who sounds good with her studio songs and sings them great live. Emotional. Soulful, powerful and heartfelt singer with a wonderful personality and a good heart.
T is considered as Velasquez' most successful album to date, selling more than 1.2 million copies in Asia. It sold over 700,000 units in China, making it the best-selling album in the country by a foreign artist until 1999. The album has sold over 100,000 units in the Philippines and over 320,000 units in other Asian countries.
there are soo many gr8 singers out there but ......regine!! is totally unique because when she sings there's no other person who can sing lyk she does !!! her voice is incredible !! powerfull yet beautiful......an idol to me an a credit to the philippines!
Technically her voice is the best. You can feel the emotions from her songs. She don't have flats or sharps. She can sing any songs as well, even better than the original. Her covers of most songs made it more popular. She does not copy other singers rendition. She makes it her own. She has the best selling albums and concerts in the Philiipines up to now. She has best selling albums in Asia and has worked with a lot of great artist from the US, Australia, UK, and Asia. At age 43, her voice is still the best. It hasnt change a bit, unlike her contemporaries. Truly she deserves to be hailed, the Asia's songbird and one of the best in the world. Timeless voice, timeless talent from heaven!
one of the worlds super great voices nothing can compare. she's definitely the superstar of all star in terms of singing.singers of america,russia, europe,etc.are nothing compared to this asian singer superstar from the philippines.. UR THE GREat.
Regine as we all know is Chona in real life an amazing and superb Singer a belter, an extraordinary vocal power range, a simple but glamorous singer whom she can own a song by her own style. An Asia's Songbird and a real concert queen and a platinum artist.
ASIA'S SONGBIRD, REGINE VELASQUEZ... the name speak for herself... No doubt she is the best singer, an icon to be proud of... I adore her with the quality of voice she has, absolutely best of the best. Hale Queen REGINE. - baj
Yeah, I agree that she can be also in top 1, she was a great singer you can check this on you tube, she can sing anything also she can beat more than celine dion's songs, mariah and whitney or any songs. until now she can beat it again and again. she is the Asia's songbird and Philippines queen
This is a no-brainer! Regine is the best singer in the philippines and one of the bst in the world. Only those who are jealous of her status are the only ones who are in denial. Regine is the ONE!
many attempted to duplicate her vocal prowess, but all failed... her generosity and beeing down to earth, makes her the best... a real talent should come with the right attitude.
Her high notes will leave you speechless and its like there's no tomorrow when she starts to belt out her signature songs... she is the most adorned singer in the Philippines... The Philippine's pride.. truly a national treasure... her belting power is the standard amongst young filipino divas including sarah geronimo and charice.. no doubt!
for 20yrs she has given great pride to Filipinos w/ her achievements in the music industry.Her story is one that inspires & sparks hope among the dreamers & one of them is SARAH GERONIMO.. - rydgel
gosh! no wonder! she's a fabulous singer.. she's the asia's diva and deserving to be the international diva.. she's sensational and phenomenal songbird!!! REgine is the only 1.. - dharylldf
with countless chart-topping singles,multiplatinum albums,sold-out concerts and box-office hit movies tucked under her belt..she's definitely da BEST SINGER OF ALL TYM! - rydgel
hay!nothing really beats the SONGBIRD!She still reigns in whatever she does.Albums, concerts, movies, tv shows, commercial endorsements, name it and SONGBIRD will always shine.
yes we all know that regine velasquez is the popular and the biggest star not only in the philippines and asian but whole world sarah geronimo she can never make it and the rest of it
THE BEST FEMALE SINGER IN THE WORLD! we are very lucky to witness her REIGN because a talent like hers comes only once in a generation. I'm proud to be a CERTIFIED-REGINE-ADIK! - reigne27
Related Lists

Best Regine Velasquez Songs