Tina Turner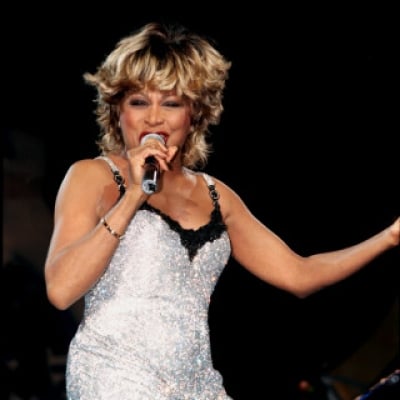 Uploaded by theOpinionatedOne
Info
Tina Turner, née Anna Mae Bullock, is a singer, dancer, actress and author, whose career has spanned more than half a century, earning her widespread recognition and numerous awards.
Comments
Top
Popular
Newest
How Tina is not in the top ten on this list totally baffles me! People have voted for singers like Katie Perry and Ariana Grande over Tina. A lot of people would agree that Tina Turner is the ultimate female rock singer of all time, which I agree with, and would totally justify her being in the top 10, considering the rest of them are all just pop stars. Let's get Tina back to the top! - imbo1993
OH COME ON, Tina is the BEST. Better than all the rest. Better than any one. Second to none. To have watch and listened to her through out her career. Has been simply a joy. Only one Tina voice. Sexy @70. Matchless. Always a joy to hear and see. #1 #1 #1
wow i cont beleive she is not in top 10 or even top 20 her voice is one of the woman voice and rock voice even one of the best voice of all time she is simply the best better then all the rest in the top ten
Tina is most considerably and undeniably the Queen of Rock Music. She's a huge pioneer for many women in the music industry, in the Rock genre and multiple other genres, and can we not forget about the bs she went through with Ike? If I was in that situation, I would want to quit, and I'm sure most people would also, but she stuck true to herself and made amazing music. She's definitely a big role model to a multitude of people. - musicallyinfatuated8
Why is Tina Turner the best female rock singer of all time?

Four words - River. Deep. Mountain. High

I can't believe she has only 0.8% of the vote
The best female rock kick-ass voice there will ever be. There is only one Tina Tuner.
there is only one woman that can tear apart the world... it's my tina... Tina Turner... she is a Mama, a Godess, always and forever #1
Coolest most kick-ASS, yet classy, rock female performer there will ever be. God definitely broke the mold with Tina Turner.
Tina is one of the most amazing people she stood up to all of the grief she got from ike turner and kept working and sold more concert tickets than any other female artists.
She beat ike turner and made a massive out come from that with selling more concert tickets than any other female artist to me she is the female version of elvis presley!
I have always been indifferent to her music but just recently I've taken notice. Bluesy-rock...Nutbush City Limits...wow how old is that now? Just a really great, vibrant song. - Britgirl
Definitely top ten. She always gives me the chills. And she has an amazing and very powerful voice, even in her 70s.
Tina Turner, nobody will ever be Tina Turner, she was, is and always be the best... she is simply the BEST...
To True! Simply The Best for sure. A legend, one of a kind.
You got tp be kidding. Tina rocked the house at 60 and had nice legs to boot.
Simply the best rock voice. With Ike or in solo, the voice is a proof of power and emotion.
She's amazing. She should be at least in top 5. Without her, everyone on this list wouldn't be anything. - MEparandriod
Come on it's Tina Turner! Her voice rocks!
Queen of Rock and Roll. Watch any live video and she doesn't miss a note. Amazing singer.
It's a shame that singers such as Katy Perry and Taylor Swift are over this legend. - anewman
She is the Queen of Rock...Enough said!
The Queen of Rock and Roll needs to be much higher than just 28
A great legend to listen to! She's got some notes she can hit.
Again, why is Taylor Swift ahead of Tina Turner?
Tina totally should have been Top 10.
Related Lists
Top Ten Tina Turner Songs
Best Tina Turner Songs From the '80s
Best Tina Turner Songs From the '90s
Most Beautiful Tina Turner Music Videos