Top Ten Fictional Characters Whose Names Start with the Letter "L"
I put fictional characters whose their names start with the letter "l" and make it accurate. (I put few characters from the loud house because it would be inaccurate if i put all)

The Top Ten

1 Lady - Lady and the Tramp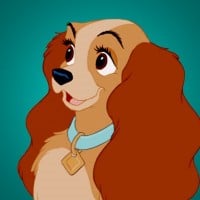 such a pretty little dog. and cute to.
2
Luke Skywalker - Star Wars

Luke Skywalker is a fictional character appearing as the central protagonist of the original film trilogy, and as a supporting character in the sequel trilogy of the Star Wars universe created by George Lucas.
Why is Leo Valdez (the Heroes of Olympus) not on this list?
The best choice, by far.
3
Lara Croft - Tomb Raider

Lara Croft is a fictional character and the protagonist of the Square Enix video game franchise Tomb Raider.
4
Leia Organa - Star Wars

Princess Leia Organa, later known as General Leia Organa, is a fictional character in the Star Wars franchise, portrayed in films by Carrie Fisher.
5
Luna Loud - The Loud House

Luna Loud is the 3rd oldest sister, Luna's life forever changed following her first concert which started her passion and dream of being a rock star, Luna's personality can best be described as wild, caring and the loudest of the Louds like Leni she's very caring and enjoys being around the company ...read more.
the best loud in the whole show #1
Rock on Luna Loud for life.
6
Leni Loud - Loud House

Leni Loud is a fictional character from The Loud House the second oldest of the Loud Family a bit of a ditz, forgetful and absent minded despite this she's a kindhearted person, a skilled fashion designer and is always willing to help others in need, she shares a room with Lori the oldest and suffers ...read more.
she's a little dumb at time's. but I still like her
7
Lisa Simpson - The Simpson

Lisa Marie Simpson is a fictional character in the animated television series The Simpsons. She is the middle child and most intelligent of the Simpson family.
8
Luigi - Super Mario Bros

Luigi is a character featured in video games and related media released by Nintendo. Created by prominent game designer Shigeru Miyamoto, Luigi is portrayed as the slightly younger but taller fraternal twin brother of Nintendo's mascot Mario, and appears in many games throughout the Mario franchise, ...read more.
9
Lucario - Pokémon

Lucario is a Pokémon species in Nintendo and Game Freak's Pokémon franchise. Created by Ken Sugimori, Lucario first appeared as a central character in the film Pokémon: Lucario and the Mystery of Mew, and later appeared in the video games Pokémon Diamond and Pearl and subsequent sequels, also appearing ...read more.
10
Linka Loud - The Loud House

The Contenders
11
Lucy Loud - The Loud House

Lucy Loud is a fictional character in the Nickelodeon cartoon The Loud House. She was created by Chris Savino. Lucy is a goth and likes dark things.
My favorite on that show
She is so creepy
love her
I love her. my favorite one is when the girl's
give lucy a make over.
12
Liv Rooney - Liv and Maddie

Olivia "Liv" Rooney is one of the two main protagonists of the Disney Channel original series Liv and Maddie, along with her identical twin sister and best friend Maddie. She is 16 years old and is the oldest member of the Rooney children. Liv also has two younger brothers and two parents who work at ...read more.
13
Link - Legend of Zelda

Link refers to several different incarnations of the same protagonist of Nintendo's The Legend of Zelda series.
14
Lightning McQueen - Cars

Lightning McQueen, typically referred to by his surname McQueen, is a anthropomorphic stock car in the animated Pixar film Cars, its sequels Cars 2, Cars 3, and TV shorts known as Cars Toons.
I love lighting McQueen. I have a big stuffed lighting McQueen car on my bed.
15
Lane Loud - The Loud House

16
Lola Loud - Loud House

Lola Loud is a fictional character from The Loud House and the third youngest child of the Loud Family and Lana's younger twin sister, Lola is arrogant, smart mouthed, spoiled, and is a tattle-tale, like Lori despite her selfish behavior deep down she's compassionate, she shares a room with her twin ...read more.
ok so pretty much the whole loud family is on this list. everyone but the mom. rita
anyway yes I like lola loud. she can be a little brat but I like her. and her little pink car.
17
Leonardo - Teenage Mutant Ninja Turtles

18
Lina Loud - The Loud House Fan Fiction

19
Legolas - The Lord of the Rings

Legolas is a character in J. R. R. Tolkien's legendarium. He is a Sindarin Elf of the Woodland Realm and one of nine members of the Fellowship of the Ring. He has been portrayed by Orlando Bloom in the live action movies.
20
Lindsey - The Loud House

21
Lillie - Pokemon

Lillie is a fictional character introduced in Pokémon Sun and Moon. She serves as one of the player character's allies and traveling companions during the course of the game.
22
Lammy - Um Jammer Lammy

Um Jammer Lammy is a rhythm video game developed by NanaOn-Sha and published by Sony for the PlayStation video game console in 1999.
23
LeFou - Beauty and the Beast

24
Lynn Loud - The Loud House

At 13 years old, Lynn is the fifth-oldest child of the Loud family, and the youngest of Lincoln's five older sisters.
lynn loud is so funny. and boy does she like to win at everything.
25
Luna Lovegood - Harry Potter

Luna Lovegood was a witch from the Harry Potter series by J.K. Rowling. She was the only child of Xenophilius and Pandora Lovegood. Her mother accidentally died while experimenting with spells when Luna was nine and Luna was raised by her father, who was the editor of the magazine The Quibbler, in a ...read more.
PSearch List