Top 10 Fireworks Displays in Kerala
The temple is famous for its fireworks display, which is deemed to be the largest in scale in the district. The display of fireworks takes place in mid-February each year, and the blast is reported to have taken place while crackers for the festival were being prepared.

The Top Ten

1 Nemmara-Vallanghy Vela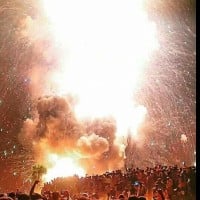 Please approve Nemmara vallangi firework in this year... And support
This is beyond imagination.. No words to explain its size & amount
There were fireworks going off outside my house yesterday
Great firework. We need thism please support
2
Kavasserry Pooram

No words to discribe.. One of the most famous worlds fire works in kerala
Best fireworks in Kerala
Best fireworks in kerala
Kerala largest noon fire work 1st kavassery pooram
3
Thrissur Pooram

2 teams spending around 3 cr for the fireworks of each year.In this venue the typical style of Kerala fireworks was born.so it can be called as the mother of all Kerala style fireworks. it was the biggest fireworks in Kerala in previous years but later Thrissur becomes the 4th largest city in the state so now a days Thrissur Pooram fireworks is comparatively low due to the security reasons, when we considering other locations like Nenmmra and Kavussery. But due to the venues specialty still it remains the best fireworks with best sound effect than any other locations. And also the best location to access, better transportation,all types of hotels(5 stars to normal lodges), better views (you can watch from the ground or can also sit back in good seats arranged in the buildings and with all modern facilities like shopping malls, theaters,internet cafes etc.
Above all Thrissur pooram is the best,expensive and biggest cultural festival in the state itself.
4
Uthralikavu Pooram

Best vedikkettu in kerala.
5
Athimahakalan Kavu Vela

Anthimahakalan kavu vela well never get completely filled without fireworks. We don't even have elephants for our vela only fireworks and Kala kali was is our hope these both have equal value in our vela and as a traditional occasion this have been conducting to 100+ years in my knowledge and people's are comming to vitness it from all over kerala so please grand us permission to conduct our occasion according to our regular pattern.
Part of our Cultural Heritage, must be preserved. Adequate Safety Measures need to be taken while organising the event.
Great fireworks and unique occasion for social gathering and entertainment for common people.
Anthimahakalan kavu vela is most important festival and very wonderful looking fire works
6
Arakkal Pooram
I think Arakkal pooram fire works is most beautiful and attractive in Kerala. I have seen many fire works but Arakkal pooram fire works superb
My village most beautiful crazy and colour
I know that the arekkal pooram have the best fire work in kerala
Attractive colour and sound is loud
7
Kunnissery kummatti
Superb since started firework
I believe the govt rules will change to normal like before
It is the Biggest kummatti in kerala, more fire works are using
If kunissery has more place for fireworks it will be come first position
April 12th biggest fire works ever
8
Ayalur Vela - Nemmara

Best fireworks
All are welcome on April 16th
9
Chinakathoor Pooram
The soul of every ottapalam citizen...the true spirit of rituality. Love it a lot waiting for Chinakkatoor pooram 2K20.
Best fieworks in kerala
10 Palakunnu Bharani
The Contenders
11 Arattupuzha Pooram
12
Maradu Vedikettu
Firework displayed very beautyfully. Shy full of colours...
It's a great firework in a conjusted area,
13
Kuttiyankavu Pooram
Beyond words
14
Kannambra Vela
Big festival and the last festival in palakkad district during each year
Kannambra vela is the most old vela
15
Parakottukavu Thalapoli

We need this fireworks back... We have lot of expectations in this year. For sanction from higher authorities...
We want thus fire works to be continued
Yes.. Need fire works...with kuziminnal. Dyna etc
One of the best.
16 Padur Vela
17
Cheramanagalam Vela
Good festival and good fire work
This Vela not bad firework
Super fire work
Good fire work
18
Mudappallur Vela
Great fire works...may 23 all are welcome
19
Chittilamchery Vela
Chittlamchery vela is a good festival conducted during the month of april in the palakkad district,chittlamchery vela is special for its kanyar kali conducted for the continous 14 days
20
Machad Mamangam
4 teams display from machad mamankam. the grand firework display from kerala temple festival
21
Mangalam Vela
Yes its biggest fire work
1, famous fire work
2, no words to describe
22
Thalavoor Pooram
Thrikkonnamarcodu Sree Durga Devi Temple Thalavoor . Thalavoor Pooram Is One Of The Biggest Festival In Kerala. Famous For Firework. Earlier , Thalavoor Pooram Ranked 3rd In Biggest Firework In Kerala & 2nd In South Kerala
23 Kanakathur Kavu
24
Namborkkavu Pooram
Largest and strong
25 Melarcode Vela
PSearch List