Top 10 Biggest Upsets in NFL History
The Top Ten
1
Jets vs. Colts, Super Bowl III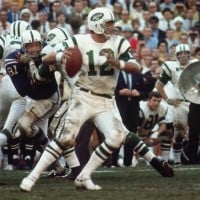 the Colts were the most dominate teams that year blazing past the Vikings and shutting out the Browns in the two games before and the Jets were starting a Quarterback who threw 5 interceptions 3 times in that season but said quarterback guarantee the win and sure enough the Jets dominated the Colts all game long
2
Giants vs. Patriots, Super Bowl XLII

The undefeated Patriots looked unstoppable well because they were and the only team they had to beat to go 18-0 was the 6th seed Giants who stumbled their way into the big game with half luck and half defense and the defense shut down Brady and the Patriots giving Eli Manning time to pull out a few miracles
3
Vikings vs. Chiefs, Super Bowl IV

the first year of the purple people eaters not only that but they also had the best offense in the league lead by quarterback Joe Kapp the Vikings beat everyone before this game except Fran Tarkenton Giants and they had beaten the Browns and Rams before this game well the Chiefs were not bad but far from favorites to win the Super Bowl that year but something strange happened it could of been the hot air balloon incident or the fact that the vikings were used to playing in the Cold but the offence fell flat Joe Kapp got pounded every play and eventually the defense grew exhausted and the Chiefs pulled off one the greatest upsets of all time
4
Vikings vs. 49ers, 1987 NFC Divisional Round
the Vikings game into the playoffs with a 8-7 record and yes they did win the wild card round against the Saints but you do not even know the quarterback for the Saints at the time do you? it was Bobby Herbert the 49ers 13-2 and heavy favorites to win the Super Bowl however as soon as the game started Viking Quarterback Wade Wilson started throwing 50-50 balls to star receiver Anthony Carter who was able to come down with them every time ending the game with over 200 yards the 49ers benched Joe Montana for Steve Young but by then it was to late
5
Jaguars vs. Broncos, 1996 AFC Divisional Round

John Elway was still looking for his first Super Bowl and this year was probably his best chance to do it the Jags were 9-7 and coming off a kinda upset against the Bills they were also only into their 2nd year of existences and at first things looked great for the Broncos starting the game with a 12-0 lead but then Mark Brunell lead the team putting up 27 unanswered points to win the game
6
Giants vs. Packers, 2011 NFC Divisional Round
the Packers were 15-1 and coming off of there Super win from the season before the Giants were 9-7 and barley got into the playoffs and what happen was a blow out Giants quarterback Eli Manning threw 3 touchdowns including one hail mary at the end of the first half
7
Jaguars vs. Steelers, 2017 AFC Divisional Round

The Jaguars came into Pittsburgh with a ugly win against the Bills in the wild card no one really payed attention to this game because we all thought it was going to be a Patriot vs Steeler AFC championship game but the Jaguars came out of the gate fast quickly putting up a 28-7 lead the Steelers tried to come back but the Jaguars never slowed down winning 45-42
8
Seahawks vs. Saints, 2010 NFC Wild Card
the Seahawks were one of the worst division winners of all time and they had to open the playoffs against the defending Super Bowl champions the last thing anyone expected was a shootout which it exactly was with no team gaining the better of each other until Marshawn Lynch ran one of the most famous plays of all time that gained his nickname Beast mode which resulted in a 67 yard touchdown to put the game away
9
Patriots vs. Rams, Super Bowl XXXVI
the Rams were 14 point favorites heading into this game coming off the greatest show on turf season the year before no one really thought 2nd year 6th round quarterback Tom Brady could come close of winning this game and the Rams did held Tom Brady in check all game only allowing 17 points in it looked like it would go into OT until Tom Brady lead a last minute drive for the Patriots to kick the game winning field goal
10
Chiefs vs. Titans, 2017 AFC Wild Card

I only knew Derrick Henry as DeMarco Murray's backup before this game, but this game really showed Henry would be a beast in the future.
the Titans were thought as the worst playoff team of 2017 only making it because of two lucky wins against the Jaguars the Chiefs were also seen as frauds but not fraud enough to lose to the 9-7 Titans well I talked about this before 20 point lead Mariota to Mariota touchdown Titans win
I remember this game very vividly. The reaction in my state was crazy.
The Contenders
11 Ravens vs. Titans, 2019 AFC Divisional Round
12 Giants vs. Patriots, Super Bowl XLVI
13 Giants vs. Bills, Super Bowl XXV
BAdd New Item