Best Cincinnati Bengals Players Going Into the 2021 Season
The Cincinnati Bengals have been a disaster since Zac Taylor took over as Head coach in 2019. Now wasting another year with him. The AFC North is stacked with veteran coaching experience this team seriously lacks in trying to fix. Will this team be able to one-up anybody? They do have these key guys who can make a difference in a fighting effort on the field.

The Top Ten

1 Jessie Bates III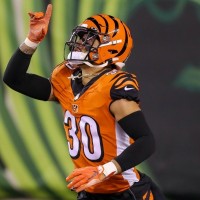 Jessie Bates was the best player last season for this Bengals bunch and it was not even close. Once losing their top two stars on the offense. Bates carried that defense the best he could stopping and hauling in big turnovers for his troubles. He has proven to be one of the best safeties in the league, and I think they would be foolish to let him walk to another team with how much good play he has shown since being drafted in 2018.
2
Joe Burrow

Joe Burrow did have his share of good and bad in his rookie year before getting hurt after taking about 40+ sacks. Many look at Burrow as a prime candidate to really ascend as a top-end quarterback of the future to keep an eye on. You can only hope he doesn't go down like that again. Nobody wants to be Andrew lucked outta the league just because a GM refuses to give his investment much-needed protection.
3
Joe Mixon

Joe Mixon is a very good capable running back in this offense. Sure he has character issues, but he certainly is a key player the team has trouble operating with when he went down to injury. The only issue you would have is the line is behind is atrocious. It was so bad having gone down early with how much Mixon was already taking a beating every tackle he went down. Is there a chance he can survive and stand up in 17 games with this line once again?
4
Vonn Bell

Back to back former Saints players only this time it's deep in the secondary. Seeing the Saints had great talent in their own secondary. I guess they weren't gonna bring back Vonn Bell and let him walk. Bengals had a similar situation with how much talent they had at safety when Shawn Willaims was there alongside Jessie Bates. You could make an argument Vonn Bell is the team's swiss army knife with how much tackling he immediately provided for this defense. He may not get a chance or crack at turnovers. He does get the job done to stop opposing drives when he needs to.
5
Trey Hendrickson

Bengals really overspend the money mainly at the pass rush. After trading away Carlos Dunlap to Seattle and losing Carl Lawson to the Jets they had to find something out there. Trey Hendrickson had a breakout season helping out the Saints with the pass rush he provided for Cameron Jordan. The question is will this be one of those baited signings that don't go their way (like Trey Flowers) or will this thing actually work with this system he is in? This D-line will have to hope Hendrickson can lead them in some way to apply much-needed pressure off opposing offensive lines to get past.
6
Tee Higgins

Now with Tee Higgins, there is a massive pro and con evaluation we learned in his rookie year. When Joe Burrow is on the field, he can be a big difference-maker in the passing attack. When Joe Burrow is done for the season and a backup has to step in. Higgins's production fell dramatically. I see him getting much better connecting with his quarterback as long as he can stay upright for 17 games that is.
7
Chidobe Awuzie

The Bengals got a lot more aggressive trying desperately to fix the cornerback position the last few seasons. While not all the signings have panned out. I do feel that Awuzie can make a difference in this secondary. Now last season in Dallas he had an off-year, but to be fair that whole secondary was atrocious around him. Awuzie rarely gives up a huge play, and would usually bat the ball down. Not the flashiest to capitalize on turnovers, but needing to just knock down a 3rd down play incomplete and make the team punt is what counts most to get your offense back on the field.
8
D.J. Reader

I'm not sure what happened last season with D.J. Reader, but maybe like some of his teammates. Reader must have got hurt at some point in 2020 seeing the low production had to be derailed by something. In this case, I could see him return to form with what he was in Houston. He knows he has to step up now with taking over that Geno Atkins role with pride.
9
Ja'Marr Chase

You may be surprised to see the team's 1st round pick this far down. Ja'Marr Chase has had a struggle in the pre-season. While that shouldn't be taken too seriously. Chase has dropped passes from Burrow who wanted his handpicked guy in the draft war room. The connection could get better as the season goes on, but that is the process that will be the watching point for this passing game that supposes to be very lethal. Let's pump the breaks just a little bit, but hope that the teasing is all it was right?
10
Larry Ogunjobi

A very underappreciated player in his time with the Browns. Now making the move to help out D.J. Reader and switch Ohio teams didn't take too far from distance travel. Sure Ogunjobi can be considered a downgrade from the now-retired (I think) Geno Atkins. I feel he should be at least good enough to stuff out some no-gain runs which he provided well next to Myles Garrett for many years.
BAdd New Item