Most Disappointing NFL Draft Picks
The Top Ten
1
Jamarcus Russell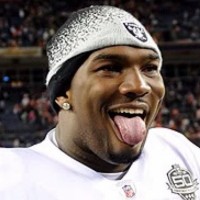 JaMarcus Trenell Russell is a former American football quarterback. He played college football at LSU, where he finished 21–4 as a starter and was named MVP of the 2007 Sugar Bowl. Russell was drafted by the Oakland Raiders with the first overall pick in the 2007 draft. He was out of the NFL after ...read more.
the man could make it physically but not mentally was taken first in the 2007 draft by the Raiders he went 7-18 as a starter before getting cut by the Raiders after 2 years and no team would even give him a back up job
The Raiders actually believed in him. Lol
2
Ryan Leaf

Ryan David Leaf is a former American football player who was a quarterback in the National Football League for four seasons. He was selected as the second overall pick in the 1998 NFL Draft after only Peyton Manning. He played for the San Diego Chargers, Tampa Bay Buccaneers, Dallas Cowboys, and Seattle ...read more.
in 1998 there was a 50-50 split on who the Colts should take Ryan Leaf or Peyton Manning the Colts went with Manning and the Chargers traded up to get Leaf he was a wreck when he got to San Diego in his 2 years with them he threw 14 TD and 36 INT with a passer rating of 50 after spending some time with the Cowboys and Seahawks he was out of the NFL
He didn't live up to what they thought he would. Really such a disapointment
What a disappointment
3
Charles Rogers

in 2003 the Lions were looking for the next Randy Moss and took Rogers 2nd overall but injuries plagued his career and he only played 9 games with only 440 yards and 4 TD in 2005 he was cut and never set foot in the NFL again
4
Johnny Manziel

Jonathan Paul Manziel is an American professional Canadian football quarterback for the Montreal Alouettes of the Canadian Football League. He was drafted by the NFL's Cleveland Browns with the 22nd overall pick of the 2014 NFL Draft. Towards the end of the 2015 season, Manziel endured numerous scandals, ...read more.
in 2014 the Browns had to choose between 2 Quarterbacks the Texas A&M Quarterback Johnny Manziel or the Louisville star Teddy Bridgewater despite analysis saying Bridgewater was the way better option they took Manziel. his NFL career only lasted 7 games throwing 7 TD and 7 INT
This dude was an idiot who couldn't stay out of trouble
5
Tony Mandarich

if you want to know why we do not here much about the Packers in the early 90s he is one of the Reasons Tony was an offensive tackle who got picked 2nd overall 1989 and a little injuries here and a little drugs there he was out of the league in 3 years
6
Akili Smith

1999 the Bengals used their 3rd overall pick on Quarterback Akili Smith but there were many red flags like scoring 16 out of 50 on the wonderlic test and playing only 1 full season in college and skipping half of training camp well holding out his rookie contract Smith scored 5 TD and 13 INT before going to the Europe football league but he did not even do good there
7
Vernon Gholston

the 2008 Jets drafted Defensive end Vernon Gholston 6 overall his starting career lasted for 4 years but he in that time he only got 42 tackles and no sacks and after brief stints with the Bears and the Rams and he was gone by 2013
8
Brian Bosworth

what is a supplemental draft I think it is extra picks? yeah this guy did not do good only 4 sacks and is a actor kinda
9
Matt Leinart

in 2006 the Cardinals drafted what people thought was the best QB in the draft he scored 15 TD and 21 INT before spending the rest of his time backing up Kurt Warner
10
Aundray Bruce

to be fair he did last 10 years but yeah for a first overall pick very disappointing
The Contenders
11
Luke Joeckel

How exactly do you label an offensive lineman a bust? Well, when he's drafted second overall and plays in only 50 games for his entire career, we'd say that's good evidence. In 2013, the Jaguars hoped to shore up their offensive line by adding Luke Joeckel, a unanimous All-American at Texas A&M who'd never missed a game in college. They took him second overall in a draft that was loaded with offensive linemen, forgoing future Pro Bowlers Lane Johnson and Terron Armstead in the process his whole career was plagued by injured and by 2018 he was gone from the NFL
12
Art Schlichter

4th overall pick 1982 Colts well he committed 20 felonies and got 3 TD and 11 INT say what you want about his NFL career but the man was amazing in Arena Football
13
Troy Williamson

after Randy Moss left the Vikings they needed to find a new version of him and they selected Troy Williamson 7th overall yes I know it does not help when you have T Jack is your QB but surly you can get more then 800 yards in your 1st 2 seasons
14
Trent Richardson

Trenton Jamond Richardson (born July 10, 1990) is an American professional football running back who is currently a member of the Alliance Birmingham of the Alliance of American Football. He played college football for the University of Alabama, was recognized as an All-American, and was a member of ...read more.
in 2012 the Browns took Trent Richardson with the 3rd overall pick his first season was good he got 950 rushing yards but Injury kept him out of 2013 then he got traded to the Colts and after brief stints with the Ravens and the AFL he was out of football
15
Kevin White

Kevin Romone White Jr. is an American football wide receiver who is a free agent. He played college football at West Virginia and was drafted 7th overall by the Chicago Bears in the 2015 NFL Draft. White went onto have multiple injuries pushing him from the starting lineup, by the time 2018 season proceeded ...read more.
Honestly one of the biggest wide receiver busts of all time. His stats were absolutely terrible. Not a single touchdown in his career.
got drafted 8th overall by the Bears and got 285 yards in 3 years and somehow lasted until 2019
He was a major bust and pretty forgettable
16
Ki-Jana Carter

if a running back gets the first overall pick he better be good Carter was not in 1995-2004 he only has 1,144 yards but 4 straight years of injuries does not help
17
Heath Shuler

he is still in DC but not as a Redskin but as a politician 1994 the Redskins picked Shuler with the 3rd overall pick also hey NFL teams when a rookie holds out in training camp that is a sign that they are a bust and Heath was no exception in his 2 years he threw 15 TD and 33 INT after being a back up with the Saints he was out of the NFL and joined the democrat party and got elected into the House of representatives
18
Aaron Curry

Curry got drafted 4th overall by the Seahawks in 2009 and he was meh he did get a decent amount of tackles did really rush the Quarterback he was out of the NFL in 2013
19
Justin Gilbert

the Browns Drafted Gilbert in 2014 he was a huge bust 1 INT and 42 tackles and was out by 2016
20
Josh Rosen

for the Cardinals yeah I guess but in the NFL we are not sure yet
To be fair Arizona gave him no chance to succeed and Miami hasn't either. I feel bad for him. He's basically become a tragic afterthought
21
Blake Bortles

Blake Bortles is an American football quarterback for the Jacksonville Jaguars of the National Football League.
he was a little disappointing but he did get the Jags to the AFC championship but now he serves as a back up to Jared Goff
He was so inconsistent which killed him in my opinion
22
Todd Blackledge
so the Chiefs could of had Marino and Jim Kelly huh but he was born in Canton Ohio so he should be a hall of famer for that even though he went 29-38 in TD and INT and only 5,286 yards
Ugh... don't remind me we could've had Dan Marino or Jim Kelly but no instead we took this guy.
23
Russell Erxleben

a Punter getting drafted in the first round huh was the a accident or did they do this as a late April Fools joke to the fans he was not even good he got cut 4 years later and for some reason the Lions picked him up 4 years after being out of the NFL man the 80s were weird
24
Dion Jordan

3rd overall pick for the Dolphins and was bust getting 91 tackles in a 6 year span and 10 sacks
Another guy who couldn't stay away from his off the field issue
25
Tim Couch

this is a tragic story of a team ruining a Quarterback in 1999 the new Cleveland Browns spent there first overall pick on Heisman winner Tim Couch but like most new teams the QB got sacked and sacked but in 2002 he took the new Browns to there first and only Playoff appearance but after that season he got cut he tried out with the Packers but by then his confidence was gone
He was supposed to be a star for the new Browns but uh no he didn't do that. If anything he was the opposite
PSearch List