Top Ten Best Green Bay Packers Players of Week 5, 2021
The Top Ten
1
Davante Adams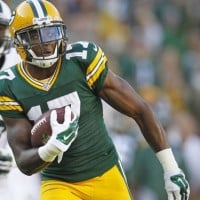 Davante Lavell Adams is an American football wide receiver for the Green Bay Packers of the National Football League.
What a phenomenal day for Davante Adams. He was on fire the entire game, catching 11 passes for 206 yards and a touchdown.
2
Aaron Rodgers

Aaron Charles Rodgers is an American football quarterback for the Green Bay Packers of the National Football League.
For the most part, minus an interception, Rodgers played a great game. He passed for 344 yards and 2 touchdowns, and had a clutch third-and-long throw to Randall Cobb.
3
A.J. Dillon

Another week, another great game from Dillon. This time however, it was in the receiving game. Dillon had 49 receiving yards and a touchdown in the air as well. He's shown up to play these last two weeks.
4
Aaron Jones

Jones rushed for 103 yards, including a 57 yard run that helped the Packers get down the field. The run game was good today for the Packers.
5
De'Vondre Campbell
Every week, I wonder if Campbell is finally the guy we've been looking for in the middle of our defense. He had yet another great game, with 8 tackles, including one for a loss, and a clutch interception in overtime. He's been playing at a Pro Bowl level this season.
6
Kenny Clark

The sack numbers are deceiving, Clark is disrupting things in the trenches. During the game he was consistently getting after Joe Burrow and played the run well. He has been worth his contract.
7
Adrian Amos

Amos had 8 tackles and an interception.
8
Eric Stokes
Stokes, like most weeks, had a few rookie mistakes. However, as our current #1 corner, he held his own. He had 4 tackles and a pass deflection.
9
Dean Lowry

Lowry has been invisible most of the season, but he showed up today and had 2 pass deflections at the line of scrimmage and 2 tackles.
10
Randall Cobb

Randall Ladonald Cobb II is an American football wide receiver for the Houston Texans of the National Football League.
Cobb only had two catches, but one of them was a clutch one in overtime to set up the game-winning field goal.
BAdd New Item