Top 10 Best Green Bay Packers Players of Week 7, 2021
The Top Ten
1
Aaron Rodgers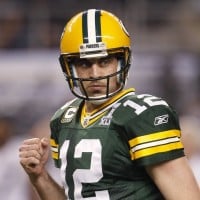 Aaron Charles Rodgers is an American football quarterback for the Green Bay Packers of the National Football League.
Rodgers just played good football today. It was a great performance from him, going 27/35 for 274 yards and 3 touchdowns.
2
Rashan Gary
Gary has really been showing up to play this season, especially with all the injuries as pass rusher. He had an amazing performance, with 2 sacks, one of which was a strip sack, and he consistently got pressure. He's been playing very well this season.
3
De'Vondre Campbell
Yet again, Campbell was great. He totaled 13 tackles and 2 forced fumbles, one of which was on a goal line stop. He absolutely deserves Pro Bowl and maybe even all-pro consideration this season.
4
Davante Adams

Davante Lavell Adams is an American football wide receiver for the Green Bay Packers of the National Football League.
Adams had 76 yards and a touchdown, but it was one big play that proved he is the best wide receiver in football. With the Packers backed up near their own end zone, Rodgers found Adams along the sideline, and he made one of the best catches I have ever seen live. I didn't even believe he caught it until I saw the replay. He has been amazing.
5
Robert Tonyan

Tonyan has been quiet so far this season, but today was his breakout game of the season. He caught 4 passes for 63 yards and a touchdown.
6
Dean Lowry

I don't know what it is, but Lowry has been playing good football these past few weeks, after being mostly invisible for a long time. Today, he had half a sack, 5 tackles, and recovered Rashan Gary's strip sack. Let's see if he can keep this play up.
7
Allen Lazard

Lazard really came up big on Green Bay's last drive before halftime. He was Rodgers' main target as they worked their way downfield, and he was the one who scored the touchdown, his second in two weeks. He ended the game with 5 catches for 60 yards.
8
Chandon Sullivan
Got to hand it to Sullivan. He's had some rough games over time, but he's truly been a solid slot corner for this team. He came up big with an end zone interception today.
9 Kingsley Keke
10
Corey Bojorquez
I just have to recognize Bojorquez for the phenomenal job he has done in revitalizing the Packers punt game. He punted 3 times. One was from his own end zone, and with pressure coming at him, still managed to boom a long one to Washington's 40. On another, he had the perfect punt and pinned Washington at the two yard line. He has been worth the trade.
The Contenders
11
Aaron Jones

BAdd New Item