Best New England Patriots Players Going Into the 2021 Season
Bill Belichick is irate that Tom Brady won the super bowl with another team. Meaning if this all fails with all the spending in the world he put into this off-season. He could quietly walk away and retire potentially. High-stakes pressure is on the line for arguably the greatest head coach of all time.

The Top Ten

1 J.C. Jackson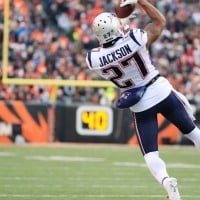 Man oh man does J.C. get way better fast, doesn't he? He was a turnover magnet in 2020. Every ball that went his way in man coverage he would make you pay and collect for his troubles every time. It was like they had their own type of Revis island established that teams weren't aware of how great he turned out to be with the help of Stephon Gilmore not having to do as much with such a reliable supporting capable shutdown corner on the other end. I'm sure the players are fully aware of J.C. Jackson now, I mean 9 picks is a tough feat for most corners. Can he follow up and do that again in a 17 game stretch?
2
David Andrews

They have been a number of veteran Patriots players who opted out that will return this season, and the biggest name that should really make this offense score more solid points from week to week would be the Center, David Andrews. Granted they also have Ted Karras as the backup who did a serviceable job for one year in Miami to come back to New England in a surprising turn. David Andrews has been considered one of the top 10 centers in football the last few seasons on the field before his mysterious blood clot injury pushed him aside. Like many of his teammates in this offensive line. I see a dramatic shift coming that would make the balance of the trench work in Belichick's favor.
3
Matthew Judon

Patriots spent a historic amount of money in free agency, and out of that big crew of guys, they took big chances on. I like Matthew Judon the most to be a major difference-maker as another pass rusher to plug in this defense. In Baltimore, Judon was coming off real strong the last two seasons. Judon certainly qualifies to this Belichick mentality he likes these types of players. The track record of free-agent linebackers that come to Boston has been on more success than fails over the years. Two for the price of one in 2021, what a budget killer that could be well worth the investment.
4
Kyle Van Noy

One of the biggest surprises was seeing Kyle Van Noy return back to his ultimate glory in New England. Still don't understand why Miami gave up that early on him with all that guaranteed money they paid him as a difference-maker in his brief time there. Van Noy is a capable and gifted linebacker that only Belichick knew he was going to be a special player. Tackling machine, and taking advantage of the opportunities towards him. We could be seeing that same workhorse for many years like he never even left the team, and now with all these young guys in for a change. He could sure give them a tune-up of motivation in stopping the run way more effectively.
5
Stephon Gilmore

Stephon Gilmore is no doubt an elite cornerback still, but he has been acting really strange this off-season. At one point wanted to trade to now all of a sudden everything's good again. Why would you wanna leave this defense is my question? Whatever the case I'm sure Gilmore could be going out with a bang if this is a sign that the Patriots could be ready to look at other options after the season concludes.
6
Shaq Mason

Shaq Mason has just been a very good iron man soldier for this offensive line for many years now. Now looking like he is playing with much more sufficient blocking teammates. He might enjoy this complement of upgrades around him quite a bit. How big will those holes be for Damien Harris to explode onto the scene?
7
Michael Onwenu

Man oh man can Belichick sure know how to find some diamond in the rough Guards that can start rightaway. Now taking the Joe Thuney spot and the sample of blocking Onwenu managed to do very well coming in for the limited snaps given in his rookie year. Everything is ascending upwards for this former wolverine to really contribute in a big way for revamped offensive line ready to rebound in 2021.
8
Adrian Phillips

The signing of Adrian Phillips felt like a steal pickup to add to the already great depth they had lined themselves up in. Fitting in real nicely with this team last season. He did plenty of work among the others in that secondary. The dynamic Patriot starting secondary horseman sure can make a case of being the best unit in 2021 just by their coverage skills are just that good overall.
9
Trent Brown

Trent Brown is back where he belongs best. Things didn't exactly turn out the way Brown hoped with the Raiders. A reunion and giving it another go with the guy who believed in him most should be the perfect motivator of just doing your job blocking for Mac Jones long enough for them to get positive plays going.
10
Devin McCourty

The old wise defensive back can still play at a high level among the best still in his mid 30's. Devin McCourty provides great leadership with the amazing depth the Patriots have set themselves up at that secondary position. He could be the mentor that puts a division II player (Kyle Duggar) into a million bucks.
BAdd New Item