Top 10 NFL Players that Were Injured in Week 2 (2020)
Well things are happening. As football returns we have another problem. No it's not a COVID issue or Wildfire issue. I'm talking about injuries. There was an unprecedented number of them including some pretty big names which we'll discuss on this list. On Sunday (9-20-20) it must've been doomsday in the NFL because you had players dropping dead like flies across the league raising the question should we have skipped the preseason just so we could play the season? I get why they did that it was because of COVID but now we're seeing the aftermath which players aren't able to adjust up to speed on such short notice without injuring themselves. It sucks but this week will be remembered for all the wrong reasons. Injuries unfortunately were a common theme. I'll rank these players based on how their injuries affects their teams respectively.

Keep in mind that Michael Thomas and George Kittle are already out so they are excluded from the list

The Top Ten

1 Nick Bosa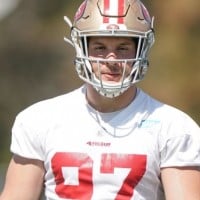 Bosa May be out for the season unfortunately with a likely torn ACL it would take a miracle to see him play again this season that's a devastating blow for this team so early on too. They don't really have anyone to fill the void outside of Dee Ford maybe I would expect to see some trades or something to fill the hole once Bosa is on IR
2
Saquon Barkley

Saquon is unfortunately out for the season with a torn ACL what sucks is he's already dealt with injuries before and like CMC he's the backbone of that offense. The Giants are likely set back another year in their rebuild what sucks is that a talent like him could be labeled as injury prone on top of that it gives an excuse card to the organization if Daniel Jones struggles yet again
3
Christian McCaffrey

Christian McCaffery suffered a high ankle sprain meaning he's going to miss 4-6 weeks. If you're Carolina better buckle up because it's gonna be a long ride. Christian McCaffery is quite literally the backbone of your team better start tanking now before it's too late.
4
Raheem Mostert

The 49ers got hit hard by injuries Mostert apparently suffered an MCL tear that is mild but nonetheless he'll miss a few weeks most likely
5
Anthony Barr

Anthony Barr is an American football outside linebacker for the Minnesota Vikings of the National Football League.
The Vikings had a rough week losing on the field and off of it as one of the best Vikings defensive players, Anthony Barr is out for the season with a torn pectoral muscle. A big blow for Minnesota
6
Drew Lock

Here we get to the more serious injuries starting with Drew Lock who left the game in Pittsburgh with a shoulder injury as Jeff Driskel stepped in as Replacement quarterback. Lock apparently suffered a shoulder injury and could miss anywhere from 2-6 weeks depending upon further test results he joins a list of other notable Broncos injuries including Von Miller AJ Bouye Phillip Lindsay and Courtland Sutton
7
Jimmy Garoppolo

Jimmy Garoppolo has a bit of a murky situation he landed awkwardly after getting sacked but finished the first half until it was revealed he had a high ankle sprain. He would not return as Nick Mullens filled in. His timetable is a bit unknown at the moment
8
Solomon Thomas

While he's not as good as Bosa Solomon Thomas is still solid and went down moments after Bosa did. He is feared to have a torn ACL but nothing is official yet
9
Tyrod Taylor

Tyrod Taylor did not play against the Chiefs this week after reportedly having chest pains he was actually hospitalized for it and is listed as Week to week
10
Parris Campbell

He sprained his MCL and PCL not a season ending injury but he will be out awhile with no true timetable at the moment
BAdd New Item