NFL Teams Most Likely to Make the Playoffs in the 2019 Season
Once again, the New England Patriots sit on the iron throne of football. The other 31 NFL teams are left to look up at them. They all want to challenge the dynasty, but that requires them to make the playoffs. Here, we are looking at the top ten NFL teams most likely to make the playoffs in the 2019 season.

The Top Ten

1 New England Patriots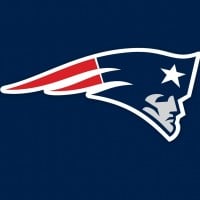 The New England Patriots are a professional American football team based in the Greater Boston region. New England Patriots are one of the few teams to have 5+ wins in the Super Bowl.
The last team to prevent the Pats from reaching the Super Bowl was Peyton Manning's Broncos...Think about that. The guy from the Nationwide commercials from the last three years is the only person to prevent Tom Brady from playing in the Super Bowl. And the way I see it, there is no reason to doubt the Patriots again. Their division has been a joke for a decade, and no other team in the AFC seems like viable challengers to their throne. Tom Brady owns the city of Pittsburgh, the Ravens are still young and inexperienced, the Browns are too much of a wild card, the Colts got obliterated by them in their previous playoff matchup (despite their best attempts to change the narrative with Deflategate), I can barely take the Texans seriously, the Jags are still the Jags even with Saint Nick, the Chiefs are severely weakened, and the Chargers simply cannot beat them. Tom Brady is the greatest player in the history of the NFL, and you are delusional if you think otherwise. The amount of ...more
For the second straight year, the Patriots top this list. Tom Brady continues to defy time itself and won his sixth Super Bowl. In the offseason, two notable players they lost were Trey Flowers and Trent Brown. Flowers generated a lot of their pass rush, which is why they traded for Michael Bennett. As for their signings, they were quiet but underrated ones, such as Dontrelle Inman, Demaryius Thomas, and Jamie Collins. Yes, Rob Gronkowski is gone, but they signed Benjamin Watson and Austin Seferian-Jenkins, and if there's anyone who can get the best out of them, it is Bill Belichick. Plus, they haven't missed the playoffs since 2008. This is the most consistent team in the NFL, and their dynasty continues on strong.
"Tom Brady's age will catch up with him" " The Empire is ending"

Yeah I can't believe that until it's been proven. If they can win the whole thing with last year's team they're not dead yet. Their empire is still alive much to the dismay of the rest of the league
They did I think
2
New Orleans Saints

The New Orleans Saints are a professional American football team based in New Orleans, Louisiana. The Saints currently compete in the National Football League as a member club of the league's National Football Conference South division.
The Saints should have went to the Super Bowl, but I won't dwell on that like those whiny Saints fans. Anyway, even going into his age 40 season, Drew Brees is still going on strong, and wreaking havoc with Michael Thomas and Alvin Kamara. He also gets to relax comfortably behind one of the NFL's best offensive lines. Brees also has one of the NFL's premier defenses, so he can relax when he's not on the field. And now, he has a tight end to throw to in Jared Cook. Not to mention Sean Payton is his head coach. Yep, Brees is living the dream, and the Saints look poised for a big run into the playoffs and to the Super Bowl.
Let me be clear, New Orleans. This is your final chance to win another Super Bowl with Drew Brees. Your division has significantly improved. The Falcons are finally healthy now and are poised for a rebound. The Panthers may have collapsed last year but they are still supremely talented. And even the Bucs have something building with a real head coach in Bruce Arians. You have squandered golden opportunities to reach the Super Bowl the last two seasons. You had one of the most inexcusable choke jobs in NFL history in Minnesota. And even though the refs screwed you with that non-pass interference call last year, you still blew a 13 point lead in the first quarter, your defense folded like a deck of cards, and Drew Brees choked by throwing an interception on the first possession of OT. There are plenty of teams in the NFC that are hungry to defeat you and give your fans something MORE to complain about. You still are extremely talented on both sides of the ball but this is probably the ...more
After being on the wrong end of a controversial non call they might be out for blood this year. The last two years have ended in heartbreak and they're running out of time to get another ring with Brees. It's almost now or never
3
Los Angeles Chargers

The Los Angeles Chargers are a professional American football team based in Los Angeles. The Chargers compete in the National Football League as a member club of the league's American Football Conference West division.
I just want Philip Rivers to win a Super Bowl. The guy is probably one of the most underrated quarterbacks in NFL history and the only thing that is missing from his (in my opinion) Hall of Fame career is a Lombardi trophy. The only problem is that his Chargers teams have always showed regular season promise only to sputter out in January. Cold weather and Tom Brady are the two biggest reasons for that. It's a good thing that Fightin' Phil has so much talent around him to go for a championship in his final seasons. That defense is absolutely stacked and weapons like Gordon and Allen are always reliable on the offense. Nobody in LA might not care about the Chargers, but they've earned a place in my heart. They are a team without a fan base that fights for each other instead of for a spoiled LA populous that doesn't know they exist. And with the Chiefs being weakened in the offseason, the time might finally be theirs. All they have to do is beat the Patriots...…..for once.
This team is loaded and capable of making the playoffs, but can they actually win postseason games? Philip Rivers has Keenan Allen, Mike Williams, Hunter Henry, and Melvin Gordon to work with on offense, while Joey Bosa, Melvin Ingram, and first round pick Jeffery Tillery bulk up the front and Desmond King, Casey Hayward, Derwin James, and second round draft pick Nasir Addeley lead the secondary. This is the best well-rounded team in the NFL, but can they win playoff games consistently?
I'm a Chiefs fan through and through but I liked what I saw from this team a year ago. With KC becoming less intimidating Phillip Rivers might have a Golden opportunity to finally take the AFC West. He has all the pieces around him to do so. This long cursed franchise might finally have a change of fortune for once
4
Chicago Bears

The Chicago Bears are a professional American football team in Chicago, Illinois. The Bears compete in the National Football League as a member club of the league's National Football Conference North division.
The Double Doink was devastating but this Bears squad has some real promise moving forward. Mitch Tribusky must continue to develop but Da Bears' defense seems to have rebounded into their typical "Monsters of the Midway" form. Khalil Mack is an absolute defensive stud who this team has missed since Urlacher retired. However, their division (outside of the Lions) is very stacked and is looking to knock them off their pedestal. The Vikings are trying to do something right for once and reclaim their pre-Philly 2017 form and their mortal enemy Packers are suiting up with a reinforced lineup for Aaron Rodgers' final years. Let's just see how Chicago builds on their first good season in many years.
I hate to say it, but the Bears don't suck anymore. Look at all the big names on their defense. Khalil Mack, Akiem Hicks, Leonard Floyd, Eddie Goldman, Kyle Fuller, Prince Amukamara, Eddie Jackson, and Ha Ha Clinton-Dix all make up their league best defense. My question though is if Mitchell Trubisky can prove he was worth being taken over Patrick Mahomes and DeShaun Watson. Can the receiving corps step up? Lastly, they need to find a kicker. You can't count on a guy named Chris Blewitt (heh heh). Other than that, with a solid offense and an elite defense, this Bears team looks good.
They have a nice core forming and have potential. They're still young but I like what I'm seeing from them. I'm expecting a deep playoff run this time
Just because we lost 1 Game and didn't play well to GBP, Our Offense was not in rhythm the BEARS will get better who agrees with me.
5
Indianapolis Colts

The Indianapolis Colts are an American football team based in Indianapolis, Indiana. The Colts compete in the National Football League as a member club of the American Football Conference South division.
From looking dead in the water a few years ago and potentially blowing everything up and starting over, this team has reinvigorated itself with Andrew Luck and Frank Reich at the very top. They have positioned themselves to dominate the AFC South the same way that Peyton Manning did back in the day. The Texans have followed their NBA counterpart in the Rockets and have become the NFL's perennial underachieving team, the Titans are the definition of mediocrity, and I have no clue how the Jaguars will do with our Super Bowl legend Nick Foles. This is a very likable squad that is on the rise and could potentially be the best team in the AFC for the 2020s decade.
What we got last season was a sneak preview of what's to come. In free agency, they quietly signed Devin Funchess to team up with T.Y. Hilton to give Andrew Luck targets, and Justin Houston, to shore up their pass rush. They made a run to the AFC Divisional Round in 2018, and if they utilize their talent on both sides of the ball, they can potentially get even farther.
This was a team that was left for dead but they have risen from the ashes and have reassembled a nice squad. Luck has some weapons and protection now. I'm liking their chances to retake the division
6
Los Angeles Rams

The Los Angeles Rams are a professional American football team based in the Los Angeles metropolitan area.
This team needs to prove themselves this year after being exposed as frauds in the Super Bowl. Sean McVay was humbled and had one of the worst coaching performances in NFL history after being talked up as an offensive genius and Jared Goff reverted to rookie form against the Pats' defense. They still luckily have a plethora of talent and McVay is still a great coach despite getting tactically humiliated by Belichick last year. In their final year at the Coliseum, this team needs to prove all their doubters wrong and use their Super Bowl humiliation as motivation.
Super Bowl hangover is real. Just ask the Eagles, who went from 13-3 in their Super Bowl year to 9-7 in 2018. Or maybe the 2008 Patriots, who lost Tom Brady to a torn ACL, which derailed their season (despite finishing with over 10 wins). Who knows how this young team will handle it. But let's not forget they have one of the NFL's brightest minds in Sean McVay and players like Jared Goff and Aaron Donald leading the offense and defense respectively. Still, concerns about a hangover and Todd Gurley's knee loom, but I don't think that will stop them from making the playoffs.
They still have all the pieces they need to be competitive again but they need to prove that game was a fluke. This is the revenge tour year. If there's ever a time to win it's now while you still have young talent on the team
7
Dallas Cowboys

The Dallas Cowboys are a professional American football team based in the Dallas–Fort Worth metroplex. The Cowboys compete in the National Football League as a member club of the league's National Football Conference East division.
The Cowboys are in a bit of a tight spot right now. They need to extend Dak Prescott, Amari Cooper, Byron Jones, and Ezekiel Elliot. Zeke and Jones can wait, but deals need to get done with Dak and Amari. I like the moves Dallas has made so far. Signing Randall Cobb to mentor Michael Gallup and be a #3 receiver was a solid move, and though bringing back Jason Witten was questionable, it helps to solidify a position of serious need. On defense, they have pro bowlers such as Demarcus Lawrence, Leighton Vander Esch, and Byron Jones leading the way. Still, the Eagles are their main competition here.
As an Eagles fan, I beg the Cowboys to extend Dak Prescott and Jason Garrett. That combination of QB and head coach only has a peak of 10-6 and just screams "mediocre". And even if they make the playoffs, this team is too mentally weak to do anything of note in the postseason. 22 straight seasons without an appearance in the NFC Championship Game speaks for itself. This franchise is pathetic.
They have an okay team that can get to the playoffs. I don't think they will go anywhere but they should at least make the playoffs
If Dak was smarter they could.
8
Kansas City Chiefs

The Kansas City Chiefs are a professional American football team based in Kansas City, Missouri. The Chiefs compete in the National Football League as a member club of the league's American Football Conference West division.
This team just looks like a mirror image of Andy Reid's Eagles teams. They are the best team in their conference on paper and will always be in the running for a championship but personal drama, poor coaching when it matters the most, and underachieving in the postseason has held them back. When the Eagles lost in the playoffs last year, I wanted Andy Reid to win the Super Bowl so badly and finally solidify himself as an all-time great coach. But he unfortunately did what he has been famous for doing for the past 18 years...The Chiefs are at a crossroads. With a lot of their core pieces gone from free agency, trades, or just flat out stupidity, they have to rely on Patrick Mahomes to build upon his historically great first year as a starter.
I would have them higher, but what concerns me is the losses of Dee Ford, Justin Houston, and Eric Berry, and the whole Tyreek Hill situation. There is a lot of drama around this Chiefs team right now. They did add people like Frank Clark and Tyrann Mathieu, and drafted a good receiver in Mecole Hardman to address the Tyreek Hill situation. However, what if Patrick Mahomes regresses? It's hatd to replicate an MVP season. Concerns aside however, this Chiefs team looks like it improved over the offseason after a heartbreaking AFC Championship loss in 2018. They have a good chance of making the playoffs, but maybe not as a division winner.
As a Chiefs fan I can't help but feel pessimistic about this year. I feel like with Tyreek Hill and Kareem Hunt gone on offense Eric Berry Dee Ford and Justin Houston gone on defense they seemed to have gotten worse in my opinion. I hope I'm wrong but I don't sense them going far into the playoffs.
9
Philadelphia Eagles

The Philadelphia Eagles are a professional football franchise based in Philadelphia, Pennsylvania. The Eagles compete in the National Football League as a member club of the league's National Football Conference East division.
After another Nick Foles playoff run in 2018, the Eagles look to make the playoffs for the third straight year. It can be achieved, but Carson Wentz needs to stay healthy, and the defense needs to stay consistent. Wentz has targets like Alshon Jeffery, Nelson Agholor, DeSean Jackson, Zach Ertz, and Dallas Goedert. That's a pretty good list. Now all Wentz needs to do is get back to his 2017 self. On defense, they have new faces like Malik Jackson and Andrew Sendejo, and seasoned veterans like Fletcher Cox. They have the talent, but they need to remain consistent, something they weren't in 2018. If they can achieve those two things, then they will make the playoffs.
This team has greatly improved from the previous year and are back to being Super Bowl contenders. Great pickups in the offseason with Malik Jackson, Desean Jackson, Zach Brown, and Andrew Sendejo. A very well-worked draft by picking up Andre Dillard, Miles Sanders, JJ Arcega-Whiteside. And yeah, our team is actually healthy now. The ONLY reason why the Eagles went 9-7 last year was because literally one third of the roster missed time due to injury. And they STILL were one of the final eight teams standing at the end of the day. Carson Wentz is finally 100%, all our top guys are rehabilitated, and Howie Roseman made the right choices in terms of which free agents to let go and which to resign. I don't see many teams in the NFC being able to match up against this team when fully healthy and firing on all cylinders.
Last year they had some injuries but still managed to sneak into the playoffs and even won a game but that was all thanks to their lord and savior Nick Foles. This year they should be good once again assuming everyone stays healthy. Keep in mind that they don't have their lord and savior Nick Foles to bail them out yet again if Wentz goes down.
10
Cleveland Browns

The Cleveland Browns are a professional American football team based in Cleveland, Ohio. The Browns compete in the National Football League as a member team of the American Football Conference North division. ...read more.
I don't normally like to buy into hyped teams, but this may be something else. On paper, this Browns team looks absolutely stacked, something no one has said in years. Let me name off some of who they have now. Baker Mayfield, Odell Beckham Jr, Jarvis Landry, Antonio Calloway, David Njoku, Nick Chubb, Kareem Hunt, Myles Garrett, Larry Ogunjobi, Sheldon Richardson, Oliver Vernon, Christian Kirksey, Joe Schobert, Morgan Burnett, Damarious Randall, Denzel Ward, Greedy Williams, JC Tretter, and Joel Bitonio. Those were the ones I could name off the top of my head. Again, I generally don't buy into hype, but this team looks stacked beyond any possibility.
Right now it's still just hype but it feels different. Cleveland might finally have a taste of success in football again
The Contenders
11
Buffalo Bills

The Buffalo Bills are a professional American football team based in the Buffalo–Niagara Falls metropolitan area that competes in the National Football League. Buffalo Bills had the longest playoff drought of any team which came to an end in 2017.
Solid Backfield and an improved Defensive Line. If Josh develops even a little more than last season I can see 10 wins. Plus we had like the 2nd worst line but you wouldn't know it since Josh ran whenever things failed. Now we have receivers that don't drop over 1000 yards and 7 td passes. If anything happens to Brady, the AFC East becomes a Jets Bills fight and I think the Bills will prevail
12
Seattle Seahawks

The Seattle Seahawks are a professional American football franchise based in Seattle, Washington. The Seahawks compete in the National Football League as a member club of the league's National Football Conference West division.
13
Atlanta Falcons

The Atlanta Falcons are a professional American football team based in Atlanta, Georgia. The Falcons compete in the National Football League as a member club of the league's National Football Conference South division.
14
San Francisco 49ers

The San Francisco 49ers are a professional American football team located in the San Francisco Bay Area.