Top 10 Performers from Week 10 of the NFL 2021 Regular Season
The Top Ten
1
Patrick Mahomes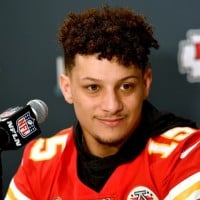 Now that's the guy we have missed for over a month. That's the guy who crushed defenses at will. They need that Mahomes back and they got it. Destroying the Raiders to a 40 burger. We'll find out though if it was too soon with an improved Dallas team next.
2
Stefon Diggs

Stefon Diggs is an American football wide receiver for the Buffalo Bills of the National Football League. Diggs was drafted in the fifth round one hundred and forty sixth overall to the Minnesota Vikings in 2015.
Buffalo got a huge bounce-back we missed from last week. Josh Allen's strong connection to Stefon Diggs is just what the doctor ordered, and for Bills Mafia they needed this feel good no mercy type game to feel any good about New England twice remaining.
3
Christian McCaffrey

If Cam Newton wasn't the only big boost. Try getting your best player involved in Christian McCaffrey going off big on the Cardinals. Returning back to form. This is exactly what this offense needed that they were lacking under Sam Darnold.
4
Dak Prescott

Rayne Dakota "Dak" Prescott is an American football quarterback for the Dallas Cowboys of the National Football League.
Dallas played great overall, but why not give it to the guy who made this game personal for 3 quarters of football. Not having to get benched up until they put up a 40 burger. Prescott wanted to take some aggression out on somebody, and that victim was Atlanta.
5
Rhamondre Stevenson
Don't look now, but the Patriots look scary right now to face. The running game has come alive between both Harris and now Stevenson. The offensive line played so well that Stevenson just did the rest to finish off the Browns in an ungodly fashion.
6
Taylor Heinicke
In every Mock Draft, I have seen this early on. I do not understand why Washington needs a quarterback when Taylor Heinicke is the least of your problems. If anything draft a better offensive line, or maybe something feels wrong about this defense I can't explain. Point is, Heinicke had a great game against the team that made him famous in that playoff game his career got resurrected. Give him some slack he isn't that bad as other paint him as.
7
Jonathan Taylor

Jonathan Taylor exploded fast the first two drives on Jacksonville stunning Urban Meyer. Jag's defense was able to adjust at halftime, but it ended up being all but late for them to wind despite having a chance for another stunner was put out. This is the way it was meant to be for Indy's would have to heavily fall on the greatness of Johnata Taylor as opposed to Carson Wentz.
8
Justin Jefferson

Minnesota had one answer the Chargers could not stop all game, and that's Justin Jefferson of course. To the very wire Cousin just kept on going to him with everything on the line. Not blowing the game this time, getting the crucial 1st down as he racked up a nice game in victory.
9
Darius Slay

Darius Demetrius Slay, nicknamed "Big Play Slay", is an American football cornerback for the Philadelphia Eagles of the National Football League.
Only 2 defensive backs have had a pick and a fumble in the same game. Kevin Bynard, and now Darius Slay. Slay has had an improved year 2 under this defense as opposed to what Gym Shorts misuiltizied his playing ability. Philly fans should be at least thankful for the turnaround you got in a top-tier corner as a gift. The scope fumble decided Denver's fate in the end.
10
A.J. Dillon

Aaron Jones goes down to injury, and for the 2nd time this season A.J. Dillon keeps on improving in this offense as some would have expected. He was the sole player having himself a day in the cold tundra of Lambeau as Seattle had no answers of stopping him in a tight tough low scoring game that was all coming down to one player to move the chains and into the endzone a few times.
BAdd New Item